Generation Z is the fresh-faced kid on the block, set to supersede aging Millennials as marketing's golden child.
Before delving into how to connect with Gen Z, it's important to recall that this generation – identified as anyone born in 1998 or later – grew up in the Facebook age, which influenced their perception and core values tremendously.
"Gen Z has witnessed horrific social networking faux pas from their older brethren in the Millennial generation," says Darren Ross, EVP of solutions for college marketing and insights agency Fluent. "They are conscious enough to know that if they are at a party and someone takes a picture of them and it goes online and stays there, it has consequences for them."
For Millennials, social media was a new and shiny experiment in connecting. But Gen Z never had the chance to explore social media during its age of innocence, instead seeing the backlash and repercussions that result from overexposure as well as cyberbullying, online pedophilia, and major data breaches.
"Gen Z has a much more conservative and strategic approach to social media platforms and footprints," says Ketchum VP Angela Fernandez, who leads its engaging-Gen Z offering. "Even parents have started to get wiser as their Gen Z kids start to grow. They understand social media and Internet safety rules more and have started to watch over their shoulder."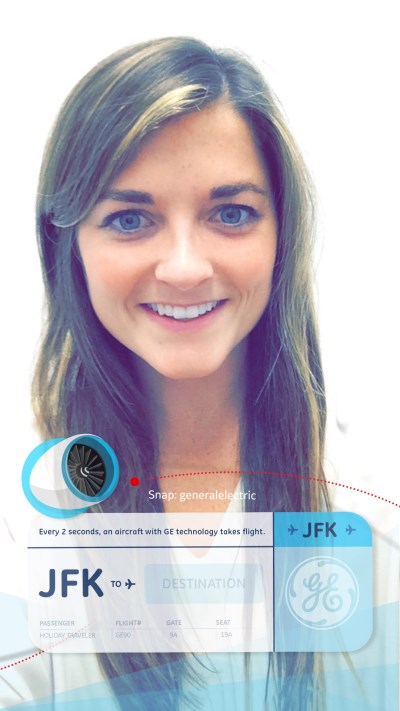 GE used a special travel filter during the holidays to reach young people
---
The future of social
Privacy might also matter more to Gen Z and Gen Alpha (people born in 2010 or later) since their parents have been writing about them on social media since they were in the womb.
"Parents forget that their children are going to grow up one day and Google themselves and all this content about them will already be out there," says Stephanie McCratic, founder and CEO of Acorn, a company specializing in influencer marketing.
This is why temporary, anonymous platforms like Snapchat, Whisper, and Yik Yak are gaining popularity among younger generations while social networks such as Facebook and Twitter are on the way out, Ross explains.
Another reason Snapchat is all the rage? In terms of content length, short and snappy is best, as Gen Z has an eight-second attention span. That's four fewer than Millennials, adds Fernandez.
General Electric has found "remarkable engagement" with Snapchat in particular, when trying to reach younger audiences, says its global social media marketing manager, Sydney Williams. The company has an ongoing presence on the platform, which includes stories, interactive campaigns, and content development. GE also occasionally creates sponsored filters, which have garnered as many as 63.5 million views and 4.7 million users in a 24-hour period. One filter targeted US airports and train stations during the holiday season to spread awareness among young people about how much the travel industry relies on GE technology.
Authenticity is also a core value for Gen Z. And influencer marketing is a key way a brand can reach young audiences.
"In 2016, influencer marketing will be to PR what digital was to traditional advertising," says McCratic.
GE has been partnering with influencers to target Gen Z and Alpha because they are the next employees or engineers that will work at the organization, or might even be its next customers or investors.
"We like getting fresh takes on how to tell our brand story and influencers help us to see their perspective," Williams notes.
Understanding the new world of influence means more than just using Vine, Twitter, and Instagram a few times. PR professionals need to immerse themselves in emerging ecosystems. Spend time in places where influencers gather and get to know them in authentic ways. Invest in VidCon, attend a DigiTour, and pursue partnerships on these platforms

Stephanie Agresta, growth accelerator for startups
Using influencers for influence
Last year, New Era integrated influencers into its marketing strategy for the first time, identifying and activating video content creators to promote the brand's limited-edition NFL ugly sweater knit among Gen Z and Millennials – their core consumers – during the peak holiday shopping season.
Influencers included Ry Doon, Vine creator (3.5 million followers); Josh Tryhane, YouTube and Instagram creator (380,000 followers on YouTube); and David Dobrik, Instagram creator (50,000 followers).

"[Gen Z] would rather hear from a friend or someone they find entertaining, as opposed to directly from a brand," says Mitch Mirsky, New Era's senior manager, digital brand development. "Instead of us beating our chest about how great we are – which is probably a turnoff for that younger generation – we are harnessing folks who can authentically speak to our brand, who are already wearing our stuff, and having them speak on our behalf."
But to gain the best results from influencer marketing, a brand must realize it has to give up control of the message. This is because Gen Z, McCratic explains, is skeptical of anything that feels like a contrived message.
"If you want to work with influencers, you have to equip them and empower them to tell your story in their own words and have the guardrails in place so you can be comfortable letting them do it," she continues. "The biggest fear we get from clients is: How do we know this person in the next post isn't going to come completely unhinged and every other word is a curse word? Or what if the next post is about my competition?"
Influencers are now incredibly aware about their commerciality. In the early days, you would reach out directly to them, and there was a refreshing naïve charm and energy when working with them. Now most influencers are represented by agents, managers, or networks, and it's all business

Matt Groves, managing director, Edelman Digital
To prevent this from happening, McCratic explains that brands must create relationships with influencers to instill trust.
A message also appears to be more authentic if it comes from an unexpected source, she says. To do this, brands should think outside of the "niche box." For instance, food brands do not always have to work with food bloggers.
"Sometimes, when a message comes from an unexpected source, if it is connected to that source in a smart way it is really strong and lasting," McCratic explains. "If a tech blogger is writing about a 3D-fiber mascara, her followers are going to say, 'She must really love this product to pause from her usual content and talk about it.'"
McCratic also advises against sticking with the same group of influencers for an extended period of time, as young audiences will quickly catch on to the relationship and tune out.
"The [consumer] will just get burned out and say, 'Oh look, she is blogging about that retailer again,'" adds McCratic.
Because it's harder to capture Gen Z's attention, marketers must make sure their engagement includes a back-and-forth dialogue and some kind of action.
How to engage
GE has recently started running campaigns on Periscope, allowing audiences to participate in real-time Q&As with the brand. For instance, Snapchat influencer Evan Garber hosts GE's Project Garages campaign, which launched on Periscope in October and airs each week. The show profiles different inventors focusing on what they are doing to disrupt their own industry.
"Millennials taught us that experience matters more than the ownership of things, but for Gen Z, influence is the emblem of their personal brand," says Fernandez. "Whether they're connecting with a small group of peers or 2 million of their subscribers, brands have the opportunity to help them get their voices heard and to help rally movements to make their world a better place."
GE has recently started running campaigns on Periscope, including one with Snapchat influencer Evan Garber as host of Project Garages
---
Similar to Millennials, Gen Z is distrusting of big institutions such as governments or banks because they see them as "clunky" and slow to change. Big companies can contend with this issue by showing they're made up of "everyday people" who are championing their consumers' causes and beliefs to give them more influence and power to create meaningful change, says Fernandez.
"Gen Z isn't shoving brands away and they aren't shutting the door on them. They're like, 'Let's do this together,'" she adds. "If you can show them you're not just going to change the world, but change their world, there is a powerful opportunity for brands to play a role in the lives of Gen Z."
Prepare for micro generations
Generations have traditionally been grouped together in 15-year chunks, but marketers' idea of generations might change with Generation Alpha (born in 2010 or later).
"These big things are happening in such increasingly compressed amounts of time – just think about the evolution of cellphones – that speed of tech is changing this idea of generations," says Angela Fernandez.
"A 5-year-old is going to have a very different frame of reference than a [teen] because the evolution of technology is changing their world so fast."
Because of the speed of change, Fernandez says generations might start to refresh every two to three years into what she called "micro generations," meaning marketers will have to start looking at the study of generations very differently.
"No longer can we look at just age range; We have to look at life stage and a target's mind-set and how that might permeate and have a halo effect on other generations," says Fernandez. "Marketers have to start realizing that, even if they're not targeting a 15-year-old, that mind-set's going to become the mind-set of a majority of all consumers very quickly."
No longer is it that an influencer is just on one digital property, but the power of their brand is how easily they can move an audience from one to another, and take it one step further – share, click through to a link, and/or click to purchase. That can be the difficult part as more and more content is in our feeds

Shira Lazar, What's Trending
MTV renames Gen Z 'The Founder Generation'
MTV wasn't happy with the name Gen Z, and renamed it the "Founder Generation," based on input from members of the generation born after 1997.
The study included a quantitative nationwide survey of 1,047 13- to 14-year-olds, asking them, "If you had the opportunity to name your own generation, what would you call it?"
According to the study, while Millennials were responsible for disruption, those surveyed said the Founder Generation will be tasked with building a new social order, with 91% agreeing they are optimistic their generation can "build a better world."
The study also found that 90% of respondents said their generation's going to start a new society where diversity is encouraged; and 91% said technology has helped them understand people who are different in terms of race, religion, and sexuality.
A digital influencer could have millions of followers or could have fewer who are extremely engaged with their content. Publishers with an engaged audience cannot only create a conversation, but can also drive consumer movement and, ultimately, purchase

Matthew Lalin, Starpower
Founders have taken a more active role in building an internal
locus of control necessary to navigate a tough world, while Millennials are known for exhibiting an external confidence that the world will propel them to success, according to the study.
Differences between Founders and Millennials were attributed by the study to parenting styles, as well as world events and societal changes at the time of their birth and into early childhood. These include 9/11 and the evolution of technology.
"[Founders have] a stunningly intuitive sense of the changing times they've been born into and the huge opportunity to make new history," says Jane Gould, SVP of MTV Insights.
Influencers to watch, like, follow, and reblog
From in-depth "let's players" to activists to beauty bloggers, online content creators are leveraging their social clout now more than ever, and brands are taking note. Here are 16 established and rising stars to know: