Protein World, the weight-loss supplement brand that caused a storm of controversy with a poster ad last spring, has released its first TV campaign.
The ad shows women exercising, dancing, and posing on a beach, accompanied by an upbeat club track and the message "new year, new you," which flashes on the screen.
The spot will run in the US, UK, France, and Germany, according to Protein World CEO Arjun Seth, who posted the ad on Twitter on Sunday.
TV Campaign launching in UK,USA,FRANCE and GERMANY 2016 ???????? #ProteinWorld #WorldTakeOver pic.twitter.com/HAxSXXbNNm

— Arjun Seth (@arjun_seth) January 3, 2016
An in-house team at Protein World created and directed the ad.
Asked about creating a TV ad after last year's controversy, a spokesman for Protein World said: "This is a natural progression for us. It reflects the brand as we continue to lead the fight against the global obesity epidemic in a cool and sophisticated manner while being representative of a large segment of our customer base."
Last April, a Protein World poster of a slim girl in a bikini next to the words "are you beach body ready?" appeared in the London Underground and provoked a storm of controversy there. The UK's Advertising Standards Authority received 378 complaints about the ad and banned it, citing misleading health claims, but refused to rule that it could have been banned for its offensive nature alone.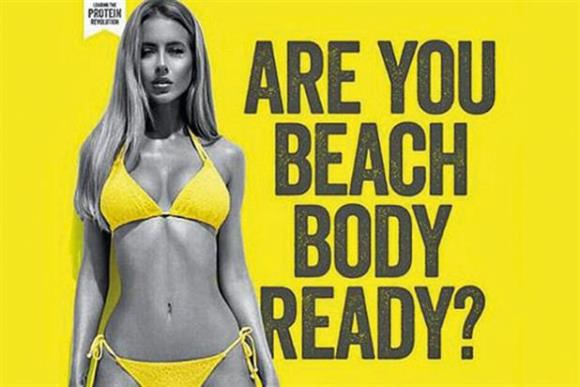 In June, the company brought the controversial ad to the US in the form of a giant Times Square billboard. At the time, Protein World CMO Richard Staveley described the US debut as a "fat F-U" to London protesters, who "helped pay for the New York launch," according to Breitbart London.
This article first appeared on Campaign UK.