Your clothing items – from your dress pant yoga pants to executive hoodie to anti-paparazzi flashback collection – have drawn attention from a number of major media outlets. What is Betabrand's approach to building buzz?
I do Betabrand's PR. I usually get up on Tuesday or Wednesday morning at 5am and say, "Time to write a funny press release." And I try to get it out by 10am. I do that about once a week.
For a Web audience, you have to publish new ideas every day. The clothing industry isn't producing clothing news stories at the rate journalists need them. So I created a business that is essentially a nonstop proto-type laboratory where we are pushing out new products daily. The method in which we sell every new idea is crowd funding, so the Web is determining whether we should make fast production runs of it. Because of that, our business is covered in the news nonstop.
We set up editorial goals for how we market products. We try and imagine something worthy of forwarding to another person, but in the fashion sense, so we call it fashion forwardability. We try as hard as we can to turn every new launch into content that customers or tastemakers feel is worthy of passing onto their friends.
We principally use Facebook and email press releases to get the word out.
What goes on behind the scenes when you see a newsjacking opportunity?
Betabrand is like a newsroom. When we find there is a greater-than-average connection through ads or organic traffic via search on a product, we have a creative session where we come up with every derivative concept we can drive off this.
When we were developing our executive hoodie product, we knew we had to make sure they were ready for the Facebook IPO. When gigantic cultural events occur in the US, most editors from publications are saying, "Find me the Facebook angle." I knew if we hit it correctly, we would become part of the build up to the story.
It turned out there wasn't as much news around the Facebook IPO, so we filled that void and ended up being a big part of the story. Mark Zuckerberg's sister Randi ended up tweeting about [our hoodie].
Although your stunts make headlines, does it help to sell products?
A quarter of our site's traffic comes from referred links, which converts at the same rate as paid traffic coming to the site. Our hottest product that launched by way of PR is our dress pant yoga pants, yoga pants designed for office wear. It spawned a debate on Twitter about whether it was the worst or the best thing ever. That is the news that moves furthest online – things that create polarizing opinions. We've made north of $10 million in sales of that product. I promoted that with a press release.
How are company sales?
We continue to grow the business every year by 100%. As a result, more investors get involved and more people come to work for us – 2015 will end between $17 million and $18 million in revenue.
You recently secured $15 million in funding from Morgan Stanley and Foundry Group, bringing Betabrand's total funding to $29 million. What do you plan to do with it?
We are spending a lot on technology. The amount of data we get relative to consumer interest and behavior is really cool. Speed of prototyping is also something we are excited about because we are starting to have more designer submissions than our staffers could deal with.
How do you want people to see your brand?
We want to look like your most creative friend on Facebook, because that encourages participation. We can't afford square-jawed Scandinavian supermodels and I don't find those people socially approachable. We want our art direction to be about people sharing their lives.
Everyone who works at this company is obligated to model on our website, as are their friends. That makes the job fun. We also encourage our customers to put photos of them wearing our clothes on our website gallery. Currently, we have 40,000 customer photos on there.
What's on the agenda for 2016?
In May, we launched Silicon Valley Fashion Week? as part of our desire to interact with the tech community. I knew many people in the fashion world would immediately have a bias toward it, but journalists came out en masse and the show was amazing.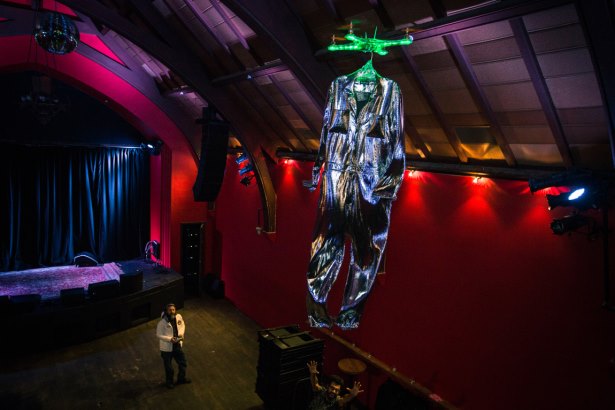 We had drone fashion models at the event. It was beautiful. I am not saying supermodels are going to be replaced by drones, but they can't levitate. Our next Silicon Valley Fashion Week? in May 2016 will be insane. I'm hoping to put on a parade. To my knowledge, there has never been a fashion parade. People would come out to see that. You only live once, so I promise at the very minimum a noble failure. And if not, something spectacular.