First site or app checked in the morning
Before I get out of bed, I check my Google Alerts and company email to make sure nothing popped while I was sawing logs. Around 7am or when they publish, I read The Wall Street Journal's 10-Point, TheSkimm, and Crain's Morning Report.
Morning ritual
When I can, I slip out of the house while everyone is sleeping, hop on my bike, and dive down into the Chagrin River Valley (pictured below) for one of the prettiest commutes I've ever had.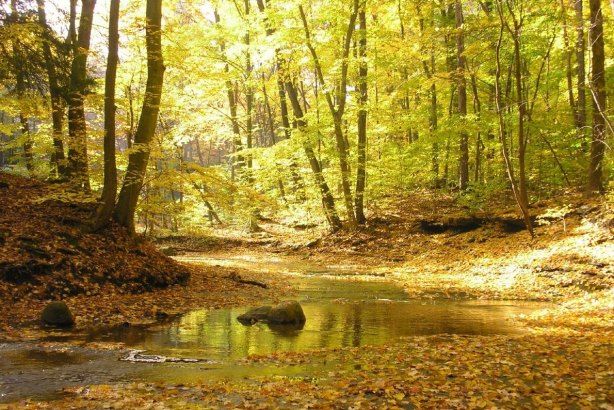 Progressive is across the street from a 1,700-acre wildlife sanctuary, and my commute finishes with a two-mile long, 335-foot climb out of the valley through the park. It's an awesome way to start the day.
But most mornings I get ready at home. My wife and I act as a tag team as we try to get our two sleepy elementary schoolers awake and in motion.
One a scale of one to 10, how difficult is your commute?
If I bike, it's an 11. If I drive, it's a seven. Stop at the independent coffee shop at the end of my block and cruise a relatively traffic-free 12 miles listening to CNBC or NPR. Occasionally I get the pleasure of driving the kids to school, and then it's a stressful, but wouldn't-trade-it-for-the-world, 10.
What are you reading?
Titan: The Life of John D. Rockefeller, Sr. by Ron Chernow. As a recent transplant to Cleveland, it's fascinating to learn about the people who made this amazing city the center of the industrialized world in the late 19th century.
Craziest thing you encountered as a journalist
I was a reporter in Minnesota during the governorship of former pro wrestler Jesse "The Body" Ventura. He never liked the press and dubbed us "jackals," a moniker we embraced. Members of the capitol press corps got together and had "official media jackal" T-shirts made. I still have mine.
Secret for prioritizing at work
Early in my career, an SVP of comms regularly said: "Focus on the wolves closest to the sled." I apply that every day.
Work breakfast, lunch, dinner, or drinks?
Each for its own purpose: Breakfast is great for catching up with community leaders and peers from other companies. A working lunch is one of my favorite ways to vet new ideas and build strategic plans. Drinks are great for celebrating a big win and also for building personal connections with co-workers.
Favorite city to do business in
You can't beat New York. I'm there frequently and the energy and culture are invigorating.
Favorite post-work diversion
Going for a run, stopping at the neighborhood grocery, walking home, and cooking up a great meal. Then spending time with my wife with a glass of wine fireside (outside or inside, depending on the weather) after the kids are in bed. Full disclosure: Most nights this happens with a laptop in my lap – but we're together and that's really important.