When auto industry veteran Tony Cervone left Volkswagen and walked back through the doors of General Motors in May 2014, he was facing a scenario that may have fazed less battle-hardened PR pros.
GM was in the midst of a high-profile ignition switch recall of its Chevrolet Cobalt model linked to more than 100 deaths. The furor cost the iconic automaker billions of dollars and landed newly minted CEO Mary Barra in the firing line of federal regulators and lawmakers on Capitol Hill.
So while Cervone may have dodged a catastrophic emissions crisis bullet with VW's name on it that eventually hit its target in September 2015, he points out laconically that he hardly had a soft landing at GM.
"Clearly, coming in the door, [the recall] was the order of business and that took up a considerable period of time," he says. "Mary's approach and our communications strategy were very transparent and direct. She said: 'We've got to tell our story and learn from it internally, answer our customers' questions externally, focus a few of us on that, and allow the rest of the business to keep running.'"
Cervone had already suffered the slings and arrows of a significant crisis in his previous stint at GM overseeing comms around the company's bankruptcy and government bailout, which ended in 2009 for a short break outside the auto sector at United Airlines. He also endured tumultuous times at Chrysler in the 1990s during its ill-fated merger with Daimler-Benz. On both those occasions Cervone worked alongside auto industry legend Steve Harris, now a partner at McGinn & Co. and formerly head of global comms at GM, who has been a longtime mentor to him. Harris was instrumental in bringing Cervone back to GM in April 2014 after the departure of former comms chief Selim Bingol.
"Tony has impeccable media skills and great relationships inside and outside the company," says Harris, who notes that another of Cervone's best qualities is being very open to new ideas and technologies. "He doesn't think he knows everything, but he can be very tough when he needs and wants to be."
Unlocking potential
Tough decisions were certainly the order of the day at GM, and Barra several times referred to the company's stultifying bureaucracy in her public pronouncements around the recall, vowing to address that immediately. Cervone took that directive to heart as he formulated a strategy to unlock the potential of the company's 400-strong global communications function and align agency support to provide more effective service to the business.
"There's never been a problem with GM's communications talent or human resources that meant we weren't intelligent enough to handle something," says Cervone. "It was a matter of unleashing them to their full capacity – that's the exciting part."
Last year, Cervone hired Joe Jacuzzi and Andrew Lipman away from Audi to lead global Chevrolet and Cadillac comms, respectively, and brought on former Exelis CCO David Albritton to lead product development comms.
He also enlisted Ray Wert, former editor-in-chief of Gawker's auto blog Jalopnik, to help with brand storytelling. The newcomers joined GM stalwarts such as Randy Arickx, Terry Rhadigan, and others.
"We've got to think differently about the business," explains Cervone. "Some of those leadership moves have done that, in partnership with people who've been here some time and suddenly say, 'Here we go, we're off and running.'"
In his view, there existed a unique opportunity to grow a benchmark comms function based squarely on the concept of understanding customers. It means analyzing how they get information, what's important to them, how engaged they are, and whether what GM is doing to engage them is resonating.
"We have better tools than ever to track what they're doing," he adds. "Using these and working closely with marketing and the tools they use gives us more opportunity than ever to be effective."
The new outlook involved a change in thinking, from representing comms based on an inside reflection of what GM does and echoing it outwardly or to internal stakeholders, to a focus on how you tell stories.
Changing course

Prior to Tony Cervone's return in May 2014, GM's CEO Mary Barra endured a shaky start to her historic tenure as the first female head at an auto company.
She rose from factory floor to top spot in 30 years, but nothing could have pre- pared her for the ignition switch crisis she encountered, culminating in a series of grillings by Congress on Capitol Hill.
Cervone credits Barra with turning the company around, but his steadying influence helped quiet the noise around the issue and move GM forward.
Barra's talking points were change, customer relationships, employee responsibilities, accountability, and transparency. "That's a pathway she's begun to pave and one we'll be on for a long time," concludes Cervone.
A New roadmap
All this happens in an environment where there's a "lot more noise out there" – hundreds of cable channels and thousands of online publications, social media, and conversations – but also the ability to hone in with a lot more clarity on what people find interesting and talking to them.
"Traditionally, if you had a big cumbersome staff, you had lots of communications support, versus emphasizing which stories are really going to resonate outside and how we can get people to engage inside," says Cervone. "That's a big change for a large traditional manufacturing company."
It means building beliefs or emotive connections by telling lots of little stories that add up to a larger whole, as opposed to "holding everything until you roll out the big deal."
Rather than waiting to unveil something at an auto show, pull off the cover, and begin telling the product's story, today the process is reversed, with the story starting ahead of time by teasing elements such as connectivity or alternative power and stimulating conversations that continue after the big reveal.
"You have to do more in traditional media in building up to big news stories," notes Cervone. "It's a different way of operating and thinking about the business and we need to become a lot more effective and efficient."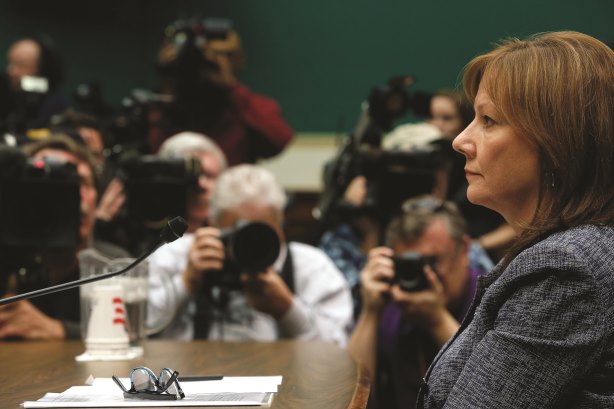 After GM's ignition switch recall, CEO Mary Barra spent a substantial amount of time on Capitol Hill answering questions from lawmakers
This new thinking extends to agency support, and Cervone has instigated a complete review of GM's current setup to roll out over the next 12 months. It's another element of the organizational complexity Barra is trying to expunge, where at the moment multiple agencies work on single brands and distinct projects, duplicating effort and resources.
Cervone sees this as natural evolution rather than willful mismanagement. "We've got very comfortable having a complex agency support structure," he says. "They're building infrastructure to support activity with full-time people 100% dedicated to a brand or area of expertise, yet we'll have two or three agencies doing the same thing."
The net effect is it's difficult to get anything done and vast efforts go into managing the system rather than executing externally. Cervone now wants one agency concentrating on one brand and the strategic process, rather than trying to win share from another firm sitting 10 feet away – "We're actually creating that tension," he points out.
Agencies such as FleishmanHillard, Weber Shandwick, and MSLGroup, which work on Chevrolet and Cadillac; Weber, MSL, and John Doe on Buick/GMC; and multiple agencies on corporate will be on high alert as GM prepares a series of global briefs, most of which will emerge in Q2/Q3 2016. Cadillac is first in line. The briefs will extend to non-incumbent firms and, unsurprisingly, Cervone's phone has been ringing nonstop since news emerged business could be up for grabs.
"I don't want agencies to come into a brand and say 'I need to be all things to all people,'" he says. "Each brand will define its biggest challenges, put the brief out, and allow people to come in and pitch their business."
The process is driven by a push for efficiency, not just in terms of dollars spent, but also time needed to manage it. GM has multiple small agencies supporting it too, especially on a regional basis, which creates a further level of complexity. That won't be in the first round, but will be addressed down the line.
"We're such a big place and so comfortable with complexity that we've gotten too comfortable managing that," he explains. "Every move made a ton of sense when we did it, but there comes a time when you have to step back and say, 'What have we created here and is there a better way to do it?'"
GM's marketing function has already moved toward one brand per agency and Cervone admits they are "ahead of us." The relationship between marketing and PR is another example of the new way Cervone wants comms to demonstrate its value to the GM business, or "maximize its value equation" as he puts it. It's also a further sign communications is no longer simply about promoting marketing campaigns – the dynamic is way more sophisticated.
"We're changing our outlook to become better business partners than we've ever been," he says. "Instead of just doing PR or reacting to inputs, we need to understand what the brands are trying to accomplish, why they're doing it, and how products meet the needs of customers who we're now better able to identify through tools and micro-targeting."
In the past, a standard new model launch would involve inviting media to a hotel, presenting, giving them a chance to drive the car and then ask questions. But for Chevrolet's Camaro model, for example, GM invited media and enthusiast groups together so they influenced each other as they talked about the product informally.
Instead of issuing a route book, GM's team said: "We'll see you in 36 hours in another city, you find your way there – here are some interesting things you could do on the way."
The marketing and comms teams integrated the process with dealers, consumers, and local agencies, and leveraged it with ad buys and regional sponsorships – for instance, in the South, meeting at a NASCAR race.
"Working together created a completely different feel. There's a lot more enthusiasm about the program," says Cervone. "It's been a great partnership. In about a month we drove the Camaro through 48 states."
Unified strategy
For Cervone, it's part of a relentless focus on customers and exactly what they are about, not lazy generalizations such as "single-minded people with an active lifestyle."
The goals and problems of GM's marketers have become the goals and problems of the comms team, and he believes it has extended pre-existing team relationships to another level: "We're much less comms-minded – we're more integrated."
"If marketing's goal is to move loyalty by a certain percentage, I'm going to help," he adds. "How can I address obstacles to purchase and build conversations around them?"
This stronger alliance and laser focus on customers contributed toward nine successive quarters of improved margin, with individual GM brands rebounding from doubts caused by the ignition recall. In September 2015, GM agreed to pay $900 million to settle criminal charges related to the recall. Cervone hopes this will enable the automaker to draw a line under the incident and emphasize more positive storylines.
"As new things aren't rolling into that story, the air clears and we can talk about things we want to make sure are out there," he says. "Our numbers around trust and confidence in the company have progressed well. We've rebounded from pre-recall status and some metrics are better than that."
Résumé
2014-present
General Motors, SVP, global communications and chairman, GM Foundation
2011-2014
Volkswagen Group of America, EVP, group communications
2009-2011
United Airlines, SVP and CCO
2000-2009
GM, various roles. Executive director of executive and financial comms (2001-2003), VP of GM Europe communications (2006-2007), before being named VP of global comms strategy and operations (2007-2009)
2000
DaimlerChrysler, VP, Chrysler group comms
1999-2000
GM, executive director of corporate comms
1985-1999
Various roles at Chrysler, from product and technology to supplier and crisis comms