As you start compiling an annual feature identifying trends that will shape the communications sector in 2016, it's always worth glancing back 12 months to see how last year's predictions fared.
I'll leave you to decide how I did, but there's little doubt security, agency consolidation, the merging of communications and marketing, energy, and Uber were all top of mind in 2015.
The year 2016 is what WPP head honcho Martin Sorrell describes as maxi-quadrennial, with stimuli provided to the marketing community by large events including a Summer Olympics (in Brazil), the European soccer championship (in France), and the American presidential election.
The jury is out on how significant these global events still are, and we have especially seen the waning in importance of election spending as Donald Trump proves it is possible to succeed in the polls nowadays and generate exceptional awareness, publicity, and engagement by spending just $200,000 on advertising, compared to the $35 million and counting spent by the hapless Jeb Bush.
Whatever you think of his policies, what there are of them, Trump may well have paved the way for a totally different type of campaigning in the future that isn't centered on TV ads.
One thing's for sure, 2015 felt like a year when you really started wondering what was going on with our planet, highlighted by terrorist atrocities in Syria; Lebanon; Iraq; Paris, France; and San Bernardino, California.
Starting with that sobering issue, here is a rundown of the trends and events that shaped 2015 and that will continue to resonate into next year: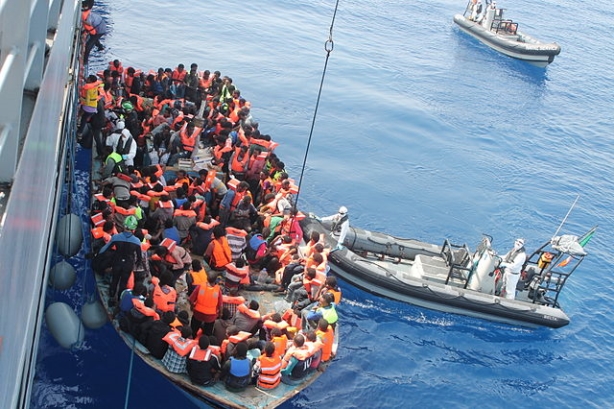 Refugees
The plight of refugees fleeing war-torn and crisis-hit countries in search of a safe haven has been an ongoing, controversial, and terribly sad theme running throughout the year.
It became a political hot potato in Europe and, along with the associated topic of immigration, featured heavily in the Republican presidential candidate debates, particularly via the outspoken views of Donald Trump.
The power of the mainstream press and social media were demonstrated in stunning fashion following the publishing of a picture of a 3-year-old Syrian boy of Kurdish origin called Alan Kurdi lying dead on a Turkish beach having drowned in the Mediterranean Sea.
The image appeared on 20 million screens in just 12 hours following postings on social media by a handful of journalists and transformed the language of the European migration debate, according to research by Sheffield University in the UK.
As Weber Shandwick chairman Jack Leslie said in a recent PRWeek column, 60 million people worldwide have been displaced by war, nearly half are children – more than 11 million Syrians have been displaced by civil war.
Noone who saw the picture of little Alan could fail to be moved, but stories such as one suggesting a Paris terrorist may have posed as a refugee to enter France played to a counter-narrative about whether refugees should be allowed into the US.
Leslie called for communicators to help find new understanding and advocate solutions for the refugee crisis in an environment of competing interests and points of view.
The picture of Alan and the narrative conflating refugees with terrorism demonstrated the power of communications and social media, and the PR industry can play a role in tackling serious global issues.
At a time when the ISIS/ISIL/Daesh terrorist movement is harnessing social media and, frankly, smart communications tactics to spread its foul and murderous agenda, former AT&T communicator Dick Martin is just one of many senior influencers who believe the PR industry can play a key role in formulating a strategy to deal with global terrorism. That must be a priority in 2016.
Changing of the guard
Maybe it's just a natural evolution or maybe it's a genuine generational shift, but a serious amount of senior in-house PR pros announced their retirement in the past 12 months, whether to leave the profession completely, or at least to take themselves out of the 24/7 firing line that the modern communications function represents.
The list reads like a who's who of the communications industry and includes: GE's Gary Sheffer, General Mills' Tom Forsythe, Exxon's Ken Cohen, Southwest Airlines' Ginger Hardage, Kroger's Lynn Marmer, Bridget Coffing from McDonald's, Prudential's Bob DeFillippo, and Rudolf Ramsauer at Nestlé.
I'm sure there are other notables that I have forgotten; my apologies in those cases. In addition to this, Dave Senay is stepping down from the top role at FleishmanHillard after 32 years at the agency, Kathy Cripps is retiring from the PR Council, and Doug Spong is leaving his eponymous agency in Minneapolis, for an as-yet-unspecified new venture.
Some are genuinely retiring, while others will take on consulting gigs and lift their foot off the accelerator. As one senior in-house pro told me recently, they yearn for a better quality of life. And others definitely have interesting new chapters left to write – it will be particularly interesting to see where Sheffer ends up for example, and I'm sure he hasn't been short of offers.
But whichever way you spin it, that's a serious amount of experience and talent departing the industry and it will be difficult to replace them. Nothing prepares you for a crisis, a tough negotiation with the unions, or a tricky activist shareholder situation like a seasoned pro who has been through the mill a few times and knows how to react calmly, firmly, and bravely.
There are times when someone has to be the contrary voice and advise C-suite executives and CEOs that what they are doing is wrong, or is just not going to play well. Such situations require gravitas and experience.
But, having said all that, the exodus from the industry is also a sign that the skills required of a communications pro are changing, and they will continue to change exponentially. Students are studying for combined degrees in marketing and communications; they are learning to have an in-depth understanding of data and analytics.
As Progressive Insurance's CMO Jeff Charney told the PRWeek Conference this year: "If you don't like change, get out of PR. More has changed in the last five years than the previous 100."
Every 18 months, he imagines being fired and asks himself, "What if I replaced Jeff Charney?" He believes it feels good, and is beneficial, to replace yourself with everything you have learned. That dictum may be radical, but it's a philosophy that stretches into the PR sphere too, especially with the increasing integration of communications and marketing.
This generational shift will continue in 2016 and beyond as the function evolves to reflect the new integrated environment – but don't ever forget that savvy crisis and reputational skills will always be a key part of the role.
Broadcast Media
This has been a watershed year for broadcast media, as long-established TV hosts such as CBS' David Letterman, Comedy Central's Jon Stewart, and Univision's Sabado Gigante, who fronted the longest-running TV variety show in history, for 53 years from 1962 until September 2015.
All these tough acts to follow seem to have moved on to new pastures with barely a look in the rear-view mirror, and 2016 will go some way toward defining whether successors such as Stephen Colbert and Trevor Noah will succeed in filling the big shoes they have to follow.
U.S. orders Volkswagen to recall 482,000 cars for tricking emissions tests http://t.co/4cTkRAlkrX #NBCNightlyNews pic.twitter.com/MWevA9HegU

— NBC Nightly News (@NBCNightlyNews) September 18, 2015
Crises
Personally, I'm not a big fan of lists about 'Biggest PR Gaffes of the Year,' 'Top Corporate Crises of the Year,' and so on. But yes, I know, we do some of them here at PRWeek, and they usually go to the top of the traffic charts on our website, so there's obviously an audience for them too.
For me, these lists frame the issues in the wrong way. As CBS CCO Gil Schwartz reminded us at a PRWeek Conference a few years ago, many of these instances are not PR gaffes or crises - they are a set of decision-making and operating problems related to management issues. These management problems can be solved by PR, at least in part, but they are not PR problems per se.
Schwartz would say communications pros need to get "in front of the elephant," rather than being behind it clearing up the mess. If you want to provide value to senior management, Schwartz's very pertinent advice is that the intrinsic value of the PR department is "telling the elephant what it needs to hear, not what it wants to hear."
Having said that, these crises borne of management problems undoubtedly contain many lessons for PR pros and are worthy of close study and analysis.
Take this September for example, when the US Environmental Protection Agency accused VW of placing software on nearly half a million US cars to avoid emissions regulations. By the next week, the scandal had evolved into one of the biggest business crises of recent years. The company lost 40% of its market capitalization value in just a week and a half.
But it turns out senior executives knew about this practice for years and did nothing about it, which was no doubt in part why CEO Martin Winterkorn fell on his sword as the debacle unfolded.
The Volkswagen Group had to put aside a significant amount of money to deal with the fallout and consequently posted a loss of $1.85 billion in its first earnings statement since the scandal erupted. At that time, it also said: "We will do everything in our power to win back trust."
That will be easier said than done: the company had form on the defective devices front. Professor Andre Spicer of London's Cass Business School told PRWeek UK: "The great irony is this is not the first time VW has been in trouble for fitting defective devices. It was fined by US authorities for doing this in 1974. The real tragedy is they did not seem to remember or learn from this harsh lesson."
Chipotle was another example of a company that responded slowly to a business crisis and paid the price in terms of reputation damage. Outbreaks of food poisoning started to emerge in various parts of the country and Chipotle outlets were temporarily closed in those areas, but there was little or no acknowledgment of this or information about it on the brand's website or social media channels.
As everyone should know by now, hoping that a story will remain hidden and not find its way into the public domain is a naïve strategy these days. Transparency and authenticity must be the watchwords.
It took about 40 days for Chipotle's CEO Steve Ells to apologize on the Today show for the brand's E. coli problems, but by that time the brand had suffered a drop in its buzz index of 48 points according to research firm YouGov's BrandIndex – the same amount GM's buzz fell during its recall crisis in 2014.
So, a message to CEOs and mainstream business journalists, please don't blame PR pros when trouble strikes and label the situation a PR crisis. Just hope your CCO can help dig you and the business out of the hole, or at least minimize the repercussions.
As Schwartz concludes, if the CCO is brought inside the tent she or he can attempt to make the organization do the right thing and get you in front of the elephant. That is at the heart of great PR, and it can help avoid crises such as Volkswagen happening in the first place, which in turn will save the enterprise billions of dollars.
All PR pros – and C-suite executives – should tuck away that piece of advice to help guide them through 2016.