LONDON: The final deadline for the PRWeek Global Awards has been extended to January 14, 2016.
New categories introduced this year, after industry feedback, honour Impact, Creativity, and Event Activation.
PRWeek will also name its first Global Communicator of the Year, an individual who has used the power of communications to drive positive and productive change in the world. Full category list can be found on www.PR360.net.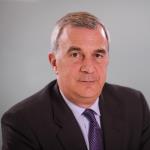 The judging panel this year will be chaired by Pierre Goad (left), group managing director and group head of human resources at HSBC Holdings.
The panel will comprise a stellar group of in-house and agency comms professionals from across the globe. Confirmed judges include Elisabeth Schick, BASF; eBay's Dan Tarman; MasterCard's Georgette Tan; Sophy Tobias from Instagram; The Home Depot's Stacey Tank; Michael Frohlich, Ogilvy PR; Jean-Michel Dumont, Ruder Finn China; and Harald Zulauf of Media Consulta International.
Last year's big winners included Global Agency of the Year Weber Shandwick and Global Brand was MSLGroup for its work on Procter & Gamble's Always #LikeAGirl campaign. Weber's CEO Andy Polansky won Global Agency Professional and Ford's Mark Truby took home the Global In-house honor.
The winners of the 2016 Global Awards will be announced at a gala dinner taking place on the second day of the PR360 Festival. The festival is the only space where communicators from around the world can gather to debate, discuss, and celebrate the biggest opportunities and challenges for the profession.
PR360 will take place 27-28 April at London's Bankside Hilton - full details can be found at www.pr360.net.
Goad was appointed group head of human resources of HSBC in January this year, and group MD in August. He was made a group general manager and head of communications in 2014.
He rejoined HSBC in 2011 as co-head of communications from Zurich Insurance Group in Switzerland, where he was head of corporate communications. Goad held strategy and communication roles at HSBC in London and Hong Kong, where he joined the bank in 2001.
He was also a correspondent and editor at the Canadian Broadcasting Corp., The Wall Street Journal in Canada, and The Asian Wall Street Journal in Hong Kong and Singapore. He is a Canadian and British citizen and Hong Kong permanent resident.
Goad is on the Board of the European Association of Communication Directors and is founding President of the Asia-Pacific Association of Communication Directors.