ORLANDO, FL: SeaWorld's VP of corporate communications Fred Jacobs has left the marine park after 25 years.
Upon his departure on December 1, Aimée Jeansonne Becka was upped from corporate communications director to senior director of corporate communications for SeaWorld Parks & Entertainment.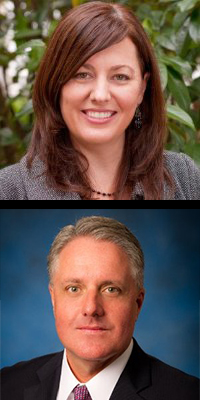 Jeansonne Becka (left) told PRWeek via email that she will now take on Jacobs' responsibilities, leading the company's communications team, and overseeing all corporate and brand communications both in the US and internationally.
She reports to Jill Kermes, senior corporate affairs officer, who leads all corporate affairs for the company, including communications, industry and governmental affairs, community investment, and CSR.
"Fred [Jacobs] has made great contributions over a career that spanned more than 25 years at SeaWorld," said Jeansonne Becka. "He will be missed, and we wish him all the best."

Jacobs (above) was not immediately available to comment on why he exited the position or what his next move will be. His departure comes one year after marketing communications director Nick Gollattscheck left the beleaguered company.
SeaWorld's reputation has been suffering since the 2013 release of Blackfish, a documentary that negatively portrays the marine park's treatment of orca whales. Since then, the park has made a number of changes, such as installing new CEO Joel Manby in April, and devising a plan to phase out its killer whale show by 2017.
SeaWorld also embarked on a long-term PR campaign earlier this year, providing facts about the orcas in its care, outlining its multimillion-dollar investments in whale research, and putting a human face on the company. The TV spots, for instance, put SeaWorld veterinarians and researchers front and center.
But SeaWorld is still facing criticism, and its attendance numbers and revenues continue to fall. Last month, the company warned investors that its full-year profits will fall by a further $10 million – from $370 million to $360 million – this year, due to poor attendance at its parks. According to The Guardian, attendance figures from San Diego authorities showed a 17% fall in attendance at the park in 2014 from 4.5 million to 3.7 million.
Jeansonne Becka started her career managing PR efforts for Busch Gardens Tampa and Adventure Island, as well as supporting initiatives for Florida Parks, between 2000 and 2008. She spent the next three years working as senior director of marketing for SeaWorld Orlando, then stepped into the role of corporate director of marketing comms for SeaWorld Parks & Entertainment in May 2011, before taking on her most recent role in June 2014.
Entertainment PR firm 42West started working with SeaWorld in July 2013 and stopped at the end of 2014.