Powerful irritants
In case you'd failed to keep an eye on PRWeek in the past couple of days, Flack's colleagues launched its Power Book ranking of the UK's most influential PR professionals at a Westminster event. Those in the Power Book were asked questions including who was the best communicator on the planet, what jargon they would ban from the PR lexicon, and what annoyed them.
As PRWeek editor-in-chief Danny Rogers told the attendees, Forster's Peter Gilheany responded "almost everything - I'm 43", while Victor Benady of Grayling was rather more specific, saying "uneven pizza toppings". PRWeek.com is publishing more from the Power Book in the coming days. The full listings are online.
Those of you who had been keeping an eye on PRWeek in the past few weeks will have noticed that the PRCA has, again, been robustly critiquing the NLA and the CIPR of late. Flack was unsurprised to hear PRCA chief Francis Ingham use his introductory speech at the Power Book as a platform to continue his stance. "We will never roll over," he pledged, and was greeted with modest applause.
A sick joke, or just pulling your Clegg?
Our next stop is St John's Smith Square for Ellwood Atfield's Political Cartoon of the Year awards. Former deputy PM Nick Clegg charmed the assembly with an exhaustive list of all the hundreds of ways he had been portrayed in cartoons: as a toilet seat warmer, a banana, a door mat and so on and on and on. He then presented the award for political cartoonist of the year to The Guardian's Steve Bell who pointed out the list wasn't quite complete: "Actually Nick, you didn't mention the cartoon I did of you. As a pile of sick. Because it reminded me of your complexion." Clegg's stoic rictus was a joy to behold.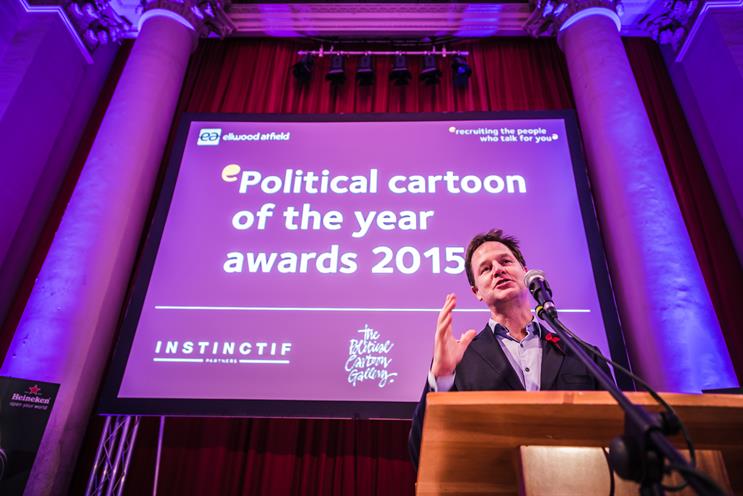 Crystal balls?
Plenty of predictions for 2016 were floated at Edelman's Crystal Ball panel session on Wednesday, but TV's Kirsty Wark, who mediated the session, sounded a note of caution as to their validity. She pointed out that two stabs in the dark from last year's event proved wide of the mark; namely, that there would be a coalition Government post-election, and, umm, that "beards will be over". In reality, Britain remains bluer and beardier than ever.
Flack therefore takes the predictions of panellist and TV host Sue Perkins with a pinch of salt; or, indeed, salted caramel, as Perkins expects the treat's time in the sun to be over in the next year. She also expects jet packs and flying cars to be big in 2016. Why the hell not? After all, who would have predicted that Jeremy Corbyn would rise to Labour leader this time 12 months ago?
Wark's wit
Also at the Edelman session, Kirsty Wark caused a titter when she described Labour grandee Dame Tessa Jowell, who was this year appointed Chime Specialist Group chair, as someone who "works for the opposition". "I don't mean Labour, I mean Chime Communications," Wark deadpanned. (Pictured left to right is ICAP CEO Michael Spencer, Wark, Perkins, and The Times editor John Witherow)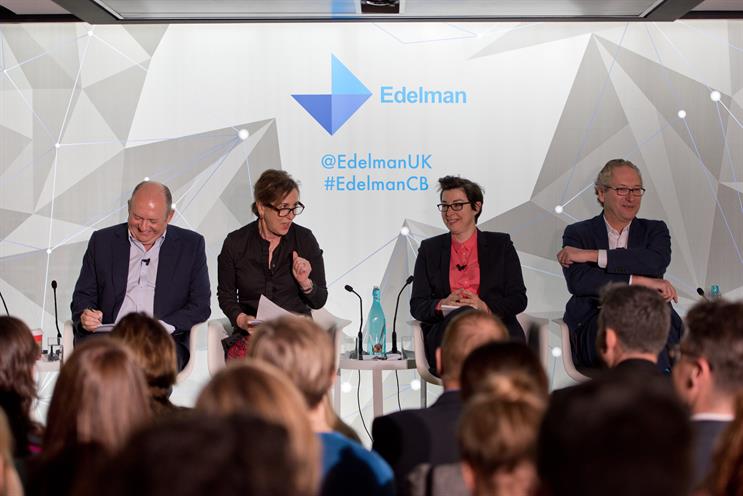 To John Lewis, from John Lewis
The legacy of John Lewis' Christmas campaign continues. The long-suffering American owner of the @JohnLewis handle – who describes himself as "computer science educator, father of four, social liberal, atheist, and not a retail store" – has revealed that the British company sent him a gift in return for the annual Twitter bombardment he receives this time of year. Appropriately, the present is an object that plays a key part in this year's Man on the Moon campaign:
Sincere thanks to @johnlewisretail who sent me a beautiful telescope as a thank you for redirecting wayward tweets. https://t.co/QCylvnkEoN

— John Lewis (@johnlewis) December 1, 2015
This gave one Twitter wag an idea...
@jamieparkins @SimonNRicketts Oh, go on. It'd make our day.

— Lidl UK (@LidlUK) December 1, 2015
Leo versus the bear
In his never-ending quest for Oscar glory, it's clear that Leonardo DiCaprio has taken character acting to a new level for his upcoming flick, The Revenant. He's already gone on record as saying that he had to contend with numerous hardships on set, including having to sleep inside an animal carcass, battle the constant threat of hypothermia and eat raw Bison liver. But even Leo has him limits.
Reports have emerged claiming that DiCaprio was 'raped by a bear', a claim so far-fetched that the film studio felt it had no choice but to issue an official rebuttal.
"As anyone who has seen the movie can attest, the bear in the film is a female who attacks Hugh Glass because she feels he might be threatening her cubs," a Fox spokesperson told Entertainment Weekly.
"There is clearly no rape scene with a bear." We wonder what the press officers were thinking when they had to get that line signed off.
Haters gonna hate this
Like many others, Flack was unhappy to hear about cards being handed out on the London underground by a group calling itself 'Overweight Haters Ltd', which put across a message of hatred towards people of above average weight. PR agency Manifest London took matters into its own hands and issued the below response, which has been publicised on social media. Bravo.