Nan Williams laughs as she recalls how Four Communications was conceived one alcohol-soaked evening 14 years ago by her and former colleagues Ray Eglington, Einir Williams and Andrew Jack. The name, one assumes, derives from its four founders. Is this true?

"Kind of. We had a row in the middle of the night when we'd drunk too much wine and couldn't agree on a name. We defaulted to, 'oh, there's four of us here…' But we retrofitted it to lots of other things, like our four values," she adds, quickly. "We're not that egocentric as individuals, actually."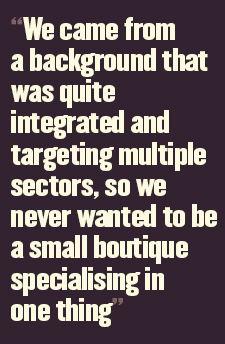 From such jocular beginnings, London-based Four has grown to be a significant marcoms player, boasting a PR agency roster that includes Four Colman Getty, Kinross + Render, Four bgb and Consolidated alongside digital, sponsorship, media planning and other interests. And it is expanding, following a £10m investment from the Business Growth Fund (BGF) this summer and extra debt funding from HSBC. PRWeek met up with Williams, Four's CEO, to discuss her plans to take the company to the next level.

Williams and her fellow Four founders met at now defunct PR agency Charles Barker, where she spent 15 years, rising to UK CEO. "We came from a background that was quite integrated and targeting multiple sectors, so we never wanted to be a small boutique specialising in one thing. We put directors' loans into the business so we could spend the money quickly, and we did that and we expanded," she explains.

Four saw the economic downturn as a buying opportunity: "It was clear then that the market was going to go in the wrong direction, but we were sitting on a pile of our own cash and we were ambitious. That's when we started looking at acquisitions; like-minded people who would buy us better depth in a specialism."

Travel and tourism-focused BGB was the first buy, in 2011, followed by Colman Getty (culture), Kinross + Render ("more general b2b") then Consolidated in 2014. "For about four years we did acquisitions like that, and learned to do them properly."
---
Nan Williams on...
...M&A in the industry
"There's always a lot at the bottom end but I think there's been more in the middle at the moment as well, and I think that bodes quite well."
---
Four represents some major and varied clients now, including Etihad, the Man Booker Prizes and VisitWales. Turnover more than doubled during its first acquisition spree, from £15m in 2010 to £31.2m in 2014, with the firm now employing around 250 people. In 2014, underlying earnings (ebitda) grew 84.2 per cent to £3.9m and pre-tax profit more than doubled to £3m.

It is a fitting performance for a group whose CEO cut her teeth in the financial world. Wales-born Williams, a linguist by background, began her working life at Barclays International, buoyed by the prospect of overseas postings. She had various roles, finally ending up in the marketing ­department. "That's when I really realised this is the sort of thing I should be doing. It was very interesting, more my bag," she says. "[Barclays ­International] was one of the best years in one way, in that it taught me that I wasn't frightened of ­money, and it taught me to think financially."
A little help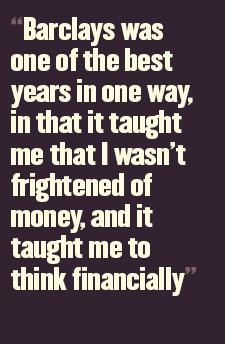 Her financial know-how was put to the test this year as Four weighed up its growth options. The group, which rejected flotation on the grounds of its size, had "a lot of interest" from private equity, offering "quicker growth in a shorter space of time". However, a meeting with the BGF, the growth ­capital fund backed by five major banks, was the clincher. Williams was attracted to the fact the BGF did not outline a timescale for its investment.

"They were really excellent, very commercial in the same way the private equity houses are, but also very supportive. They don't impose a time frame on you. They are very interested in the culture of the business as well as the financials."
The BGF took a 30 per cent stake, with the group's investor Chris Hodges joining the board. Williams says the minority owner does not ­interfere in day-to-day business: "In effect, we presented our three-year plan to them and they've bought into that. As long as we're delivering, I don't think they're at all interested in meddling day to day."
She outlines some advantages: "They've got this fantastic pool of people who can act as non-executives or non-executive chairmen of ­companies. We've been able to take advantage of that for our new chairman." This refers to John Farrell, former president and CEO of Publicis Group's specialised agencies and marketing services arm, who recently replaced Chris O'Donoghue at Four.
---
Nan Williams on...
...Four branding vs agency branding
"One of our directors says it's a bit like London. London is an overall entity, it has got its own great brand, but it is made up of lots of little villages, and each has its own personality that makes up part of the greater story."
---
The BGF's experience of working with other medium-sized firms also helps, Williams adds: "They're quite handy phoning up and bouncing an idea off. You can ask, 'have you seen this before, what did other people do?'"

The new investment has coincided with a shareholder restructure. Previously, holdings of owners of the various agencies acquired by Four would exist in different parts of the group. These have been unified into one shareholding, alongside the BGF's stake, in a new 'top company'.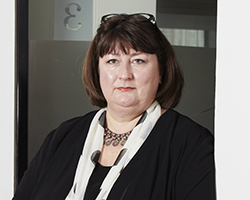 "I know that sounds a bit technical but actually it makes a difference," says Williams. "Historically that shareholding motivated our people very well to grow the business. I think having a unified shareholding at the top of our company is going to motivate us more, and we'll start to make some decisions in a different way."

With the new funding in place, the aim is to "grow more rapidly through organic growth, geographical expansion and more acquisitions in a shorter space of time". In recent months Four snapped up financial PR shop Broadgate Mainland, Wales-based Francis Balsom Associates, plus MSA Media, a media planning and buying agency.

"It's no secret that I'm looking at expanding into the other disciplines in healthcare – PR, public aff­airs, digital - so we can build that sector into something more significant," says Williams. "Beyond that, we're looking at a variety of different sectors."
Targets for expansion
Four is targeting agencies typically around the £2m fee income mark. At this level, "you always have quite a few companies on the market to sell," says Williams, "but it is very busy at the moment."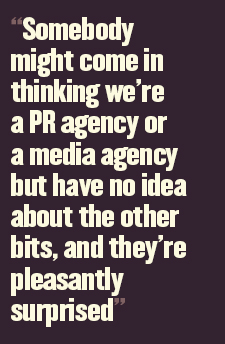 Overseas expansion is also a priority for Four, which has operated in Dubai and Abu Dhabi for 12 years. South East Asia, where Four has several ­clients, is one focus. Williams adds: "There are a lot of tenders that are UK, UAE and Hong Kong ­focused or UK, UAE and Singapore focused, and we're thinking if we should make that one of our next steps as well. We're looking at that seriously."

Integration is clearly important as new agencies enter the Four family. Encouragingly, Williams suggests there is not much opposition to this among new arrivals. It is not unusual for employees of one Four agency to work with colleagues at a sister shop, and staff also move between practices, which Williams describes as "very healthy".

Four's acquisition drive and move to diversify has seen its PR business fall from 100 per cent of income to around half that, a situation that Williams is happy to see continue. "I don't think clients are just looking for PR any more," she explains. In 2014, Four said more than 60 per cent of clients bought more than one service, and more than 20 per cent used three or more.

"Somebody might come in for one thing but they might grow with us. Or somebody might come in thinking we're a PR agency or a media agency but have no idea about the other bits, and they're pleasantly surprised."

Williams will hope targeted acquisitions and diversification will stand Four in good stead ; given a favourable wind, of course. She strikes an optimistic note – for her company and the PR industry as a whole – in the post-downturn era.
"The world has moved in our direction, in a way. I think because PR people have always been quite multi-discipline, and built campaigns in a number of ways, PR people always had that mindset, and suddenly the market wants it more than they did.

"It's great, you never get bored. If you want a nice steady little stable life, don't go into PR, but if you want to be interested and be fascinated by things, I think it's a great place to be."
---
Nan Williams on...
...Recruitment
"It's fine at the top. We've got lots of senior people, they are attracted here. It's great at graduate trainee/account executive-type level; we take 10 people a year as graduate trainees. But something has happened in the middle of the PR industry. Account managers are a rare breed at the moment. I don't know if it's because during the recession people didn't recruit in, and now four years later you want those people and they simply don't exist."