The event has seen a number of tie-ins, with the charity Campaign Against Living Miserably (CALM) working with Lynx for its Bigger Issues campaign.
Outdoor ads for Lynx have highlighted a range of 'trending' subjects, with the message that bigger issues exist, and pointing people to a website to register for a 'thunder clap' that sends out the message that suicide is the biggest killer of men under 45 in the UK to all their social media followers.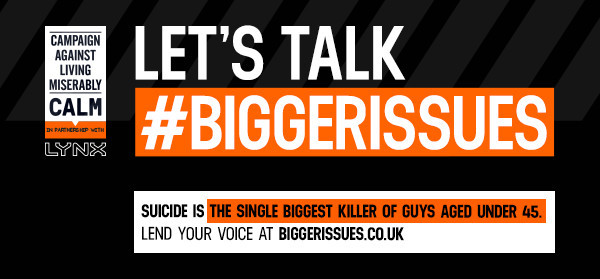 The message reached almost 23.5 million people at 8am on Thursday, CALM chief executive Jane Powell told PRWeek. A number of celebrities showed their support, including Stephen Fry:
Suicide is the single biggest killer of guys under 45. We aren't talking about it enough. Let's talk #BiggerIssues https://t.co/lqed1bTrUR

— Stephen Fry (@stephenfry) November 19, 2015
W provided PR support for the campaign.
CALM also worked with Jamal Edwards' music and entertainment broadcaster SBTV and online media platform Unilad for the launch of a video spotlighting UK male suicide rates.
The video, called Rollercoaster, features rap artist Rapman and tells the story of a young man who takes his own life after he mistakenly thinks his best friend and girlfriend have started a relationship. People are asked to show support for the video and its message across social media using #dontbeastatistic.
Powell said: "In 2014, 76 per cent of suicides were male, and suicide currently stands as the single biggest killer of men aged under 45 in this country. That's why it's so important that artists such as Rapman and media platforms like SBTV and Unilad raise awareness for this endemic issue and spread the message that you don't have to be a statistic; reach out to friends, family and our support network if you are feeling suicidal."
CALM also handed out more than 25,000 Oyster card holders to highlight similar messages, with the slogan Mind the Chap, to 12 stations in London's Zone 1. That was a tie in with Top Man and Octopus Investments.
Powell told PRWeek: "There's been an extraordinary outpouring of people doing things for CALM, culminating in today."
CALM and other campaigning organisations including the Samaritans have also been briefing MPs around a debate in Parliament on International Men's Day on Thursday.
Separately, cancer charity Orchid is using International Men's Day to further publicise its campaign #ShesGotBalls, which aims to get women involved in the fight against male cancer. The campaign was launched on Monday to coincide with both International Men's Day and Movember.
Orchid is collaborating with Ladbrokes Bingo on the campaign. Women are encouraged to take selfies of their 'ballsy' adventures, post them on to Twitter using the hashtag #ShesGotBalls and text SGBS15 £3 to 70070 to make a £3 donation.
Ladbrokes Bingo will donate an additional £1 to Orchid for each of the first 2,000 texts sent and all selfies using the hashtag #ShesGotBalls will feature on Ladbrokes Bingo's online gallery.
Ladies get involved & share your 'ballsy' selfies with #ShesGotBalls https://t.co/5Aez3db3Bi @LadbrokesBingo pic.twitter.com/lILV5ZAJC1

— Orchid Male Cancer (@OrchidCancer) November 18, 2015
Sussex-based agency Spink is handling PR for Orchid for the campaign, which focuses on social media.
Other organisations have used International Men's Day to get across their messages on social channels:
#InternationalMensDay highlights issues such as men's #mentalhealth. See how getting active helps Peter every day. https://t.co/SM9Jf4Od27

— Sport England (@Sport_England) November 19, 2015
On #InternationalMensDay ask your MP to support our call for a Minister For Men https://t.co/hVMLqiz2uX pic.twitter.com/TGANF3GCIz

— Fathers4Justice (@F4JOfficial) November 19, 2015
Elsewhere, brands have used humour to take advantage of International Men's Day for brandjacking purposes:
It's #InternationalMensDay. Just like every other bloody day. Amirite, sisters? #Amirite pic.twitter.com/ThrI2M8U2s

— Paddy Power (@paddypower) November 19, 2015