Farage: one of the 'people'?
Flack attended a media event in Westminster this week organised by Leave.EU, one of the two campaigns vying to be the official campaign for a British exit from the European Union.
Media had been promised that the event would include "key Leave.EU supporters... including Nigel Farage from UKIP". Indeed it did, but he was in the audience rather than on the stage. "In all the years I've known Nigel Farage I've never known him to hide his light under a bushel," commented Daily Mail editor Andrew Pierce, who pointed out it was strange that the campaign's "most high profile supporter" was not on stage. "Are you ashamed of him?" he asked.
The answer was no - although it was not delivered in such a succinct form. Leave.EU has decided that in order to enjoy the widest support possible, it needs to be a "people's campaign" - this phrase was repeated on many occasions to emphasise that the campaign incorporated several political parties without being specifically allied to any, and put ordinary people at its heart. Flack was keen to know how that key message "people's campaign" was arrived upon, but campaign founder and major UKIP donor Arron Banks said: "I don't remember where it came from... it's been non-political from the beginning."
The press conference finished quickly after the panel outlined the campaign goals, took a few pot shots at the Westminster Village, the CBI and the pro-EU campaigns, explained what two US consultancy firms had been brought in to do, and promised a big registration drive to build on its existing 300,000 members - after which attention inevitably turned from the "people's campaign" to that most prominent of people, Farage himself, who was mobbed by journalists before he had to move along to his next appointment, on ITV's Loose Women.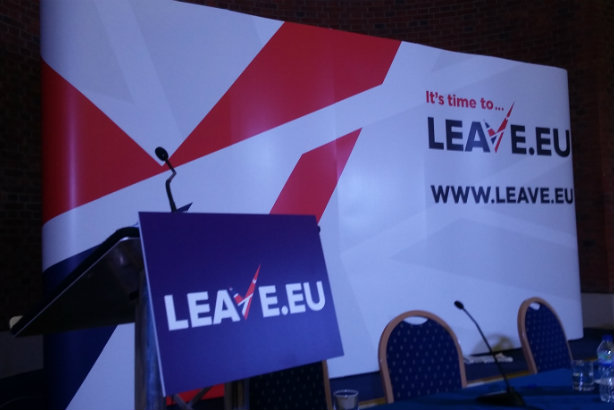 A man's world?
International Men's Day on Thursday proved to be a big talking point on social media. Sentiment was generally positive, with many using the event to publicise issues of physical and mental health that affect men. Others were less supportive, preferring to respond in cliche:
Every day is #InternationalMensDay

— Antonia Bance (@antoniabance) November 19, 2015
Amid the discussions and debate, some light relief was on hand from Frank PR founder Andrew Bloch:
Today is both #InternationalMensDay and #WorldToiletDay - Due to austerity measures, they will combine next year as International Gents Day

— Andrew Bloch (@AndrewBloch) November 19, 2015
The black arts
The coal industry must have been a tough sell for PRs even when it was the newest fuel on the market – think small, grubby-faced children going down the mines – but in the modern world it faces an uphill reputational battle. The Guardian teamed up with UCB Comedy this week to shovel a little more of the black stuff on the coal companies' heads with a nightmarish spoof of how fictional PR agency 'Spinmasters' might approach an industry rebrand. 'Baby diamonds'... anyone? We're sure PRWeek readers would never stoop so low. Never. Not in a billion years.


Sad fad in ad lad (sorry, land)
A new word entered Flack's lexicon this week, in relation to Christmas campaigns from the likes of John Lewis and Sainsbury's: sadvert (noun) - an advert meant to induce sadness or melancholy. After a chat with Flack's pals at PRWeek's sister title Marketing, we came up with two more: 'ladverts', ads aimed at the soon-to-be-former FHM reading demographic; and 'dadverts', those targeting fathers. Such terms even found their way into a Marketing article. Flack can't wait for the first 'badvert' (although that probably already exists).
Potting the red
As has been widely reported, Starbucks landed itself in some hot water (pun intended) in some quarters for its decision to not use Christmas imagery on its festive red holiday cups. Republican presidential candidate and walking hairpiece Donald Trump even called for a boycott of the coffee chain. Back in the UK, Flack doffs its hat to this witty brandjacking from Pot Noodle:
Merry Christmas @StarbucksUK we thought you deserved some Christmas cheer #YouCanMakeIt pic.twitter.com/Lv8lpb69F5

— Pot Noodle (@Pot_Noodle) November 12, 2015
Pregnant pause
Congratulations to Babyville, the freshly arrived baby and parenting consumer division of Clareville Communications, which launched last week. In case any readers were thinking they'd already heard of Babyville, and quite a long time ago at that, they'd be correct. As a press release explained, last week's event was celebrating the firm's official birth "after a two-year gestation period". Adorable.