From JetBlue's modern and stylish office building across the East River from Manhattan in Queens' up-and-coming Long Island City neighborhood, it's clear that Nancy Elder has a different view, and not just in terms of geography.
Elder's résumé includes stops at household names such as MasterCard and GE, whose comms team has produced a handful of PR chiefs for well-known companies.
However, her experience is unique in that she also cofounded an agency in 2011 – Matter Unlimited, based in New York – which was established with the uncommon value statement of helping nonprofits and companies do good in the world. In 2014, Elder left the firm for a fresh challenge with the airline, but remains a member of its board of directors.
When she joined JetBlue in 2014 as VP of communications, it was clear the brand was looking for someone with a different perspective found outside of its own industry.
"JetBlue was going through a major leadership transition," she says, as then-CEO Dave Barger announced in September 2014 he was resigning from the company. "It was looking for someone with a stronger brand strategy background," Elder adds.
It is by design that many customers see JetBlue as flying a different route than the rest of the pack. The company's campaigns about airline etiquette are often humorous, and sometimes bordering on the irreverent, setting it apart from often buttoned-up rivals. The airline was also a pioneer in social media marketing, and though it recently gave in and instituted bag fees like nearly every other competitor has, it still gives the consumer reason to see JetBlue as a less stodgy alternative to most major legacy airlines.
Elder notes that she's worked in strong corporate cultures before at MasterCard and GE and contends JetBlue also fits into that category in that employees know exactly what the brand stands for.
Soaring levels of enthusiasm
"The culture is one that lives its values. Fun is one of them; integrity is another, as are caring, passion, and, of course, safety," she says. "We have an opportunity every day to be really personal with all our customers who come into the airport and either know what they are doing or are confused. Our crew members know the culture is 'How can I help you?' – especially if something goes wrong."
That attitude extends beyond the rank and file. Social media users captured CEO Robin Hayes, to whom Elder reports, passing out pizza to anxious customers waiting out a delay this summer.
Elder adds that JetBlue executives aren't above helping to clean up the company's planes if it helps the transition from one flight to the next happen more quickly.
"What attracted me here is that JetBlue has a very clear mission. It started out when the airline was founded to bring humanity back to air travel. Now it's more simply to inspire humanity," she says. "After I met a couple of leadership teams and [Hayes], I felt very strongly that I could help this company move to a different level of communications and strategy and help it through the transition from a founder-led company."
In an illustration of the complexity of airline communications, the announcement of Hayes' appointment to the top job at JetBlue didn't go according to plan – at least for Elder – despite copious planning to explain the significant leadership change to media out-lets. As she was explaining how the airline would roll out the announcement to media outlets, she got an emergency alert.
"As I was standing in the boardroom talking about the sequence of communications and which media we were talking to, when, where, and why, my emergency notification system went off and we were having an engine fire at the exact same time," she recalls. "There's no playbook for that. I didn't have a page in the playbook that said, 'You're announcing a CEO and an engine fire happens.'"
The matter was resolved largely without incident – and Hayes was upped to CEO in February of this year after serving as president under predecessor Barger. Elder explains that the transition was more import-ant than the average leadership change, as Barger was one of the executives behind the airline's launch, making the move a generational shift as much as a CEO switch.
In the community

Aside from running PR for an airline, Nancy Elder also serves on the board of the Montauk Playhouse Community Center Foundation, where she lends a hand with fundraising and comms.
The part-time resident is helping the nonprofit expand to include a pool and a performance area in a space that already houses a gym, senior center, and day care. Brought on-board by a longtime friend who has lived in the town for nearly four decades, Elder is translating her love of the eastern Long Island community through pro bono work for the organization.
"It's changed so much over the years," she says. "We can make sure the community has a place to call its own as the town continues to evolve."
Brand safety manual
And although there's no blueprint in JetBlue's comms handbook for a potential runway incident at the exact same time a CEO is being introduced, that's not to say the airline doesn't have a playbook – and one bigger than a phonebook at that. Elder estimates it's 12 inches.
"It's one of the most robust, well-planned, all-training systems I've ever seen. That said, I haven't worked in an organization that has these kinds of demands. We had cyber-issues at MasterCard and breaches at other companies, but this is a different type of operational risk," she says. "The playbook is trained against, the system is immediate, and everyone knows exactly what to do."
To keep tabs on what's happening with its 900 average daily flights, JetBlue maintains an incident operations command center, where staffers assess each situation, next to the company's operations center – or "the heart of the airline," according to Elder.
"Since I've come on board, I've added to the list of scenarios," she explains, "and we are in the process of training against those from the most dire loss of life, a crash, to something involving one of our business partners, to one of our customers."
And in 2015, JetBlue executives and crew members have to be prepared for situations from the critical to the absurd, and many in between. These include the ridiculous – angry social media users blaming the airline for the length of TSA security lines at airport terminals – to the lighthearted.
For instance, crew members this summer knew exactly what to do when they found out two passengers were on their way to elope, throwing them an impromptu ceremony in-flight, complete with the bride-to-be walking down the airplane aisle and singing. The quick thinking resulted in positive publicity on YouTube and snowballing media coverage.
Due to the sheer range of events that can take place in the air, on the runway, or in departure lounges, Elder says she and her team look at each incident on a case-by-case basis before deciding whether to elevate to senior leadership or take other action.
"We look at every situation, because no two are alike," she explains. "Some require you to examine all sides of the issue and make a determination. There's usually a small group of us, including myself, who will make a recommendation to our leadership team about what we should do."
Yet in the case of the in-flight wedding, it should be no surprise that the company's crew members knew how to make a special moment even better. Employees are the focus of the company's brand communications.
"The interesting thing about JetBlue that's different from any other place I've worked is the importance of the crew member as the primary audience," Elder notes. "They, along with the customers and shareholders, are our three stakeholders. The philosophy is that if our crew members are happy, then customers and shareholders will be happy."
Robert Holzer, who cofounded Matter Unlimited with Elder, and is the agency's CEO, notes the increasing importance of creating shared value and embracing transparency for today's corporations.
"JetBlue is interesting because it does have some of these things in its own brand essence and has a conscience as a company and is working to define that," he adds. "With Nancy's background as a marketer and her corporate experience married with her understanding of a company's modern responsibilities, she'll be very helpful for JetBlue as it navigates this terrain."
Aiding Elder in her role is what she calls a "small, but powerful" team of 20. And though there are overlapping responsibilities with other departments, she oversees three core units, managing crew member, corporate, and strategic communications. She reports to CEO Hayes, and while the airline does not have a CMO in title, Marty St. George, EVP for commercial and planning, oversees some of the marketing chief's traditional duties, while Joanna Geraghty is EVP of customer experience. Yet Elder notes brand stewardship is engrained in each of the top-level officers' duties.
"Everyone is oriented around the reputation and marketing of JetBlue. It doesn't live in one area. That's good for us," she explains. "We're all here to protect and enhance the reputation of the organization."
Part of the company's social media function falls under Elder, specifically through the external relations team. However, the company's social activity also includes the marketing unit controlling social promotion, and a 20-member social response group working in shifts 24-7 at the company's Salt Lake City command center.
The Utah-based unit helps with reservations and rebooking flights, often dealing with thousands of answer-seeking tweets a day. Twitter is where the lion's share of the company's social media attention goes. Facebook gets considerable attention, as well. JetBlue has also employed Periscope for initiatives such as its partnership with Morning Joe co-host Mika Brzezinski's Know Your Value initiative, which encourages a support structure for women in business.
Like brands such as Target and Coca-Cola, JetBlue has also embraced the world of content creation, specifically the HumanKinda initiative that featured a short film on the overworked nature of Americans in 2015.
The effort's website includes a quiz, which aims to tell users if they're "Humankind" or the too-tired alternative, "HumanKinda." A full, 16-minute video is available on YouTube, but if people don't have time, it fittingly includes a "Too Busy?" widget that allows them to add it to their digital calendars.
The airline worked with Mullen on the initiative, one result of its more than five-year relationship with the firm. The company also collaborates with the agency's PR group on brand-oriented comms, while it works with FleishmanHillard on crisis preparedness.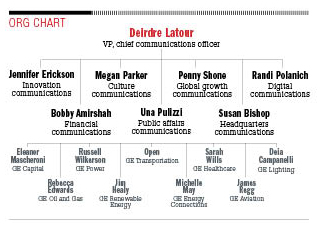 Encountering turbulence
Elder points out that "the vast majority of what's done here is done internally. The team is a real workhorse from that perspective."
And there's no shortage of work to tackle, from crisis response and planning, to monitoring social media and events in the air and on the ground – not to mention unhappy customers who aren't too shy to take to social media. Asked what her average day is like, Elder's answer is simple: "The fun part of it is there isn't one."
"The business is so dynamic, things change on a dime. We can come in thinking we will be working on a strategy about our sustainability initiatives and something happens on a flight with one of our customers and we turn our attention to that," she explains. "It's immediate and reliant on what happens in and out of the aircraft."
Résumé
2014-present
JetBlue, VP, communications
2011-2014
Matter Unlimited, cofounder and chief strategy officer
2006-2007
Marsh & McLennan, CMO
2003-2006
Time Warner, VP of integrated comms
2002-2003
GE, director of corporate communications
1994-2002
MasterCard, VP of global business planning and communications