A Brandwatch analysis comparing the Twitter conversation around the crucial first 24 hours of the John Lewis campaign with its nearest competitor, Sainsbury's, shows John Lewis trouncing the supermarket nearly three to one, with 40,000 mentions compared to 15,000.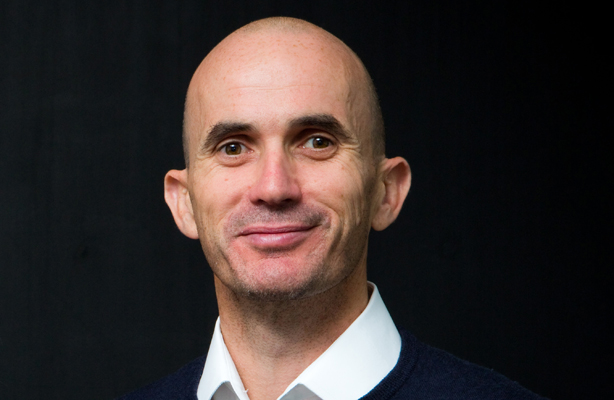 Chris Hides (pictured above), managing director, London, of M&C Saatchi PR, says: "Through the quality of its advertising John Lewis has almost single-handedly created a media moment. You could even argue it is a pop culture moment. Everybody, from the media to the public, has a point of view on its advertising and there's a genuine sense of anticipation and expectation in November to see the latest ad. That's what is giving it the overwhelming share of voice: the fact that it was the brand that created the moment and has set the standard."


While no brand should try to compete with John Lewis head-on creatively, the media is more interested than ever in Christmas advertising

Chris Hides, managing director, London, of M&C Saatchi PR
Hides argues that this has created the conditions for other retailers to try to capture the spotlight.
He continues: "This moment has also given other brands the platform to launch their own advertising to a media and a public that has a heightened interest, so John Lewis isn't getting it all its own way. While no brand should try to compete with John Lewis head-on creatively, the media is more interested than ever in Christmas advertising... so any brand, particularly a retailer, has the opportunity to take the conversation and positive sentiment away from John Lewis with a great idea that takes a different approach."

John Lewis and Sainsbury's go head to head


Sainsbury's achieved most of its mentions following its first television airing during Emmerdale last Thursday evening, with further peaks at 10am and 3pm the following day.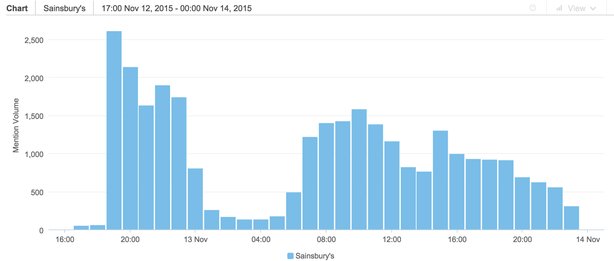 Peaks for mentions of the John Lewis film came at 11am, four hours after it was launched, with further peaks after its first television airing later that evening as well as the following day.


At its highest point, the Sainsbury's film attracted 280 mentions per minute while John Lewis peaked at 405 mentions per minute.


For John Lewis, 80 per cent of those expressing an emotion in the first 24 hours were positive and 20 per cent negative, but among these were those who said they had cried when they watched the film, suggesting a genuine emotional connection with the public.


Sentiment analysis around the Sainsbury's campaign showed that 27 per cent of the tweets were positive and two per cent were negative, with the remainder neutral.



Julia Robinson, project manager at Brandwatch, says: "A look at the mentions of Christmas adverts this year clearly shows that #ManOnTheMoon resonated more with social media users, with many declaring a real, emotional, connection. Perhaps that is the most valuable lesson retailers should take from this year's campaigns."


By profession, the Sainsbury's film was mentioned most by artists, students and PR people while the same order was true of the John Lewis film, although executives and journalists followed closely in fourth and fifth.


It is noteworthy that the gender profile for Twitter mentions of both campaigns is similar, although John Lewis achieved a more even split.


Mentions of the John Lewis film were 64 per cent female compared with 36 per cent male while for Sainsbury's the split was 68 per cent female compared with 32 per cent male.


To date, John Lewis has received 164,000 mentions on Twitter, while Sainsbury's has received nearly 37,000 mentions.


However, Sainsbury's has carried out something of a coup on YouTube, with its film of the hapless cat Mog and his nightmare Christmas receiving 12 million views compared with nearly 14 million views for the John Lewis film, despite launching a week later.


As with the John Lewis film, there is almost nothing the public can buy except the Mog book by children's author Judith Kerr and a Mog cuddly toy.


The two most successful efforts have eschewed direct selling of their products in favour of a charitable hook, which could be a sign of the way Christmas campaigns of the future will feel.

How the other campaigns measure up


But what of the other major campaigns that have launched in the past fortnight?


Brandwatch has tracked 15 campaigns for PRWeek on Twitter, including Tesco, Marks & Spencer, Lidl, Aldi and Harvey Nichols, from the time they were launched until this week.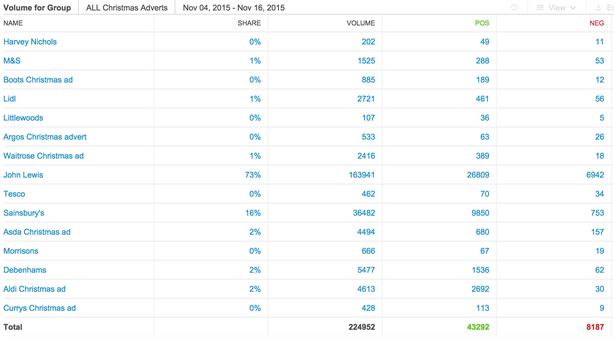 According to the latest statistics, the John Lewis film accounts for 73 per cent of the conversation on Twitter about the tracked campaigns, with Sainsbury's, the next largest competitor, on 16 per cent.
Aldi, Debenhams and Asda have managed to grasp two per cent of the conversation apiece, but many other huge retailers, including Tesco, Morrisons and Asda, have failed to make any serious impact with the public on Twitter.

Across all the campaigns, 61 per cent of the conversation on Twitter was from women compared with 39 per cent from men.


Robinson says: "The social data is unmistakable; the clear winner is John Lewis, which again has taken the lion's share of voice. Coming a not-so-close second this year was Sainsbury's. Expectations were high after the supermarket's epic advert from 2014, and while many press and social media users declared Mog the Cat the favourite, conversation volumes about the supermarket's effort fell short."

Does Twitter matter?


But is Twitter a useful gauge of public sentiment towards a Christmas campaign?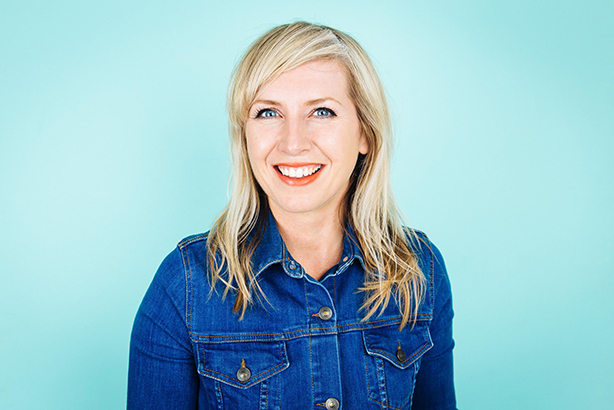 Victoria Ruffy (pictured above), partner at Little Red Rooster, says: "Arguably, yes. It's an instant vox pop of the nation. If the majority of those comments are positive, it's fairly safe to assume you're on to a winner."


Hides believes it is one tool of many that retailers will be using to measure the success of their campaigns.
Twitter is an instant vox pop of the nation. If the majority of those comments are positive, it's fairly safe to assume you're on to a winner

Victoria Ruffy, partner at Little Red Rooster
He says: "What Twitter offers is a real-time response and reaction and insight that can inform how the campaign, if supported by other elements of the marketing mix, can be adapted."
So has Tesco, which received just 462 mentions on Twitter, produced an expensive Christmas turkey for this year's campaign? Perhaps not.


One of Tesco's four Christmas campaign films has been viewed 164,000 times on YouTube, while another has received 35,000 hits.



Polls of how the Christmas campaigns are going down with shoppers consistently place John Lewis at the top but the picture below the top spot is more mixed.


A Netmums poll puts Tesco's effort in joint seventh place with Waitrose and Boots, but a Channel Mum survey places Tesco last out of 13, although it rose to 10th place when respondents were asked which campaign was most likely to make them want to shop.

Does 'talkability' equal sales?


But, when all is said and done, does it really matter which of the Christmas campaigns is the most talked about and does 'talkability' really equal increased sales at the tills?


Well, actually, yes.


According to its five-week trading figures to 27 December 2014, total sales at John Lewis amounted to £777m – a six per cent increase on the previous year.


Ruffy says: "It certainly can't hurt especially when it is overwhelmingly positive as in the case of John Lewis. Release an engaging ad campaign that lingers positively in the mind and the likelihood is it will have the desired effect on consumers when they walk down the high street, or browse the web."


Last year's First World War themed Sainsbury's campaign helped drive a record-breaking final Christmas week for the supermarket, with 30 million transactions.
I think it's fair to conclude that talkability at this time of year leads to sales.

Chris Hides, managing director, London, of M&C Saatchi PR
Hides says: "Christmas is the most important trading period for any retailer so being talked about at what is the most competitive and commercially critical time of the year is incredibly important. Talkability makes for awareness, which in turn makes for consideration, so I think it's fair to conclude that talkability at this time of year leads to sales. But one famous Christmas advert won't guarantee a happy new year for a retailer that doesn't have the all-important elements of product, service and price in good order."
Have the Christmas campaigns got legs?

Journalists talk about whether a story has 'legs' but what of the Christmas campaign stories; do they have legs?


The truth is that all the campaigns, even the John Lewis freight train, are already running out of steam on Twitter.


John Lewis has attracted 12,000 additional mentions on Twitter in the past week while the others have all begun to flatline.



So how can retailers ensure that their campaign has the stamina to keep the tills ringing all the way to Christmas?


Hides says: "The challenge is how to turn the media moment into a more sustained campaign and that's where integration comes in. An advert on its own will not drive sustained conversation. However if the idea is strong enough then it can be activated and extended through other channels from PR, social and direct. In many cases these adverts are just the beginning of the battle for Christmas customers."