Even by the multi-billion-dollar standards of tech start-ups, the success of taxi app Uber has been startling. Just five years after it was launched in San Francisco, the company operates on five continents and has been valued at up to $70bn (£46bn). It has revolutionised the business of private car hire with its brilliant but brutal market-based business model, which simply places the Uber app between the demand for taxi rides and the supply.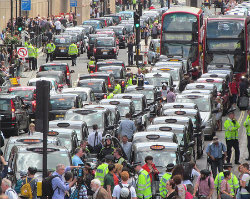 The UK has been no less immune to its appeal than the rest of the world. Three years after it launched here the company operates in 10 UK cities and more than a million people a month now use it in London alone. For a moment last month it seemed that Uber's UK prospects could be stymied by The Lic­ensed Taxi Drivers' Association, which had mounted high-profile public protests against Uber last year (pictured right) that the app was effectively a meter and was therefore illegal. But following a petition signed by 130,000 people, the High Court ruled in Uber's favour.
It was a bruising experience in which hostility went far beyond the bounds of normal business competition, says Jo Bertram, Uber's UK chief, regional general manager, UK, Ireland and Nordics who fronts the company in the UK. In the run-up to the High Court hearing she was even acc­used of getting a sexual thrill from the prospect of all the rapes that would inevitably occur as a result of Uber.
"Communication is an important part of my role. As we're a small team I have been the face of Uber here, speaking to journalists and at conferences where my time allows. It has meant I've had a fair amount of sexist abuse hurled at me on social media by a few people claiming to be cabbies. But that comes with the territory," she says philosophically.
It is precisely this sort of ill-informed emotional reaction that makes PR so important to the company, she says. It is all part of being one of the hottest brands – and business news stories – around: "The old adage that a lie can travel the world before the truth can put on its boots is sadly apt. There are all sorts of false myths perpetuated about Uber. One is that we are said to be this vast lobbying and PR machine; it's a compliment to the individuals who work for Uber but the supposed budgets and resources are laughably exaggerated."
The company has to communicate on three main fronts, she explains. First with consumers, for whom the message is "we're an easy way to get around the capital, safely and affordably". "From the moment we arrive in a new city to helping people understand who we are, PR is an important way to reach new audiences," says Bertram. Second, the company has to reassure potential drivers, and then there is its relationship with authorities: "More than 30 UK licensing authorities oversee our operations, not just Transport for London."
Despite the fact that unprompted awareness of Uber must be astronomical as a result of ten million news mentions since it launched in the UK in 2012, its UK PR operation is surprisingly modest. "Until recently, we had just one PR person – and they were responsible for the UK, Ireland and the Nordics. That's changing and we've just added two great people and are looking for another with consumer expertise," Bertram says. In May, Uber took on former Virgin media comms chief Gareth Mead as head of comms EMEA, while former Google head of comms and public policy Rachel Whetstone was made senior vice-president of policy and comms - although its head of policy will depart early next year after a year in the role.
In addition the company appointed Portland to handle its public affairs account this spring. It will be much needed, says Bertram: "Of course, new technology can be disruptive: not just for established organisations, but for the people who work in them and their families. But the answer, we believe, is to reduce onerous and outdated regulations on black cabs today – not hold back what people want."