Matthew Freud can justifiably claim to have revolutionised PR in the 30 years since he set up his own shop at the outrageously young age of 21. At the time his lack of experience was more than compensated for by cocky self-assurance, driving ambition, a jaw-dropping ability to network at the highest levels and a fierce if untrained intellect.
In the intervening decades he virtually created the recipe for modern PR – a simmering soup of brands, celebrity and good causes that has helped shape the fortunes of clients like Mars, Pepsi and Nike and contributed to such cultural phenomena as Live 8, Comic Relief and Product (RED).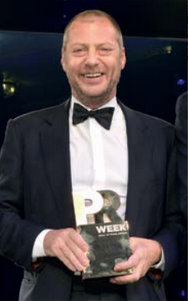 After many incarnations and flirtations with the big marcoms groups Omnicom and Publicis, the agency is now fully independent with new offices, a newish CEO Andrew McGuinness and a massive war chest of cash. But for all his high profile, Freud is notoriously publicity shy. In the week that he became the first member of the PRWeek Hall of Fame last month (right), he invited PRWeek for a chat at his spectacular art-lined office in central London.

Congratulations on becoming the first member of the PRWeek Hall Of Fame. What if anything does that mean to you?
I've been thinking about the award. And I have to say I love this industry. It has been incredibly good to me. I've had a most interesting life on the back of it. And I think I have created something where probably thousands of people over the 30 years have had a chance to create things that are more interesting than they might have been. In an industry that too many people disparage, I can point to things where we genuinely contributed.

So you feel the industry doesn't have the self-respect it should have?
The PR industry deserves to be a little bit prouder of what it does and how it does it and not be apologetic about being in PR. I am not remotely apologetic. I am not trying to rebadge it as something else. No, we are a decent PR company and we do a decent job. I am incredibly proud of the work we do here. We work with some extraordinarily good clients and amazing people from the media industry to curate interesting content. As it happens we have some redeeming features in that we tend to drive pro-social and cause-related work because it's a fantastic way to tell people of the values of the company you are representing.

You bought yourself out of your arrangement with Publicis in 2011, you have new offices, a newish chief executive and new creative director Seb Royce. Is this a relaunch, a rebooting of the agency?
Not really. It's a constant process of evolution. There are very consistent elements in the management team. A lot of people have been here for 20 years, a few have been here more than 25 years. I suppose moving to our first purpose-built office is a landmark. All our other offices have been opportunistic – the tail end of a lease, a deal.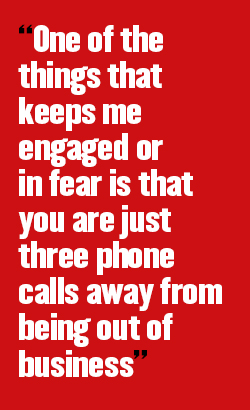 So you are a trader at heart
Yes, very much so. I used to like a reverse premium. We got one of those out of Interpublic on the last building. So this is the first time I have been able to sit down with a blank bit of paper and decide what would I like the Freuds office to look like? That was a big deal. And there was a strong sense of investment and wanting the agency and our stakeholders to understand that I was more committed to the business and to what we did than at any time in the past.
Is that why you have sold and bought back and sold and bought back?
I never found any release from that sometimes burdensome but extraordinary privilege of owning and running a business. And it didn't feel any different when my name was on the shareholding certificate, when it wasn't on the certificate, when it was on half the certificate. I don't look at the evolution of the agency in terms of the changes in ownership being different. There weren't golden eras and there weren't dark chapters, there's just been 31 years of turning up to work every morning and trying to make sure you do your best by your staff, and clients.

So you have no grand strategy for the future of the business
Every day I come to work and I look at what the opportunities are for the business and I look at what the threats are to the business and I try to take advantage of one and avoid the other. So the idea that I could sit down and map out a two-year plan or five-year plan is legitimate but belies the fact that I have to come in tomorrow and map out what the threats and opportunities are. And so strategy is a direction of travel but ultimately it's a more opportunistic business than that. So my grand plan is just to continue.

But surely you have some sort of guiding principles or else you would be all over the place?
People talk about a two-year or three-year forecast. And I say I defy you to give me a two-month forecast. One of the things that keeps me engaged or in fear – and it's probably true of any marketing services company – is that you are just three phone calls away from being out of business. On that basis you can roll your strategy up and smoke it because no strategy in the world is going to allow for the fact that PR agencies are much easier to get rid of than ad agencies. They've got the next 12 months planned out and the media buy is committed and you've got to get the media spots and so on. But with a PR agency you can literally call them up and tell them to go fuck themselves.

But that's not actually how your client relationships generally work is it?
As it happens we don't usually lose clients. Pepsi is 25 years now. Mars is 12 years, Asda is nine years, Diageo is ten years, Nike is 19 years. You are never bulletproof but if you do good work and you care about it and invest in the relationships then you shouldn't have that terrible day with those three phone calls. But it does keep you lively.

So you live in fear?
Yes, I live in fear on all fronts. Not least because I work in the most aggressive and irresponsible media environment on earth, which is now under-resourced.

…which makes us even more dangerous.
Much, much more dangerous. So yes, I am shitting myself on that front. On the client side there are a lot of bad decisions being taken. We lose some clients because of procurement. The other way we lose clients, is exactly one month after a company gets taken over by a private equity business, we get sacked because we are roughly five times more expensive than any other agency in our field.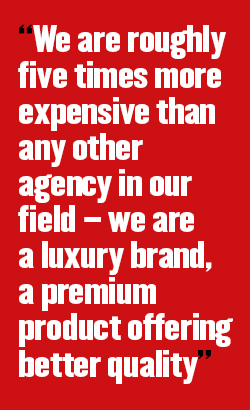 Five times? That's a huge premium. Why?
Because we are a luxury brand. We are a premium product offering better quality. The difference between us and other agencies is palpable. We have 230 staff, we have the ability to scale, to invest in central services to provide creative resource, planning resource, studio, digital, research. In an average year we do 40-50 pro bono campaigns. But that mix allows us to do proper work. You can't do proper work if you haven't got (decent resources). It's like employing a building company and two guys turn up with a shovel. They may be great but with the best will in the world they aren't going to be able to build a building. There was no other agency in Britain that could have done London 2012 because there was no one else with the ability to field 200 people over a ­sustained period of time. On the Torch Relay we had 80 people out on the road for 70 days. At various points nearly everyone in the agency was involved.
Surely any big agency could have done that?
Not really. I have huge respect for some of the big global agencies but they often run a low-margin execution business. Because they sell globally and most of their clients are global clients, then a proportion of that income is sent to each of the markets where they have offices. So their multimillion-dollar accounts are made up of lots of $10k and $20k per month accounts in different countries.

Do you see that agency model as widespread?
It's a general one. It's one of the reasons the agency business should worry. Because if you are selling marked-up hours on mid-level executives you are going to be procured down to a point where you are just about alive – as are most of the ad ­agencies now, as are most of the marketing ­agencies. So the only margins left are in media ­buying and some of those are hidden.

So you have all this resource. What marketing have you done to command this 500 per cent premium?
We don't. This (interview) is as close as we get to marketing. We answer the phone.

Isn't it really all about you and the quality of your contacts?
It's a legitimate question. But I don't sell those relationships. So if people are here because they think they are buying me, they are mistaken. But I'm not stupid. The connectivity of the agency generally and me specifically is an asset. But it's a product of having been operating in a single market for 30 years and producing consistently quite good work.

After 30 years is there anything you want to achieve professionally that you haven't yet?
I would like to reap some of the benefits from what I have contributed to sowing over the last 30 years. That is the swing away from advertising interruption marketing, which says you were enjoying this piece of content but we are just going to stop you for a word from our sponsors. We have always integrated the marketing messages (into editor­ial). The communication is part of the content people want to consume. Media companies that sell interruption marketing are less and less able to deliver an audience. So brands are going to start creating content and giving it direct to consumers. That used to be called PR. It was integrating the message in editorial. As that pendulum slowly swings, there is no question that advertising has become less and less effective. So as bought media gradually cedes ground to earned media, brands are investing and will continue to invest more in providing their own content free to consumers. We have got a role to play. Not necessarily the dominant role, not necessarily the lead role. But we have a role to play.

Who will have the dominant role?
My guess is that it will be the media buying industry because it already manages the £3tn-a-year global industry and it is able to demonstrate the value of how (clients) spend their money. But it will need a different partner and that partner is going to come from what Sir Martin Sorrell has just described as "La La Land".

Looking at your 2014/15 results, which have just been released, your UK turnover was up last year from £23.9m to £29.1m but your rest-of-the-world turnover was down from £15.5m to £8.9m. What's going on?
I think the balance is probably one client who shifted their spend from global to domestic.
You have £25m nestling in your shareholder funds. What is it for?
We are a unique business in that we are independent and debt-free. As it happens we are reasonably flush and we've got a global client base that we've been able to service from a single office here through a lot of people spending a lot of time on planes. I wake up every day and come to the office and look at what the opportunities are and there are opportunities to find like-minded businesses that don't want to fold into a global group and don't want to sell out to a private equity company.

So you are in the market to buy?
We are actively engaged in conversations with a number of businesses to explore what collaboration might look like.