When The Association of American Universities released its inaugural nationwide sexual assault survey, the 27 universities involved gained vital insight into a troubling issue that has garnered a lot of media attention in recent months.
The Campus Climate Survey on Sexual Assault and Sexual Misconduct was taken anonymously by 150,000 students last spring. Results were unveiled in September and showed that the University of Michigan, University of Southern California, and Yale University had the highest percentage of undergraduate women experiencing incidences of sexual assault.
The association presented survey results to Capitol Hill to share with members of Congress, says Barry Toiv, VP for public affairs for the organization.
"Universities are going to follow up with appropriate actions based on the data to better target solutions in terms of services," he adds. "Perhaps this data will encourage bystanders to act, victims to report, and other means of prevention."
While Toiv says the survey "is intended to be a key contribution to research on this topic," that could support other studies. It's still too early to say if another version will be rolled out.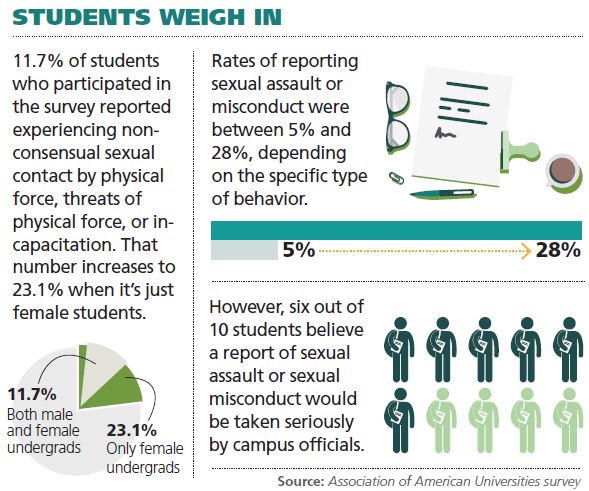 Toiv points out one caveat: "The weakness of the survey is the relatively low participation rate," he says, which was indicated in the report. Researchers "made clear the numbers came in very high," despite early trepidation that sexual assault victims might not want to take part, he says. The overall response rate was 19.3%.
The schools with the highest response rates have reacted in the following ways.
University of Michigan. The Big Ten school released a campus climate survey ahead of the report from the Association of American Universities, says director of public affairs and internal communications Rick Fitzgerald. Results of both went live on the school's website, complete with a frequently asked questions section calling all research "critically important."
University leaders held a press conference when its own survey results came back and when the association's survey results were released. It immediately ramped up training programs to sub-populations of students including athletes, reserve officer training corps, fraternity and sorority members, and incoming international students. It is also considering a Don't Be That Guy ad in the academic year, targeting issues of verbal pressure, incapacitation and consent, and implementing a personal safety education curriculum.
University of Southern California. The student media ran stories after hearing from Eddie North-Hager, USC director of media relations.
Students, faculty, and staff received a letter about the survey on the day it came out. That letter includes a link to the association's report and school re-sources. It also opens with an overview of action the school has taken including sexual as-sault education for new students, expanding its Center for Women and Men, and update its student code of conduct.
The school's interfraternity council fundraised for the Santa Monica Rape Treatment Center during Sexual Assault Awareness Month through its inaugural We Care, USC Greeks Stand Against Sexual Violence.
Yale University. The school addressed the issue in its alumni newsletter and via a message from its president. It also made the results accessible online, says university press secretary Thomas Conroy. Meanwhile, Title IX staff and other school officials "have ongoing contact with students and staff and faculty," so discussion around sexual as-sault is ongoing at Yale, he notes.
"Our school shares regular reports on sexual misconduct complaints, so our community already knows how many complaints there are and how they are resolved," explains Conroy.
Harvard University. Eighth highest on the survey with 26% of undergraduate women reporting incidence of sexual as-sault, the university will hold undergraduate-helmed town halls to solicit feedback on how the issue affects its students.