When Dell founder Michael Dell ponied up $25 billion in 2013 to buy back the company he founded in his college dorm room in 1984 and took it private again, it was billed by Forbes as the "nastiest buyout ever."
Activist investor Carl Icahn believed Dell and his private equity backers at Silver Lake Partners were getting his eponymous company for a steal and that Dell's leadership in the six years since he'd returned as CEO had not produced the turnaround required at the tech giant.
For VP of global communications Marc Bien, this proved a frantic introduction to the top PR job at the troubled Texas-based company. Just three months before the deal closed, Bien was promoted to the lead global comms role at Dell, replacing Kelly McGinnis who went back to California for a job at Levi Strauss to be closer to her family.
"We hired Marc several years ago with succession planning in mind," says his boss, Dell CMO Karen Quintos. "When [Kelly] left, he was clearly ready to step into that role. Marc has a very strong background with technology firms as well as M&A."
Bien had been at Dell for three years, having previously spent nine years onsite at AT&T in its corporate communications team while employed by Fleishman-Hillard and also had spells at Burson-Marsteller and Weber Shandwick precursor BSMG.
However, for Bien there was a surreal Groundhog Day element to the stop-start period, as no one was quite sure the controversial deal would go ahead. The initial shareholder decision was delayed three times and Bien remembers getting ready each time for the votes in Dell's auditorium with everyone suited and booted and a full media circus and satellite trucks camped outside.
"I knew all that was going to happen was the meeting would open and we'd be delaying the deal," he remembers. "We had to do it even though we knew the outcome. It was a funny exercise."
Handling a unique situation
Eventually the Dell privatization went through on the fourth occasion after three false starts, and Bien knew he would never have to deal with a situation like that again.
"All communications practitioners thrive on change and controversy, such as going through a privatization or an IPO, so it was a great time to be at Dell," he says. "It tests all your capabilities, from external communications, to influencer relations, and internal communications."
While the buyout was in process the Dell communications team also had an important responsibility to continue focusing on the company's shareholders, customers, and 100,000-plus employees. A special committee, made up of members of the Dell board, had comms consultants to relay messages to public markets on behalf of shareholders. And the buyout group, consisting of Michael Dell and Silver Lake, also had its own team. Each group operated independently with its own fiduciary responsibilities.
"There were multiple dimensions to the communications process and I sat in the middle," adds Bien. He ensured his team and the rest of the company weren't distracted by the deal machinations and any future implications for staff, including the comms team itself.
Dave Senay, CEO of FleishmanHillard, where Bien worked prior to and during his spell in communications at telecoms giant AT&T, says Dell had the right man for the job: "His forte is senior counsel to senior executives and crisis work. He has ice water in his veins and is cool in the clutch."
Quintos echoes these sentiments. "Marc's incredibly balanced and has a calm demeanor, which is a real asset to the company when you need that strategic approach."
As Senay points out, Bien's background at AT&T stood him in good stead.
"Telecoms is not for the weak of mind or heart," he notes, "and senior executives have a lot of confidence in Marc."
Once the privatization was finalized on October 29, 2013, Bien shifted to working for the buyout group, which included company founder and CEO Dell. There is still financial data that has to be reported in private every quarter to a group of debt investors, but it's away from the scrutiny of Wall Street.
"[Going private] has given us the flexibility to focus on customers and the long term," says Bien. "It has been liberating."
Evolution of Dell as a media owner

Managing editor Stephanie Losee moved on from Dell in May this year to Politico, and CMO Karen Quintos explains Dell no longer has an editor-in-chief role. Its content site Tech Page One also rebranded as Power More.
Having started with one person as managing editor and a stable of writers, it is now part of the digital-marketing unit under Monique Bonner, global marketing VP for digital, technology, and innovation, with a new technical platform that gets more traffic, visibility, and integration across brand marketing.
"We took [Stephanie's] skills and migrated them across the group," says Quintos. "We needed more capability across marketing and the broader teams."








Refocusing their energies
Michael Dell's name is still on the door and that hasn't changed whether the company was public or private. But not having to focus on the quarterly slog of results announcements and dealing with shareholders has helped Dell focus on its overall purpose.
Bien reports to Quintos, but he worked closely with Michael Dell on big events, media relations, and 20-plus acquisitions in the three years leading up to the privatization.
The company unveiled its biggest acquisition deal to date when on October 12, Dell reached an agreement to acquire EMC, including a controlling interest in VMware, for $67 billion, the tech industry's biggest merger. Michael Dell and EMC CEO Joe Tucci said the deal would keep EMC growing and thriving through the IT industry's changes. For Bien, the mission remains the same: Emphasizing the critical role that employee communications plays during times of change.
Working closely with Michael Dell, Bien credits the CEO for placing an importance on PR: "After an interview, he'll ask us what he could have done better, understanding that it's a process he can always improve."
The earnings cycle drove a lot of syndicated news, but Bien found ways to replace any loss in share of voice through initiatives such as publishing an annual report to customers, an all-digital Dell product focusing on successes first published in May 2015.
And last year, at its Dell World conference, the company announced its first Global Technology Adoption Index, focusing on the issues and challenges 2,000 of its customers face as organizations, and helping shape Dell's marketing objectives to address those needs, including utilizing paid, earned, shared, and owned platforms to amplify the index.
"Budgets in marketing always exceed budgets in comms," notes Bien wryly. "We partner well with marketing and do more by working with them. The paid and native ad elements give more leverage, reach, and value to our marketing. It's a culture of collaboration like no other I've worked in."
Bien sees this trend continuing, with content marketing an essential part of the mix. The idea of Dell as a media owner originated in the comms department several years ago, and former Fortune and PC Magazine journalist Stephanie Losee was brought on as managing editor of global communications. The result was Tech Page One, which launched in December 2012 and quickly became one of the top 10 branded content websites.
"There was so much scale in its first year that it was moved to marketing," adds Bien. "It's a communications-led initiative that has applicability across multiple channels and should be more marketing-driven where we can invest in the platform and more content."
Dell was also one of the first native advertising partners for The New York Times and Forbes, essentially helping the media owners build their own branded content divisions.
"It's evolved a lot over the past four years, but it was incubated in communications," he says. "I took a proud father view – it is great to see it grown and scaled in marketing."
Bien likes the idea of comms being an entrepreneurial function and looking for the next big idea that marketing would be willing to adopt and fund. He also believes it helps keep the brand true to what it is.
"Communications has to have a level of independence from marketing," he says. "We bring the thought leadership and provocative points of view to add to marketing's pro-motional and customer-oriented content."
It's symptomatic of Bien's leadership style that his nose isn't put out of joint by the shifting of eye-catching efforts out of his department. He focuses on doing the best for his 100-strong global team and positioning Dell's iconic CEO effectively post-privatization.
"Attrition on the PR team is the lowest it's been for years," says Quintos. "He's a huge advocate for his people and has a lot of respect from Michael Dell and senior leadership."
Bien puts some of this down to his predecessor McGinnis. Her confidence in Bien pushed him to take on more responsibility.
"Kelly's confidence in me was a boost," Bien says, although in terms of style, he sees himself more as a problem-solver/adviser.
"My team always seek my advice and I can always help them solve problems," he adds.
Post-privatization, Bien strategically positioned Michael Dell in a number of outlets, such as the aforementioned high-profile cover story with Forbes and a significant op-ed with The Wall Street Journal.
On the agency side, Dell principally uses WPP firms for its communications support, with PPR Worldwide taking the lead in North America, Axicom in EMEA, and Cohn & Wolfe, Ogilvy PR, Hill+Knowlton Strategies, and PPR in Asia-Pacific and Japan.
Dell is number two in the Chinese PC market behind Lenovo and as its growth rates elsewhere surpass those in North America and developed markets such as Europe, so the company is shifting resources as a result.
"The beauty of being private is we can make communications investments where we see opportunities," says Bien. "The communications organization follows the business."
That business has evolved from a legacy PC vision into areas such as the cloud, security, big data, servers, software, and the Internet of things, but as Bien notes there are still 300 million PCs sold worldwide each year, concentrated in the top three manufacturers.
Those machines have to attach to the cloud and servers, and the developing world is leapfrogging traditional storage and networking via software-defined scenarios. Dell is also the leading server provider in Asia-Pacific and North America.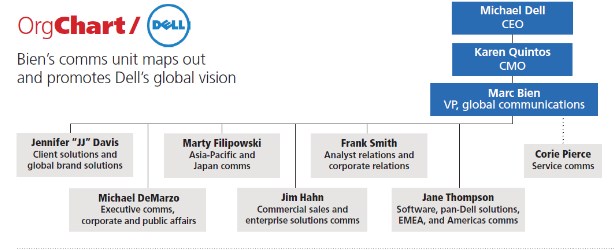 Levels of optimism
No one really knows how the privatized Dell is doing, as it no longer has to release numbers. The likes of Icahn are still skeptical, but as Bien tells it, the mood around the company is now one of optimism, with a different level of energy to two years ago, especially in markets such as India, China, and Europe.
It's Tell Dell internal survey monitors culture, systems, and net promoter scores and the latter is higher than it's ever been.
"It's indicative of employees who are optimistic about the future, and their overall satisfaction working for Dell," says Bien. "You can feel it, especially out in the regions."
Resume