There are 30 staff in total in Movember's London office, which co-ordinates activity not just in the UK but several other countries across Europe and Africa.
UK head of marcoms Paul Mitcheson leads a team consisting of a digital content manager and a PR manager, alongside a senior PR manager who works two days a week, and temporary social media support brought in during peak periods.
The charity has one PR agency in the UK – it has worked with Ketchum for healthcare PR since last summer.
Mitcheson said that social media are a "key part of our campaign". Alongside this, events such as a photo opportunity (pictured above) jointly organised with fitness initiative Project Awesome on London's Southbank earlier this week got coverage in The Times, City AM and Huffington Post.
It also has an extensive email database built up since it arrived in the UK in 2007, and secures a large amount of free advertising space. "We typically don't pay for advertising, so for example we have a very strong partnership with Dentsu and it helps us get a lot of coverage; typically a lot of outdoor space is secured by it, but it's mostly pro bono," he said.
Move Or Mo. Save A Bro
Mitcheson said that the major change for Movember this year was the creation of Move, a separate challenge that encouraged people to be active every day for a month. This has given rise to the tagline 'Move Or Mo. Save A Bro'.
"This is the first year people have had an option to take part without growing a moustache," he said, adding that this fundraising option could be attractive to those who have grown a moustache on several previous occasions and want a different challenge.
The moustaches have been Movember's high-profile calling card, but Move connects participation more directly to its goal of improving men's health. Prostate cancer is a particular focus, but it also works to combat testicular cancer, poor mental health and physical inactivity.
"That aspect of the campaign is becoming an increasingly important element because the moustaches got us so much PR in the early years, but now it's really about getting men to take action on their health," Mitcheson said.
Camaraderie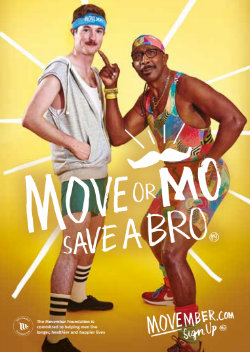 "The moustache is a great symbol for us because it is a masculine symbol and there's the shared camaraderie in Movember, so it's linked absolutely to men and masculinity. So I think a strength is that it is not just about hammering people with the heavy messaging.
"Move has allowed us to work with different ambassadors. We're certainly excited about trying something else and I think this opens us up to new audiences," he said.
Among these is former Olympic medallist Daley Thompson – "he's perfect for us, he's famous for his moustache and he's famous for being active", Mitcheson said – as well as current athlete Louise Hazel, and in a throwback to the 1990s, TV's Mr Motivator (pictured right).
Mitcheson himself will both be growing a moustache – "I would love to be able to grow a trucker but unfortunately I don't have the strength of growth for that," he said – and taking part in Move, although he has not set too big a target for himself on the latter front. "I'm going to be realistic because it is a very busy month," he said.