How are marketing and comms structured at Food Bank for New York City?
Marketing and corporate communications is part of our external relations department and a very key part of our organization.
Given we are a nonprofit, we rely heavily on visibility, PR, marketing, and all facets of communications. I oversee marketing communications, engagement, digital media – that includes Web, branding, and social media – our celebrity and culinary engagement, and internal communications.
How do you use social media and digital?
In today's world, it's crucial to have a strategic content plan. That's one of the initiatives I implemented when I joined last year. Every day, we are examining ways to be timely and get out there and be opportunistic, whether it's something happening on a holiday or with one of our campaigns or events. We use it as an opportunity to take an editorial approach and figure out on a day-to-day basis if it makes sense for a content story, the website, or social media.
How does marketing play a role in bringing on new volunteers?
We depend on volunteers on a regular basis, so we have always made that a core component of what we communicate, whether on the website or social media.
We do a party every April, which is Volunteer Appreciation Month. We engage all types of volunteers, not only those coming to our warehouse and community kitchen in Harlem, but also those who help out during the New York Wine and Food Festival and throughout Thanksgiving, the holidays, and beyond.
We put a lot on social media thanking our volunteers. A lot of them were former clients of the organization who just want to pay it forward. We are always looking to profile our volunteers on a regular basis.
We also leverage our corporate partners, such as Bank of America, Delta, and Pimco. There are so many companies that view this as terrific CSR and have giving back embedded in their culture. That benefits us a lot.
New York City food banks have been running short on food. How is the organization working to fix this problem?
We do a lot of research internally. Data has been at the core of our mission since our inception. We've been focused on pulling together accurate research citywide and have a terrific team that analyzes data and pinpoints where food is lacking.
Since there were cuts on the Supplemental Nutrition Assistance Program and food stamps about 18 months ago, we continue to see a meal gap in certain communities.
This gap pinpoints where there should be more targeted resources, where food is lacking, and the communities that have been hit hardest. In many cases, these are communities that were also hit the hardest from Superstorm Sandy and haven't recovered fully.
With Delta, we are working on a south Bronx initiative. That area has the highest meal gap and it's considered the hungriest borough. This effort is geared toward raising awareness and bringing more resources so that more food pantries and soup kitchens can re-open in the area. Through this program, which started late spring, we saw one open at Bright Temple AME Church.
Do you partner with a lot of celebrities to raise awareness?
We have a number of culinary and celeb ambassadors. We're always looking to engage new ambassadors who have a following. In September, we started working with New York Rangers' Henrik Lundqvist to shine a light on hunger during a campaign called Go Orange to End Hunger. In September, which is Hunger Action Month in New York, we put out a call to action on easy ways people can lend a hand to an issue that affects one in five New Yorkers.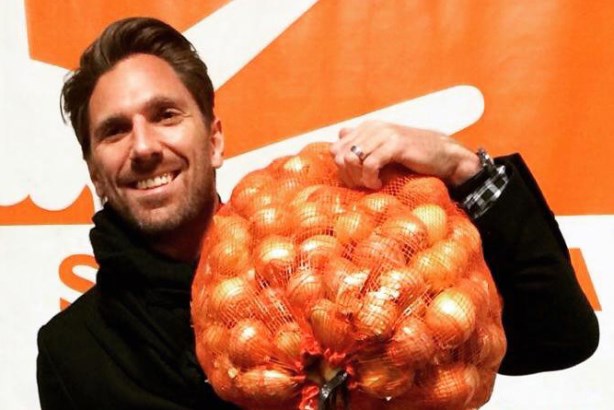 Another recent celebrity we've worked with is Lenny Kravitz, who joined our celebrity counsel in April. One of the most recognizable names is chef Mario Batali, who is also a board member. He is someone we work with throughout the year on a number of projects and on our biggest annual fundraising gala called Can Do, which took place this April. We raised $2.1 million.
In anticipation of our Can Do awards dinner, we kicked off a Food Bank challenge and Batali prompted his friends Gwyneth Paltrow, Sting, and Blondie to spark some media attention and help raise awareness before the event. We saw a five-fold increase in traffic on our social channels and website.
Do you have any new initiatives planned through the end of the year?
We partnered with the Brooklyn Historical Society this month. It's the first time any food bank has participated in an exhibit of this kind as it showcases unique photos that a photojournalist took of the members, volunteers, and clients within the organization. The exhibit will be going on for a year.
It's on the heels of the giving season and our second annual Thankful to Give campaign, which is meant to inspire New Yorkers to take action during the giving season.