On Sunday, November 1, more than 50,000 runners will line up on one side of the Verrazano Bridge, just off Fort Wadsworth in Staten Island, for the start of the 2015 TCS New York City Marathon. For a large majority of the field – amateur runners – those final steps toward the bridge are a mixture of trepidation, excitement, and, more specifically, nerves – fueled by the fact that myriad factors could impact their performance over the course of 26.2 miles.
The annual extravaganza attracts more than 1 million spectators, has over 10,000 volunteers working across five boroughs, and brings approximately $415 million in economic impact to the city.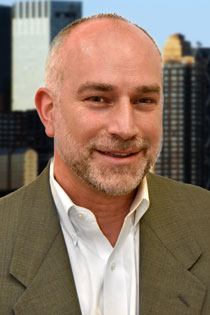 From a comms point of view, it's a logistical and year-round challenge to say the least, but before the first batch of runners descend onto the bridge, Chris Weiller, VP of media, PR, and professional athletics, for New York Road Runners (NYRR) – the nonprofit that organizes the world's biggest marathon – and his tight-knit team have gone over every possible permeation on how the race can be affected and the resulting comms scenario of each. Due to meticulous preparation, Weiller (inset) and Co. don't battle with extreme nerves on race day. "Being nervous implies that you're not ready in case something happens," says Weiller.
"You might get anxious," he says, "but we have worked through all the scenarios. We have a race command center and if anything happens – whether it is weather related, a sink hole pops up, if we have to stop or restart – we have ways to communicate those scenarios in real time, not only to media, but to runners and volunteers. You hope nothing impacts the experience, but we try to have people in position for anything that could happen."
Weiller joined the organization two years ago, just three weeks before the 2013 race – previously he held senior-level comms roles with the New York Knicks, the Charlotte Bobcats, and UNICEF. Upon his arrival, NYRR was coming out of a difficult period following the cancellation of the 2012 marathon after Superstorm Sandy crashed into New York days before the event. Initially, the organization wanted to proceed with the race and use it as a rallying cry for the city, but after heavy criticism, the marathon was cancelled two days before race day.
"I know it was a difficult time for everyone at NYRR. Coming out of it, the need to communicate transparently in a timely and effective way became a foundation for this organization," explains Weiller.
Global spotlight
As the biggest marathon in the world, New York commands a global spotlight, but following the 2012 cancellation and the Boston Marathon bombing in April 2013, there was more scrutiny on the 2013 race than before. Only a few weeks into the role, Weiller was able to tweak some things, but one thing he wanted to communicate was a unified message of transparency.
"A lot of things were already in place," he notes, "but I wanted to help guide the organization through the desire to be transparent and also run a great media operation and facilitate the coverage around post-Sandy and Boston, which was quite heavy and required the cooperation of the city on a variety of levels."
"To protect the safety of our runners and volunteers on the day, you need effective communications," he adds. "I just needed to make it tighter so the organization could quickly respond."
Two years later, Weiller and his team – Lauren Doll, Emily Gallagher, and Rob Molke – have their fingerprints all over the upcoming race, which he calls "the greatest annual sports event in NYC every year."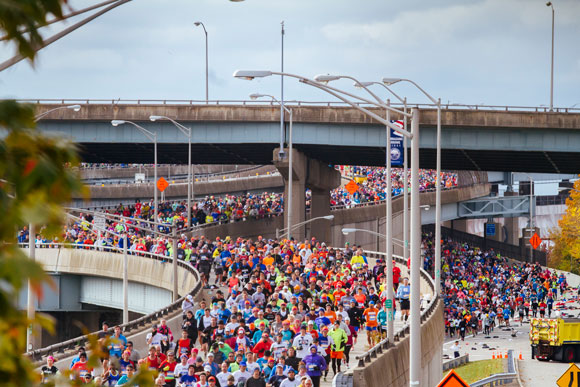 All photos and video footage courtesy of New York Road Runners
As such, the comms team leverages the global coverage the marathon attracts to showcase the work the organization does throughout the year – especially with young runners.
"Our Super Bowl is the TCS NYC Marathon and what you want to do with your biggest shining light is let it cast a wider net across everything else so one of the things we worked hard on is incorporating what we are as an organization throughout marathon week and the race itself," Weiller continues.
"We're a cause-related organization that wants to get people moving, running, and healthy, especially young people. Last year was the first year I was able to have a real impact from a planning standpoint so we picked the best ways to tell the story of who we are on the youth and community side."
Expanded team
However, for Weiller and his small team to actually pull off an event of this magnitude without a hitch, they staff up significantly – with help from Rubenstein Communications and DKC. For instance, as part of the World Marathon Majors – alongside London, Berlin, Boston, Chicago, and Tokyo – Weiller's team has to operate an immersive media center on the day, communicating the news from the elite runners, including timely and accurate results. More than 65 PR professionals are brought in "to handle myriad roles, such as the media center, manage day-to-day comms and live feeds, interviews, the finish, and multiple other jobs," he adds.
"Without them, our team of four would never be able to do this. NYRR's PR team is a small microcosm of the whole effort around the marathon, but everyone has a responsibility and is empowered to make decisions. The race wouldn't be able to operate at the level it does without people being able to make the right decisions at the right time."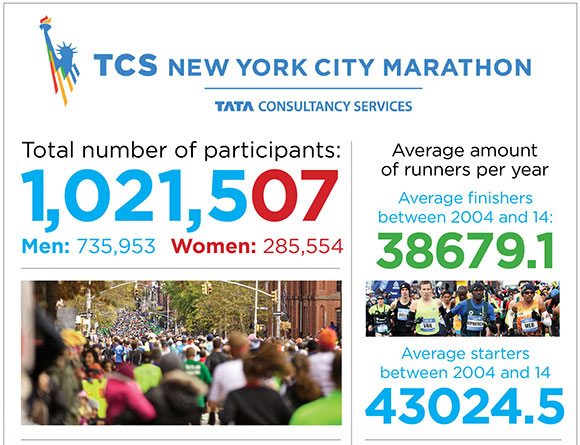 Click here or on the above image for more statistics on the TCS New York City Marathon
A testament to the communications team's high level of detail was the inclusion of the inaugural relay team in the 2014 race, which included NBA legends Charles Oakley, Allan Houston, and Dikembe Mutombo. The league's commissioner, Adam Silver, kicked things off by running the first three miles. From there, 24 other athletes ran the course, each one with a member of NYRR's running program, giving kids the chance to run part of the iconic course.
"It was a logistical miracle we pulled it off, but it was a great way to highlight what we do from a cause-related standpoint," says Weiller.
Efforts to highlight the organization's commitment to kids' programs will be amplified this year. As the adult runners cross the start line in Staten Island, a number of children in NYRR's programs will start a mini two-mile race in Central Park where they will cross the marathon finish line in front of spectators. "We're saying that kids don't need to run a marathon, but it's good to get them active and started as early as possible," Weiller adds.
Focus on global storytelling
One reason Weiller was attracted to the comms role at NYRR was the opportunity to tell engaging global stories across myriad platforms – especially around the marathon. The company uses a mixture of earned, shared, and owned media to communicate stories of its professional athletes, amateur runners, and celebrity ambassadors – such as Caroline Wozniacki in 2014 (below) and Alicia Keys in 2015, among others.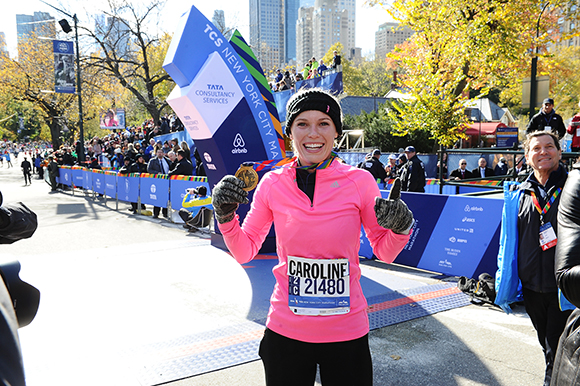 But rather than focus solely on New York narratives, the organization takes a global viewpoint, highlighting stories in various marketplaces.
"What's unique about the NYC Marathon is that it is this unique mix of hyper local, five-borough neighborhood feel, mixed in with this global race like no other," Weiller adds. "We could fill the race up with New Yorkers, but we pride ourselves on having people from over 125 countries. So when we tell these stories, we need to keep that in mind."
The organization also leverages its social media platforms – such as Facebook, Twitter, and Instagram – to collect and curate data that can be turned into engaging, shareable content.
As Weiller says, the social team – which sits in marketing and comms – "is an amplifier of the conversation and a communications tool all wrapped in one."
Culling stories from the professional athletes is relatively straightforward because of the familiarity with the runners, but managing the flow of content from all the other angles is a task in itself. For this, NYRR calls upon Rubenstein, which works with the nonprofit year-round on events, to process questionnaires from citizen runners and help identify engaging stories for Weiller and his team to pitch to local, national, or global media outlets – or share the stories on NYRR's own platforms.
"If we see a great story, then we want to be able to help tell it, whether it's hyper-local, national, or global. We feel it's really important to bring these great stories around the marathon to the public."