Give them until 11am, at least...
Here are some possibly dangerous, maybe true, words of wisdom to kick us off from Jonathan Weinberg, founder of PR Pitch Me:
Journalists. It's the annual Get Your Own Back On PRs Day when they're hungover from #PRWeekAwards - give them a ring ASAP for a random chat

— Jonathan Weinberg (@JW_Ten14) October 21, 2015
Hall of Fame's Freud smiles (just about)
Former Sony CEO Sir Howard Stringer was generous in his praise of Matthew Freud, the inaugural inductee into the PRWeek UK Hall of Fame. Well, mostly generous – he also addressed the matter of Freud's tendency to appear slightly glum. "One thing about Matthew worries me – you look at any picture of him and he rarely smiles – he's the Posh Spice of business," joked Stringer.
Freud (pictured below) did just about manage a smile when he took to the stage, and was gracious in accepting his place in the Hall of Fame, which he dedicated to colleagues past and present. "They've made me look cleverer than I am, they've worked harder than me and they're the ones that deserve the recognition that I am now getting," he said, before finishing on a self-deprecating point: "Thank you all for putting up with me – and I promise to be marginally less annoying in the future."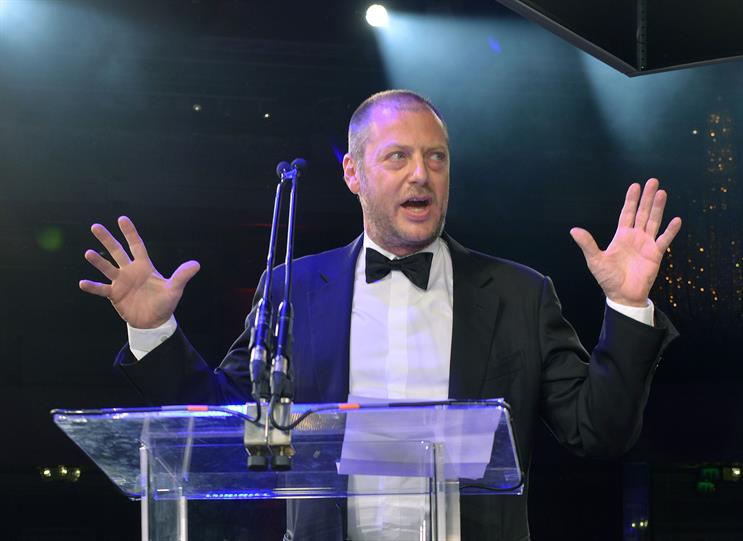 Freud works the room
There was certainly lots of praise for Mr Freud last night after his Hall of Fame moment.
Matthew Freud receives the inaugural Hall of Fame @PRWeekAwardsUK – a great start to a fantastic evening pic.twitter.com/WWGbVzuIW6

— Vickie Sheriff (@VickieSheriff) October 20, 2015
However, some were slightly more questioning about the industry legend. This was from John Lehal, MD of Insight Consulting Group.
Matthew Freud may have done a lot for his clients, his agency & his networks. But what has he done for the profession? discuss #prweekawards

— John Lehal (@JohnLehal) October 20, 2015
Flack is clear where he stands on such a debate, but will let this one go.
No PR please, we're British
Back to Howard Stringer (pictured below with PRWeek editor-in-chief Danny Rogers), and the former Sony man, whose background is as a journalist rather than a PR, had an unusual take on the comms industry. "The words public relations, translated from the Latin words 'publica coniugatio' – which means 'sex outdoors', those of you who know Latin can work it out – suggests that Britain is a country that has mixed feelings about public relations, particular as a country where it rains all the time." It's hard to know quite what to make of that, really.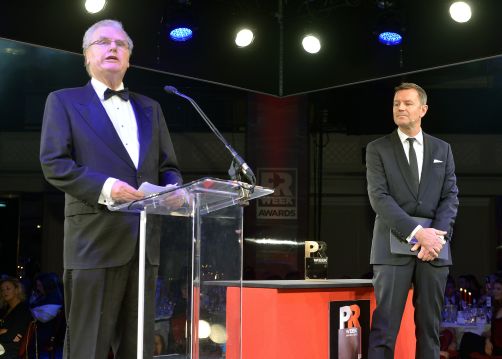 The Cheeky Boys
Once Stringer had presided over the Hall of Fame formalities, the evening's hosts took to the stage – Alexander Armstrong and Richard Osman of BBC Pointless fame. Armstrong continued in Freud's self-deprecating vein, saying: "We are as gutted as you were that the Chuckle Brothers were unavailable – also Jedward turned it down, and it was us or the Cheeky Girls."
Then followed an Operation Yewtree joke – Armstrong claimed that he had been "cleaning up" on the awards hosting front since the police made certain light entertainment stars unavailable. Flack is saying nothing.
Saucer of milk, please
There was, as usual, a fantastic sense of cameraderie at the event, but this didn't stop the odd bit of cattiness from some quarters. Flack overheard one individual accuse a winning agency of not being very "image-driven", adding that all the women from said agency were wearing "stripper shoes". Outrageous.