An office move can offer a PR agency a chance to rethink its working practices and reboot relationships with clients. There may be cost savings from centralising disparate operations into a single building and finding a cheaper property as London prices soar. But new premises are more than just a few square feet of real estate – they can become a key part of an agency's positioning and branding for clients.
Over the past year a number of London PR firms have decided to relocate. Ogilvy PR is moving from its Canary Wharf HQ to the refurbished Sea Containers House on the South Bank, while Hill+Knowlton Strategies has deserted Soho for Clerkenwell. Instinctif Partners fled Tower Bridge for stunning new offices near St Paul's and M&C Saatchi PR has moved around the corner from Golden Square to a larger space in Great Pulteney Street.
Meanwhile, Omnicom is consolidating its PR businesses such as Fishburn, FleishmanHillard, Ketchum and Porter Novelli into offices on Bankside. It will also base many of its other marketing services agencies there.

Playful and productive

M&C Saatchi PR's recent move was triggered by the expansion of the workforce from 30 to 64. The new office on the third floor of a building in Soho's Great Pulteney Street is zoned, with a mix of desks, sofas, meeting rooms and a creative area. There are crayons for drawing, fake grass and the 'eatrium' catering area. Molly Aldridge, the PR agency's global chief executive, says the design of the offices aims to position the agency as being strongly creative, part of the M&C Saatchi ad agency 'mothership'.
"It is about ensuring people remain playful, so coming into the office is fun. There's a better creative product if people enjoy coming into work," she says. But she thinks it is important for the agency to remain in central London: "I love Soho and the team here do. There are a lot of restaurants, galleries and shops and things to get the creative juices flowing are on our doorstep. Clerkenwell is interesting and so is Shoreditch. But for us it will always be Soho."
As part of the move, the global team is being centralised in the new office. Aldridge says the senior management team decided against hiring outside consultants to design the new working space, but came up with the ideas themselves as they knew what they were trying to achieve. It offers clients a space to come into town to work, while staff are being encouraged to work in a more mobile and flexible way, in coffee bars or other locations (a policy known as 'free ranging').
Moving offices can be a huge task but it does not always go according to plan. Ogilvy PR was supposed to move into swanky new offices at Sea Containers House on London's South Bank this summer along with the rest of the Ogilvy group. But building delays have held up the move, possibly until after Christmas.
Even so, the relocation will no doubt be welcomed by staff, who have been working at Ogilvy's current offices down the river at the comparatively distant Canary Wharf, a boat ride away and accessible via the Docklands Light Railway. The more central location positions the team closer to some of Ogilvy's biggest clients such as Unilever and is close to transport hubs such as Blackfriars and Waterloo stations.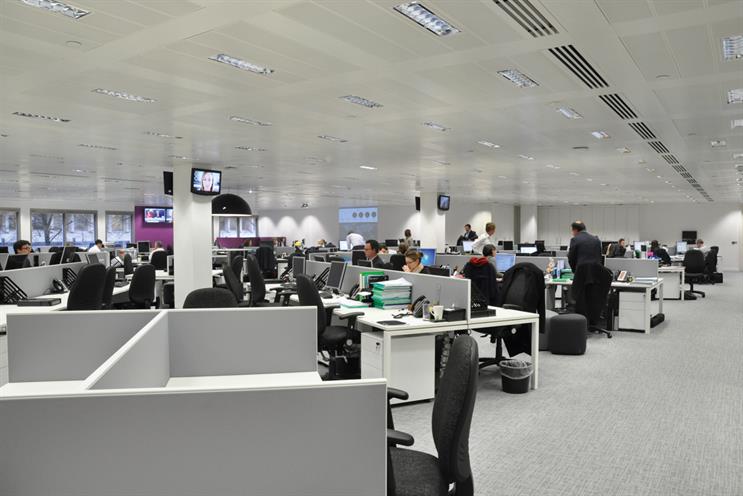 Internal affairs: Instinctif's offices allow it to carry out key activities without leaving the building

Refreshing the brand

The new building will house 2,000 staff from across the group including the ad agency and Ogilvy Healthworld, which is based in Paddington. Marshall Manson, managing director of Ogilvy Social EMEA, says the new offices will be impressive, with a rooftop bar two stories higher than the bar in the nearby Oxo Tower, and he claims they will have among the best views of St Paul's Cathedral in London. "I look at the new building as a huge opportunity for us to refresh the agency and allow the culture to show through," he says.

He adds that there are commonly accepted views about how a modern office should work, and the new premises will offer hot-desking, common areas with drop-in facilities for clients, collaborative areas for creativity and places to be quiet. "The key is that it is comfortable – a place you are happy to spend time in," he says. "It will build energy rather than sucking it out of you."

Instinctif Partners moved to Gresham Street near St Paul's last year as part of its rebranding from College Hill. It was a welcome move away from the previous offices near Tower Bridge – where "it took 15 minutes to get a sandwich", according to group development manager Lottie Whyte. The new location also enables the agency to carry out several of its most important functions within the office. Since much of its work is financial and business PR, Instinctif can conduct live streaming of analyst presentations and other events. One is its 'Graze Geek Together' event, which brings together 60 fast-growing UK businesses to discuss issues such as how to launch in the US.

"The office has provided clients with the right space to engage with their stakeholders," says Whyte. "Hiring out a space isn't the same thing as having people in your office – and particularly for analyst presentations, it is an extension of the work that we are doing, and it adds value to our clients."


Soho chic: M&C Saatchi PR's new offices in Great Pulteney Street offer a mix of desks, sofas, meeting rooms and creative areas, and an 'eatrium'
The office has brought together some of the businesses that have been acquired over the years into one location and houses some 200 staff. It is laid out in a newsroom style across one floor. "Bringing everyone together in terms of culture and how we work together has made a difference and having everything in one open plan space has worked well," she adds. But Instinctif has decided not to go down the route of desk sharing, which can lead to a feeling of instability and can get in the way of team working as people may not be able to find desks near to each other.

Whyte believes the new ways of organising PR offices evident from some of the recent moves reflect changes in the way the comms industry functions. With many different touchpoints between businesses and their stakeholders, there needs to be more collaborative ways of working. Meanwhile, staff are also looking to work in less rigid structures and need more freedom to move about and work at their own pace.

In an industry where appearance and image are so vital, having a fashionable HQ located in a desirable area that boasts the latest innovations in workplace organisation will always play a huge part in impressing clients.