PR stunt to die for
The Guardian's tech reporter Alex Hern was a bit nonplussed this week when he received a parcel in the post from a PR company accusing him of murder. On further inspection Hern found seven spent shell casings and a bottle of Martini inside the bag. Hern describes it as the "most ill-advised PR ever",however Flack thinks it's quite genius. With allusions to 007 and the apparent victim – Cyprinus Carpio (a fish) – being found in possession of weed, it's all very Bond.
Just been sent the most ill-advised PR ever. It accuses me of murder? On the OUTSIDE OF THE ENVELOPE pic.twitter.com/Vfw7NwVnNe

— Pumpkin Spiced Hern (@alexhern) October 7, 2015
Comedian blows whistle on managers not playing mediaball
There has been something of a growing trend for football managers to spend press conferences being grumpy with the media and refusing to answer questions. It's not just Chelsea's Jose Mourinho; Arsenal's Arsene Wenger and Manchester City's Manuel Pellegrini have also been playing this game of late.
On Radio Five Live show Fighting Talk last weekend, comedian Mark Watson showed this stroppy PR tactic the red card.
"What I think is ridiculous is this new thing of managers... basically making out they don't need to talk about football in press conferences, Wenger saying 'I don't have to tell you why I played Ospina', and you sort of think 'well, you don't have to but it will come up because everyone here is a football journalist and this is a press conference'," Watson said, concluding: "I think managers have to accept that it's a little bit ridiculous to do a press conference and then make out that it's some kind of faux pas to ask about football."
Fergie would never have done it, that's for sure...
Look into my crystal ball...
PRWeek's feature on the future of PR has generated a huge amount of interest this week, as did our follow-up article that asked our 30 Under 30 crew what they believed public relations would look like in 2030. There were so many interesting comments from the latter that PRWeek had to leave out due to space constraints, but Flack has got hold of some other gems for your interest:
"Remember those hologram adverts that spoke directly to customers in Minority Report?" asks Oliver Jones, head of comms and sustainability at Aggregate Industries. "That sort of personalised advert in unexpected locations will be commonplace by 2030."
On a similar theme, Hotwire's David Clare says: "Visual experiences are growing massively. Imagine a world where Oculus Rift is nano-sized and as widespread as the mobile phone. The way we deliver content will be much more visual, with stories told through images exclusively."
Finally, Liz Mercer of FleishmanHillard said: "By 2030, most of our current communications platforms will be irrelevant. If you consider all the ways that Facebook and the iPhone have changed how brands communicate over the past eight years and assume that it won't be long before another game-changer appears, then the tools of our job could well be very different by 2030, even though the need for an authentic voice will no doubt still be vital."
Food for thought. Read more predictions here.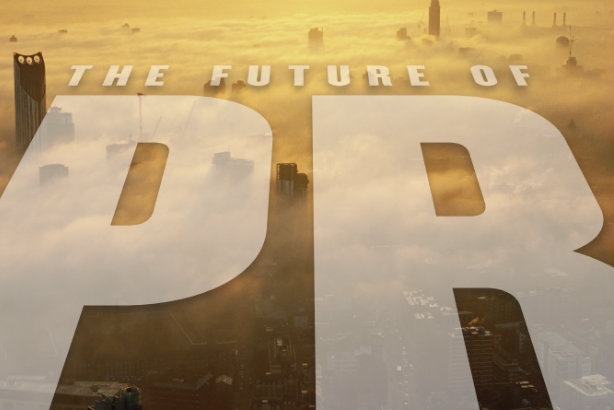 Conservatives drink to relaxed standards
It seems the Tories are less worried than they used to be about two particular reputational risks, according to the The Sun's Westminster correspondent Harry Cole's Conservative Party Conference diary earlier this week.
"It used to be career suicide for any Tory MP to be snapped with Champagne, meaning ministers had to pour Champers into a wine glass. Now the ban is lifted," Cole wrote.
Flack will probably raise its glass to that. But then came the revelation that Tories are now given carte blanche to associate with a far less reputable vessel. Cole continues: "Despite falling out with the Tories when he was banned from Margaret Thatcher's funeral, comedian Jim Davidson was seen clapping away to speeches."
Gown? Check. Medal? Check. Secret handshake? Presumably...
Congratulations to Francis Ingham, the big cheese (not his official title) at the PRCA who on Monday is to be installed as the master of the Company of Public Relations Practitioners for 2016. He is the 16th master of the company, which was founded in 2000 and was formerly known as the PR Guild, succeeding Kevin Moore.
Asked by Flack whether the role involved wearing a big hat, Ingham said: "No, but it does involve me wearing a blingy medal and a gown."
Consider Flack's own hat to be well and truly in the ring for 2017.
Jump to it
This PR 'stunt' is quite special. PR pros Addie Kenogbon (pictured left) and Vickie Tebbutt (right) of Hopwood PR have committed to completing 25 charity events before the end of the year to mark the agency's 25th anniversary. Most recent has been a 14,000ft parachute jump, but the pair have also taken part in a 900-mile cycle ride from London to Monte Carlo and a 160-mile trek through the Arctic Circle. All money goes to Brain Tumour Research. To donate, click here.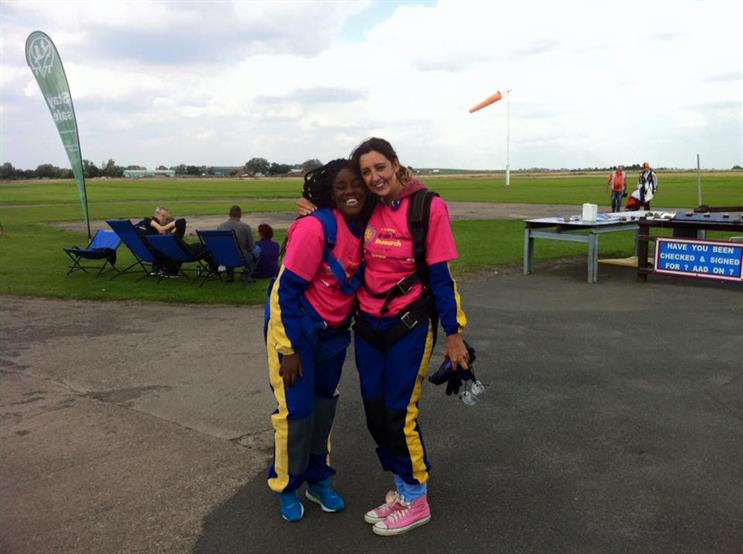 Shine goes the extra 26 miles
Finally, and sticking with charity endeavours, congratulations to the Shine Communications team on their charity walk last Friday – not just because they raised more than £6,000 for the poverty charity Rope with their 26-mile exploits, but also because photographic evidence suggests that ahead of a miserably wet few days earlier this week, they chose a bloomin' lovely day to do it.
About to get strolling to Brighton! Keep donating here ??#PierToPier http://t.co/XT75tkdwVr pic.twitter.com/ah2sufR7u4

— Shine Communications (@ShineComms) October 2, 2015