Do you remember life at the turn of the millennium? When print media still ruled, press releases were still sent by fax and Facebook was a glimmer in Mark Zuckerberg's adolescent eye? It is strange to think that in 2000, the use of words like Twitter, BuzzFeed or even 'content' would likely be met with a blank expression, such has been the rate of change in the comms, marketing and media landscape.

What if we fast-forward another 15 years? How much of what we take for granted now will seem antiquated, and which of the embryonic trends in play today will have developed beyond recognition? Will PR as we know it even exist at all?

PRWeek put these questions to its 30 Under 30 contingent and also to the wider industry through a survey conducted by YouGov. The respondents were a mix of PR agency, in-house and internal comms professionals of different ages and levels of seniority, with a gender split 62/38 in favour of women (reflecting broadly PR's gender make-up). The issues raised provide a snapshot of where PR may be heading by 2030.
Here, we analyse the main findings.
The end of 'PR'?
Let's start with perhaps the most striking finding of the survey, which suggests the term PR may be confined to the history books by 2030.

Asked if the expression "PR agency" will be used at all in 15 years' time, two-thirds of respondents agreed – either strongly or to some extent – that it would not.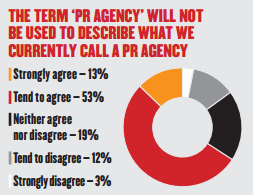 Undoubtedly, this is linked to ongoing integration within marcoms. One senior figure who foresees an erosion of the distinction between PR and its sister disciplines is Harris Diamond, CEO of global marketing firm McCann Worldgroup and former chief executive of Weber Shandwick.

Speaking at the PRCA National Conference last month, Diamond said such an "artificial" distinction "has to go". "We're all marketeers," he stated.

Diamond said the "specialised skill set" of PR would remain, but added: "What has to change is the concept that we each need our own place at the table."

Ketchum Europe CEO David Gallagher takes a different view: "The term 'PR agency' has survived too many assassination attempts for me to see it gone within 15 years. What it means may change, as traditional forms of media continue to develop, but I think the term 'PR agency' will still be in use."
Regardless of whether the term is still used, respondents were clear that these agencies will change significantly. The overwhelming majority – 96 per cent – believed (to a greater or lesser extent) they would be expected to carry out a more diverse range of functions by 2030, as the need to become 'content creators' grows.

Specialisms being adopted by PR agencies will play an increasingly crucial role, it is assumed. Asked how important digital/social media expertise, the use of data, and video facilities would be 15 years from now, a majority said they would be more important; 86, 71 and 69 per cent respectively.

"By 2030 the industry will be unrecognisable to practitioners today," says Krissy Koslicki, associate director at Seven Hills.

Raoul Shah, CEO of Exposure, says 'PR' only accounts for around 25 to 30 per cent of his agency's revenue, with digital, social media and 'brand experience' increasingly important. PR agencies will not disappear but rather "work in a very different environment", he says.

Regarding more traditional PR agency activities, things were less clear cut. Fifty-one per cent believed 'press office functions' would be more or a little more important by 2030, a similar proportion to those who thought they would be not very or not at all important (43 per cent).
RIP press releases
Another stand-out finding relates to press releases. A huge 71 per cent of respondents thought they would be a little or much less common by 2030 – just three per cent predicted they would be more common.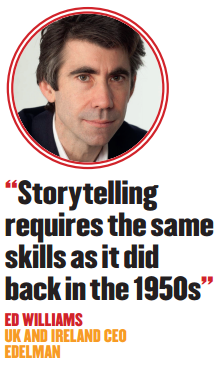 Denise Kaufmann, partner and CEO of Ketchum London, says: "Some days it can feel like the entire culture of a PR agency is set up to manufacture, quality control and distribute the written word in documents like press releases. One of the challenges for PR is to rebalance this with more visual communication and thinking."

A further traditional staple of a PR's working day – speaking to journalists on the phone – could also be on the way out, our survey suggests. Nearly two-thirds (63 per cent) thought this practice would be much or a little less common in 15 years' time.

That is not to say the PR/journalist relationship will be less important; 67 per cent believed it would be as common or more common for PRs to have close relationships with journalists as now.

The message is that while communication with the media will remain crucial for PRs, the means of communicating with them will change.

"There is and will continue to be real change in terms of how you communicate. Channels will change, as will the means by which you communicate, whether it's video and words today, to immersive and virtual in the future," Edelman UK and Ireland CEO Ed Williams says.

"But what will always be the case and is always constant is the underlying core skill of public relations. That is the nature of advising and presenting a client's interests in an authentic and credible way. Great storytelling, bringing to life a programme on behalf of a client, requires the same skills as it did back in the 1950s: creativity, finding engaging hooks, knowing your audience, clarity on the desired outcomes. Yes, technology will change how we communicate, but what makes a great story is immutable."
Comms grows in importance
It has long been said that the PR industry has an inferiority complex in relation to other marcoms disciples, but our survey points to a growing optimism that PR can and will compete.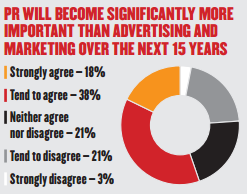 More than half of respondents (56 per cent) agreed that PR would be significantly more important than advertising and marketing in the next 15 years, and most expected comms agencies to match these disciplines across specialist areas that have traditionally been the domain of others.

This includes creating game-changing campaign ideas and concepts (78 per cent), creating compelling film and video (55 per cent), planning media at a scale to reach the right audience effectively (60 per cent) and managing large-scale, ongoing digital conversations with customers and other stakeholders (63 per cent).

In addition, 60 per cent believed PR could match other disciplines in offering a truly integrated mix of marketing in a single campaign. And 69 per cent thought PR had the ability to lead alliances of different types of agency on a single client campaign.

The message has resonated with senior ad world figures. Toby Harrison, planning partner at advertising agency adam&eveDDB, told the PRCA National Conference he could not think of "another time when we've been more scared of another discipline than we are of PR".

Diamond certainly sees PR as playing an increasingly important role, particularly as companies use data on individuals more frequently. He says PR "has an opportunity to become the leader in setting up the rules of privacy" by explaining and reassuring the public about what organisations are doing.

Whether PR will have more money, however, remains to be seen. Asked if PR budgets will grow at a faster rate than those for advertising or marketing, there was no consensus; 39 per cent agreed, and 34 per cent disagreed.
In-house blossoms
The growing status of PR is also reflected in views about in-house PR departments. Three out of four respondents believed in-house PR would be taken more seriously by organisations, and would play a bigger role in the daily lives of their employers. Nicola Green, director of comms at O2, agrees, and predicts the role will evolve. In Green's view, consumer PR could potentially become rolled into marketing in the future, meaning greater emphasis on the corporate advisory function for in-house PRs. "I think that's where we've got a real differentiation over what the rest of the organisation does," she says.

Interestingly, there is less certainty about whether the growing importance of in-house PR will be reflected in the level of investment. Fewer than half (45 per cent) believed in-house PR departments would be bigger in size by 2030, while one in four thought they would not be larger, and one in three did not know.
Tech PR to surge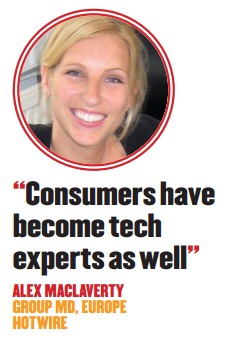 Perhaps unsurprisingly, respondents highlighted tech PR as the strongest growing area of comms over the next 15 years. Two-thirds (67 per cent) believed it would be a lot stronger, with 24 per cent saying it would be a little stronger.

"Tech used to be a niche specialism in PR, heavily focused on a b2b audience, but now everyone from trainer companies and food manufacturers to banks and retailers want to be seen as tech innovators," says Alex MacLaverty, group MD, Europe, at tech-focused agency Hotwire.

"Consumers have become tech experts as well, so the market is certainly strong for agencies that can hit the right balance between in-depth 'geekiness' and consumer-friendly comms."

The next biggest growth area will be consumer PR, our survey suggests, with 67 per cent of respondents expecting it to be stronger by 2030. This is followed by healthcare (58 per cent) and corporate/financial PR (52 per cent).
Public sector fears
Interestingly, while 50 per cent of respondents expected public affairs to be stronger by 2030, almost half that proportion (26 per cent) thought the same applied to public sector PR. This no doubt reflects the view that public sector cuts will continue to be felt among comms teams long after David Cameron leaves Number 10.

"Public service comms has pioneered the use of digital comms, integrated campaigns and evaluation over the past decade while reducing res­ources. That's a matter of capability not size," says Alex Aiken, executive director of government comms.
"Many PR experts acknowledge the high quality of much of our work. We'll rise to the challenge of using data, creating content and using social marketing to continue to improve our work over the next 15 years. The Government Communications Service is committed to professional imp­rovement and is producing better campaigns in 2015 than with the larger resources we had in 2010. The same will be true over the next five years."
Diverse and flexible workforce
The PR workforce, and how they work, is likely to be quite different by 2030, our survey suggests.

Ninety-one per cent believed flexible working would be more common 15 years from now, both in terms of the hours people work and whether they are expected to be in the office.

And there is some hope that difficulties around recruiting decent PR staff would have eased. Alm­ost half (48 per cent) believed the availability of cap­able PR staff would be more common by 2030 (34 per cent said the situation would be unchanged).

Meanwhile, 73 per cent thought there would be more diversity among PR practitioners by 2030, in terms of gender, ethnicity and social background.

PR is often characterised as a white, middle-class pursuit, largely staffed by women but where men have the lion's share of senior roles. Our respondents clearly hope this will change.

"Diversity is key to providing the right blend of skills and mix of cultures to be able to help clients navigate the diverse media landscape that we work in," says Shah. "I think the way influence travels through media, and the way consumers are influenced by brands and communications, means that without being diverse in every aspect of that world, you can get left behind."
The death of newspapers?
Unsurprisingly, respondents think the growth in mobile technology will continue to have an impact on how people consume media. In total 79 per cent strongly believed mobile devices would be used by almost everybody for accessing media 15 years from now (18 per cent tended to agree with that claim).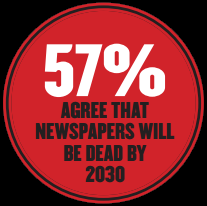 This does not necessarily mean printed publications will be history by 2030. While the majority (57 per cent) agreed that "hard copy newspapers will be all-but dead" by that date, a significant minority (34 per cent) disagreed.
And broadsheets are likely to outlast red-top tabloids, our survey suggests.
More people thought that in 2030, The Times, The Guardian, The Telegraph and the Daily Mail would be as strong as they were now than believed these newspapers would be either stronger or weaker.
This was not the case for The Sun or the Mirror; 50 and 62 per cent respectively thought they would be weaker by 2030.
While some may fear for its existence given the current debate around charter renewal, the majority (51 per cent) of respondents believed BBC News would be stronger in 2030 than it is now (27 per cent expected it to be weaker by then). Meanwhile, 54 per cent believed Sky News would be stronger in 2030.