The Trade Union Bill received its second reading in the House of Commons on Monday and is now going into commitee stage.
Proposals under consultation but not currently included in the Bill would require unions to report planned social media activity to employers two weeks before any strike, according to a press release from Unison.
Unison also says those proposals mean unions might be required to notify the police of "exactly how they intend to use, and what they plan to say, on both Twitter and Facebook, as well as any websites or blogs" - although a government spokeswoman has disputed the union's reading of this proposal.
In response, Unison's digital team has created the #TwoWeeksWarning campaign, which is supported by union umbrella group the TUC and other individual unions.
The unions are also asking supporters to sign up to the campaign via a specially-created website. Once an individual puts in their details, an automatic Tweet, Facebook and/or Tumblr post timed for 11am on Sunday will be scheduled, warning followers to look out for an "important message" in a fornight's time.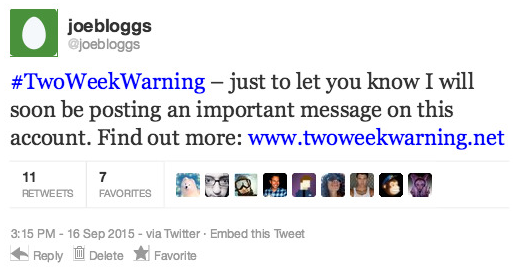 The people who sign up for this initial post will then receive an email asking them to agree to send out another post. This second post will be sent two weeks later, on 4 October - the first day of the Conservative Party Conference, using the conference's hashtag.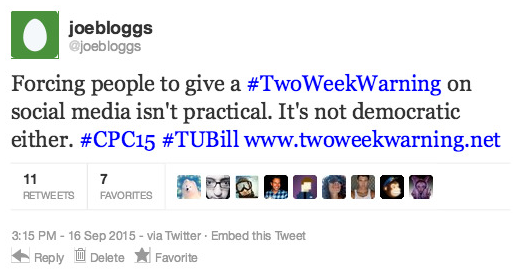 According to Unison, 500 individuals - with a combined social media reach of 500,000 people - have already signed up to the campaign.
As part of the campaign, the team has created a Buzzfeed community post. Anyone is free to put such posts on Buzzfeed - which contain a disclaimer that the post has "not been vetted or endorsed by BuzzFeed's editorial staff" - with the title 'What If You Had To Give Two Weeks' Warning To The Police Of All Your Social Media Posts?'.
Asked about the social media proposals that could be included in the bill, a spokeswoman for the Department for Business, Innovation and Skills said: "The Government has widely consulted on a proposal to improve transparency and consistency by requiring unions to publish their intended plans of action for each industrial dispute, including picketing, protests and social media campaigns, but not the detail of each message. We will report on the outcome of the consultation in due course."
Unison general secretary Dave Prentis said: "The beauty of posts and tweets is that they can be spontaneous, unpredictable, and quick to react to events as they happen. The idea that unions would be able to give a definitive list of all the Facebook and Twitter activity planned a fortnight ahead of a strike is frankly ridiculous. It's nothing more than a partisan attack on the free speech of people at work."
The TUC told PRWeek in July that it would coordinate the response to the Trade Union Bill, and said that it would focus on "promoting our positive agenda".