It is expected that Prime Minister David Cameron will announce the date of the EU referendum - which could be as early as next spring or as late as the end of 2017, but is more likely to be in late 2016 - at the Conservative Party conference at the start of next month.
Banks (pictured right) will start work full time at the European Movement UK after that announcement and take on an as yet unconfirmed job title. He will be joined by other PR and comms staff to be recruited in due course, he said.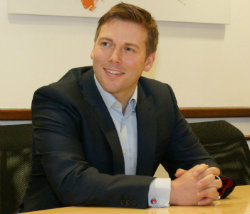 The movement is one of several campaigns working to keep Britain in the EU - another, Business for New Europe, last month said it would boost its PR team ahead in the coming months - all of which will work under the umbrella of the In Campaign.
The In Campaign is led by Will Straw, a former Labour parliamentary candidate and the son of Labour cabinet minister Jack Straw, and Banks said there was "a lot of consensus" and unity between the different pro-EU campaigners.
Banks said his role would involve co-ordinating activities with other parts of the In Campaign, as well as social media, strategy and planning. Banks has spent the past three years working as a freelance PR in the insurance sector.
After the PM announces the referendum date, the Electoral Commission will designate one group from each side of the debate as the official campaign group.
The campaign for a Brexit will involve UKIP and other groups, but will not be led by Nigel Farage, the UKIP leader said earlier this month.
This article was clarified on 17 September to make clear the distinction between the different pro-EU groups.