South Africa
Social weigh-in: Twitter: @Springboks - 302,000 followers, Facebook: Springboks - 1.04m likes, Instagram: southrugby – 3,508 followers

Star player: 23 year-old Eben Etzebeth is 6ft 8in, 18st 6lb and can bench press 27st. So it's no surprise that in South Africa his name has become a byword for "don't mess". His family history is also impressive – his uncle Clifford is a World Champion wrestler and recently won a tournament aged 62. Nearly 24,000 people 'like' him on Facebook. Eben that is, not Clifford.
Sin bin: Tensions over the racial make-up of the squad have been raised after Malwande Mhamhe, a promising black SA rugby player, spoke out about how prejudice forced him out of the game.

Fair play: Adidas' #ForceOfBlack campaign, which started in New Zealand, has been rolled out to South Africa in an attempt to bring the two rugby nations together. The All Blacks can be seen serving flat whites (thought to have originated in NZ) to the Springboks.



In the posh seats: The Springboks' four tier-one sponsors are the bank ABSA, sportswear brand Asics, BMW and South African Airways - which flew the team to the UK. These and other sponsors have bought advertising space in Springbok Magazine, a monthly digital publication launched last year.
Nice in-flight entertainment from @flysaa watching 2007 #RWC action #goodomen pic.twitter.com/EYnMqvt3UY

— South African Rugby (@Springboks) September 12, 2015
Samoa
Social weigh-in: Twitter: @manusamoa – 11,300 followers, Facebook: Manu Samoa – 43,481 likes, Instagram: manu.samoa – 9,692 followers

Star player: Census Johnston has come out of retirement as a late replacement for the injured Logovi'i Mulipola. The 34 year-old Johnston, who has 51 Test caps, retired in April, but was recalled before New Zealand's historic Test at Apia Park on 8 July – the All Blacks' first Test match on Samoan soil. He enjoys motorcycling - at least according to Instagram.
Sin bin: Reports earlier in the year claimed that leading European clubs were offering incentives to players who turn their backs on their countries. The Telegraph reported that players who opt to represent Samoa, Fiji or Tonga in the World Cup potentially face losing 40 per cent of their salaries.

Fair play: Despite being greeted by wind and rain when they landed in England, the Samoans weren't put off from wearing traditional dress including black lava-lava sarongs, Polynesian patterned short-sleeved shirts and neck garments.
Oi se Talofa London ... we're baaaaack. It's business time. #RWC2015 #LeManu ?????????? pic.twitter.com/WrIqDXBUqD

— Manu Samoa rugby (@manusamoa) September 11, 2015
In the posh seats: For the first time, Samoa has a $1m (£650,000) incentive to win the World Cup, following a major sponsorship deal with Australian-based Cromwell Property Group. The team will pocket $500,000 if they are runners-up and $250,000 as losing semi-finalists. The deal is also expected to help the team retain top players.
Scotland
Social weigh-in: Twitter: @Scotlandteam – 118,000 followers, Facebook: Scottish Rugby – 130,000 likes, Instagram: scotlandteam – 12,800 followers

Star player: David Denton's Instagram page, which has more than 6,000 followers, shows the 25 year old armed with his selfie stick #lovinglife on board a jet ski, dressed up as a sailor in Dubrovnik and driving a Ferrari. There's no doubt he's one of the lads.
Sin bin: The squad's coach Vern Cotter was criticised this week after warning Scottish fans against having too high expectations of their team. The stern character has not one but two parody accounts on Twitter.
I AM VERN HEAR ME ROAR!

— Unreal Vern Cotter (@VernCotter) September 1, 2015
The World Cup is a marathon not a sprint. Players not in 31 will make a significant contribution. Not Barclay though. I hate him.

— Stern Vern Cotter (@vern_cotter) September 1, 2015
Fair play: According to the Scottish Rugby website, the federation supports no fewer than five official charities - The Murrayfield Centenary Fund, Save the Children Fund, The Wooden Spoon Society, The Sportsman's Charity and Hearts and Balls.
In the posh seats: The Scottish Rugby Union's sponsorship deal with Lucozade Sport - which is also working with the other home nations teams - sees the brand become the official drink of not only the SRU but the sevens, women's and youth squads. The deal also covers Scotland's two RaboDirect Pro12 teams, Glasgow Warriors and Edinburgh Rugby.

Japan
Social weigh-in: Twitter: @JRFURugby - 4,677 followers, Facebook: Japan Rugby Football Union - 4,043 likes, Instagram: rugbyjapans7s (sevens team) - 354 followers

Star player: Captain Michael Leitch was born in New Zealand to Fijian parents and moved to Japan when he was 15. On his Twitter page, Leitch gives an eclectic insight into life as a gaijin (foreigner) in Japan, advice on punctuality, visiting the bank, plus pictures of local delicacies for visiting players.
All rugby players coming to Japan must try Yakiniku ! #oishii #1skinfold #??? pic.twitter.com/PWq0mfkHbQ

— Michael Leitch (@g_leitch) July 12, 2015
Sin bin: Japan looks likely to lose out to South Africa in the bid to host the next Rugby World Cup in 2019 because of a failure to guarantee the new national stadium will be ready in time.

Fair play: The team's coach Eddie Jones has spoken out against the way Japanese rugby has, he feels, been patronised by the media. "I haven't spent the last four years so we can be treated like a joke," he told the Kyodo news agency during an interview. "We are not here to be a joke side, we are here to win games."

In the posh seats: Japanese firm Toshiba has renewed its support for the RWC, becoming the official sponsor for the third consecutive time. The company is also the official sponsor for the Japanese men's team for the second time.
Rugby Business in @CityAM: John Inverdale talks to @ToshibaUK ahead of the @rugbyworldcup http://t.co/Sk7EgdxlOh pic.twitter.com/AClilh4V5m

— ENS Ltd (@ENS_Ltd) June 1, 2015
US
Social weigh-in: Twitter: @USARugby – 57,800 followers, Facebook: USA Rugby – 129,776 likes, Instagram: usarugby – 41,500 followers
Star player: Samu Manoa has signed a four-year contract with French side Toulon and will make his debut after the RWC. All eyes will be on him as he proves he is worth the hype - although fans will be unable to get behind-the-scenes info on Manoa, as his Twitter account is protected.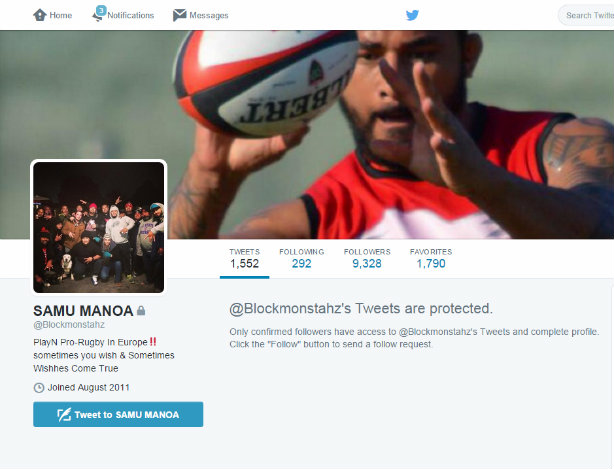 Sin bin: In July, high-profile US rugby captain Todd Clever was booted out of the squad for disciplinary reasons. The 32 year old – who had become the face of American rugby with his long, wavy hair – was just five caps short of setting the national record. Clever had previously stripped off for ESPN's Body Issue.
Fair play: With sevens rugby the quickest-growing sport in America, the country is keen to host a RWC in 2023 or 2027.
In the posh seats: The US rugby team has the backing of Big Four accounting firm Deloitte as official sponsor.