Early this summer Lloyds Bank unveiled an ad campaign celebrating its 250th anniversary. It opened with scenes of pastoral yesteryear, moving on to a Victorian street house fire, a lifeboat being launched, a troop of First World War cavalry and a contemporary wedding. The constant throughout the film is of course Lloyds' brand icon, the black horse, a metaphor for strength, loyalty, honest toil and service.
Even a couple of years ago such an ad would have been laughed off the screen. The fact that Lloyds could even countenance putting out glowing messages about its contribution to society suggests that maybe the bank thinks the worst of the reputational crisis that followed the financial crisis of 2008, when the banking sector crashed the global economy, has eased.
Legacy issues
It is hard to imagine how it could have got worse. The banks are still held in deep distrust and contempt for selling the subprime mortgages that triggered the crisis in the first place. They are resented for the eye-watering sums pumped into them by governments in order to bail them out and stave off meltdown and possible civil disorder. Bankers are hated for bonuses, for enriching themselves while others suffer cutbacks. Add to that rip-off bank charges, the mis-selling of PPI and interest rate swaps, the rigging of LIBOR and foreign exchange manipulation, and it seems the banks have dug themselves a reputational hole so deep you cannot see how they might escape.
It is seven years since the financial crisis and it looks like part of the banks' strategy has been to let time be the healer. Lloyds group chief executive António Horta-Osório said recently: "We must face up to our previous failings and apologise for legacy issues." Legacy issues? If YouGov's poll of trust in companies is any guide (see page 20), those issues are still very current in the minds of consumers. Banks still languish right at the bottom of the trust league.
The one thing agreed upon by those working at the coalface of banking and comms is that the crisis has hit all banks irrespective of their behaviour. Gavin Davis, MD of Bell Pottinger Corporate and Financial, explains: "All banks, from high street to Wall Street, have had to manage a breakdown of trust between themselves and their various stakeholder groups." He adds: "This has manifested itself through sustained media criticism, government intervention and at times customer protests. There is therefore, for some, a long road back to regaining trust."
The banks seem to have grasped this, or at least their leadership and comms teams have. A source at Natwest says: "Our entire business strategy is about repairing our reputation because it is so fundamental to the way we do business." But it goes way beyond an ad campaign or comms push. "It involves putting the business on a completely new footing, halving the balance sheet and changing our practices and culture," says the source.
During the past couple of years the bank has made efficiency improvements, simplified its operating systems and refocused its business on the UK. In addition it has promised to be fairer and more transparent in the way it treats customers. "We stopped offering zero per cent balance transfers on credit cards that trap customers in spirals of ever-increasing debt; we ended teaser rates that penalise existing customers, and we now explain all our fees and charges on one side of A4 paper for both our personal and business customers," wrote RBS group chief executive Ross Cameron recently.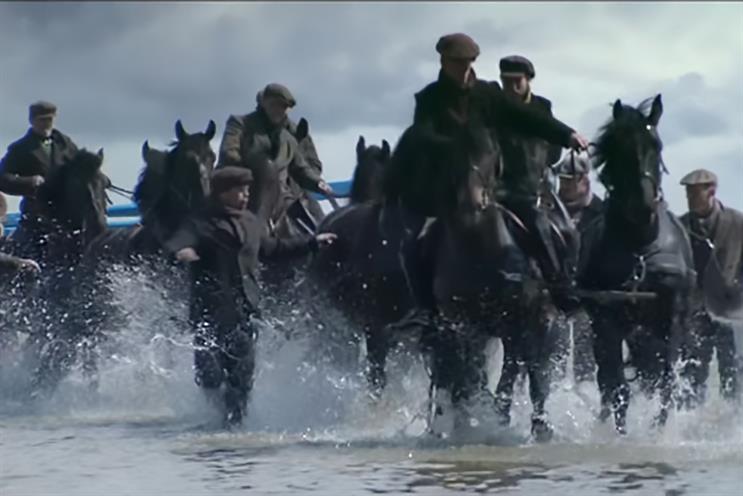 Lloyds Bank Ran a campaign highlighting its longevity
"Very stark choices"
Ireland felt the effects of the banking crisis more deeply than even the UK. At one point it spent 37 per cent of its GDP on bailing out four of its banks. Initially there was not much they could do. During what was described by a senior comms executive at a major Irish bank as "the really bad period of the crisis", the comms team simply hunkered down and adopted a low-level media presence while waiting for the worst to pass.
Allied Irish Banks (AIB), one of the 'big four' Irish banks, found itself teetering on the edge of collapse as a result of the crisis, necessitating a government bailout. Early on AIB emphasised to its customers and the nation at large that its aim was to return to sustainable profitability. In lower tones, comms officials admitted that this would also mean the bank would have to make "very stark choices". These choices included making 2,500 people redundant and closing 67 branches in 2012. A key part of managing the impact of this bad news was to keep up a steady flow of information to shareholders and other stakeholders. The burial of bad news was no longer an option given the detailed questions the bank would face in the Dáil.
AIB had to project a calming and reassuring image wherever possible. It had two key messages. First, that it was open for business as usual and second, that it wanted to support its customers and that it was doing all it could to support the economic recovery of the country. To that end it produced commitment adverts, acknowledging taxpayer funds.
Uphill struggle
Across the Atlantic, American Trust Bank faced different challenges. It did not have trouble staying financially afloat, losing money only in June 2008. Its problem was how to communicate this. Peter Soraparu, senior executive vice-president, relationship banking division, explains: "As a community bank our challenge was trying to separate ourselves from larger banks; the media didn't separate big banks from small banks, or investment banks from retail banks."
Soraparu says it took advantage of every opportunity to tell its positive story. At the heart of this was a determined effort to communicate clearly and directly with clients. The bank shifted to using client testimonials in its adverts where possible: "In broader comms first we stressed to staff they had to work very hard to get across that our bank was not involved in the troubles, and secondly that we had solutions to serve their needs, reminding them that we are not a large bank."
Soraparu says it has had a permanent effect on American Trust Bank's PR and comms: "We are probably more active on the PR front than we were before. We have client seminars twice a year, which helps frame the bank in a more positive way."
In March this year AIB posted pre-tax profits of €1.1bn (£780m), its first profit since 2008. Like RBS it now publishes its Net Promoter Scores, a measurement programme that tracks customers' loyalty and advocacy. At the interim stage this year it was notable that the customer experience of the mortgage journey (customers' experience of dealing with AIB for their mortgages) improved by 45 points in the first half of the year.
Yet for all the relief at AIB's return to profit, the uphill struggle of reversing the PR catastrophe of the financial crash goes on.
"The next crisis is always just around the corner and banks, like every business, need to be prepared for this," Bell Pottinger's Davis cautions. "It is only through the passage of time and demonstrating a change in behaviour that trust can be regained. Some have begun this journey. Others still have a way to go."