Last month the high court in Mumbai ordered Nestlé to keep its Maggi noodles brand off the shelves in India until it proves that the product does not contain unsafe levels of lead. Meanwhile, pen manufacturer Bic received a global monstering for an ad that included the line "think like a man" and dating app Tinder was the subject of a Twitter storm over its reaction to a critical article in Vanity Fair.
Clearly all three companies suffered damage to their reputations, but you do not need to be Seth Godin to predict that Maggi is the one most wounded. Bic and Tinder committed comparatively minor comms blunders – what Rupert Younger, director of the Oxford University Centre for Corporate Reputation, calls "failures of character". Maggi suffered "a failure of capability" – its products stood accused of poisoning consumers.
"Capability hits are much more significant because they are long term and suggest you can't do your core business," says Younger. "Character reputations can be rectified relatively easily."
Blurred demarcation
Another way of describing the potential harm caused by these episodes is that in the case of Bic and Tinder their reputations were damaged. The problems facing Maggi are far more serious. In the short term sales fell by 20 per cent after the rumours of excessive lead levels emerged and the company had to pay a further $70m (£44.7m) to remove its products from the shelves. In the longer term Nestlé may have to pull Maggi from India altogether because of damage to the brand.
There was a time when brand and reputation were entirely distinct. Put crudely, brand was the ward of the marketing department, which used the four Ps (price, place, product and promotion) to build long-term strategic values. Reputation belonged to comms, which used relationships and storytelling for short-term tactical purposes.
However, increasingly the demarcation between the two is blurring. "There is a definite trend for brand and corporate comms to come closer together because they can both bring compelling reasons to trust and buy into a brand or product," says Joan O'Connor, head of brand PR for Western Europe at Coca-Cola.
Perceptions
Her view is echoed by Nicola Green, director of comms and reputation at O2 parent company Telefónica: "Whatever the brand does affects its reputation and vice versa." Although she has no line responsibility for brands, she describes her role in brand comms as "being a realist among the cheerleaders". She illustrates how the comms function can inform brand messaging with the example of O2's successful sponsorship of the England Rugby team: "I have reminded the brand team that not all our customers are England fans."
According to a study of 700 companies and brands in more than 50 markets by FleishmanHillard neither brand nor reputation is more important. Expert consumers said only half (48 per cent) of their perceptions about a company were shaped by the attributes of its products and services (brand). The other half (52 per cent) related to how management behaves and the company's impact on society (reputation).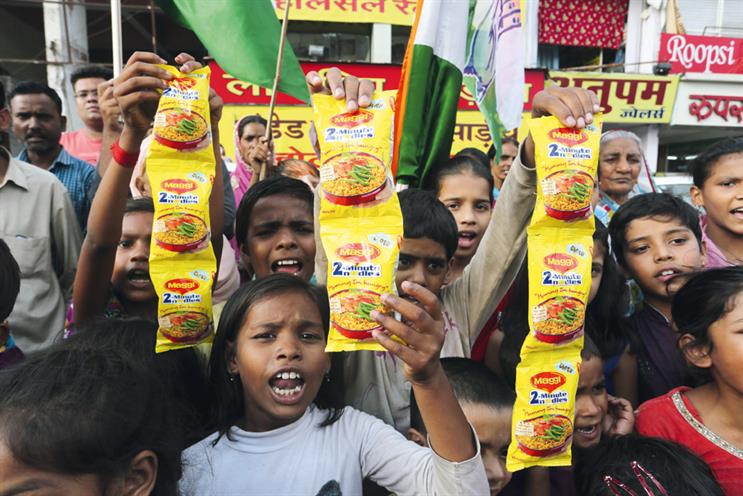 Nestlé: Maggi noodles remains one of the most popular food brands in India
Social media
There is no great secret about what lies behind this blurring of brand and reputation. "It is being driven by the growth of digital and social media, which mean brand and reputation can come under pressure almost instantly," says Jeremy Thompson, MD of Cision EMEA and AMEC chairman. "Consumers are more able to interact with brands, which creates greater interest in the brands themselves," he says. Not only have companies woken up to the fact that it pays to take a long-term proactive approach to managing reputation; a strong brand can also offer protection against reputational crises.
"A corporate brand can actually drive business decisions that keep a company on track with its strategic objectives. It creates expectation in the minds of consumers. Meeting those expectations creates the image in consumers' minds that the company desires," explain US business academics Paul Argenti and Bob Druckenmiller in an article in Corporate Reputation Review.
So when Virgin trains are late again, its reputation is protected by the broader Virgin brand. When Persil's Power variant destroyed clothes after it was launched in the mid-1990s, Persil was protected by the power of its brand and the Unilever name. And if Maggi survives in India, it will be due in part to the strength of both the Maggi brand and the Nestlé corporate brand.
Perhaps the best distinction between brand and reputation comes from Robin Mutina of Hill+Knowlton Strategies. He says: "Brand attributes speak to companies' products and services. They address the question, what's in it for me? The reputation attributes address corporate action, culture and policy in the context of the public square. Things like integrity, citizenship and community building. These address the socially directed question, what's in it for us?"
A new narrative
However, not everyone agrees that brand and reputation are converging. Younger thinks what is happening in the agency world is driven partly by a turf war and partly by the emerging power of data: "Brand people are looking for ways to connect conversations at more senior levels in order to get a larger share of budgets. And reputation people are thinking about brand because it's so much more measurable."
Whatever the reason, it is clear that there are significant business opportunities for PR agencies. One lies in the integration of brand and reputation. FleishmanHillard calls this "the sweet spot" because "it's the place where what you say (your brand) matches up with what you do (your reputation)", says planning director Paul Haugen. In FleishmanHillard's analysis, when brand and reputation are aligned the result is authenticity, which in recent years has acquired the status in comms circles of consumer catnip.
"The pressure to bring brand and reputation together is driving a new narrative," says Haugen. "Instant information and heightened interaction are exposing organisations where marketing and corporate comms continue to be managed in silos. A new model is evolving where the intersection of brand and reputation offers executives a new, single view of their organisation."
Andrew McGuinness, CEO of Freuds, agrees the merging of brand and reputation is an opportunity for PR but says the sector has been slow to respond: "This is a distinction created largely by marcoms agencies in the first place. Our two most important audiences – CEOs and consumers – don't differentiate between brand and reputation. We are finally catching up to where consumers have always been."
MPs still wary of corporations
One difficulty with managing reputation is that every constituency has to be addressed separately. Politicians and leglisators are one of the most important stakeholder groups, so it is surprising how equivocal they can be about big business.
Last month, research firm Populus presented 102 MPs with a list of statements about 'big business', and asked them to pick three. Just 46 per cent chose "vital for the country" (65 per cent for Conservatives and 32 per cent for Labour).
While 43 per cent agreed that big businesses have learned the lessons of the financial crisis, 31 per cent still agreed they "have too much power and government needs to rein them in" – 55 per cent for Labour MPs and four per cent of Conservatives.
While only eight per cent of MPs disagreed that "the vast majority of businesses in Britain conduct themselves responsibly", 49 per cent thought big businesses were "far too focused on short-term profit" and placed "too little importance on their social responsibilities".