The unusual move coincided with a recovery in Apple's share price in the US yesterday afternoon, although this came alongside a general recovery of the Dow Jones Index in New York.
In the email to the network's Mad Money presenter Cramer, which has been widely publicised on CNBC and elsewhere, Cook discussed the sharp dip in the stock market in China that has had knock-on effects in markets across the world.
The Shanghai Composite index fell 8.5 per cent yesterday – two weeks after the government devalued the yuan – in what has been called China's 'Black Monday'.
Cook wrote: "I get updates on our performance in China every day, including this morning, and I can tell you that we have continued to experience strong growth for our business in China through July and August. Growth in iPhone activations has actually accelerated in the past few weeks, and we have had the best performance of the year for the App Store in China during the past two weeks.
"Obviously I can't predict the future, but our performance so far this quarter is reassuring. Additionally, I continue to believe that China represents an unprecedented opportunity over the long term as LTE [Long Term Evolution] penetration is very low and most importantly the growth of the middle class over the next several years will be huge."
Fellow presenter Carl Quintanilla's tweet of the email was widely shared.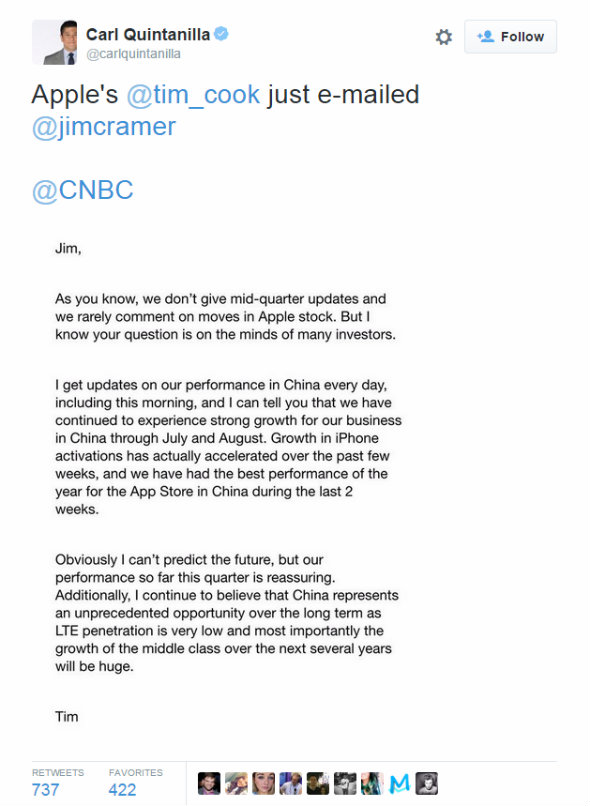 Apple's shares fell by around six per cent when markets opened on Monday but later rallied, closing down 2.5 per cent at $103.12. At one point on Monday the Dow Jones Index was down six per cent, but closed at -3.6 per cent.
The FTSE 100 in London closed down 4.6 per cent on Monday.