Chuck Greener started at Walgreens almost six years ago and what a wild ride it has been.
The SVP of global communications and corporate affairs joined Walgreen Co. at the start of 2010 and in June 2012, the organization announced a game-changing deal for the US' largest drug store retailer: Walgreens would pay $6.7 billion in cash and stock to acquire a 45% equity interest in the UK's Alliance Boots, with an option to buy the remaining 55% in three years.
In December 2014, Walgreens did just that, completing the acquisition by paying $5.3 billion in cash and issuing 144 million shares for the remaining equity of Alliance Boots.
"The comms teams are the first that need to come together for an announcement of that nature," says Greener. "In 2012, I began working with Yves Romestan [SVP of comms and international affairs for Walgreens Boots Alliance] in a collaborative fashion. As the decision was made to complete the merger, it was more than bringing two teams together, but how we create a structure that benefits the entire enterprise."
That structure, which Greener contends is more agile and responsive to the business and less bureaucratic, reflects a lean corporate comms team with the majority of staffers embedded in the business units for Walgreens, Boots, Alliance Health, the wholesale division, and the global brands group. Employees have a dotted line into the business unit heads and report to Romestan, who has a dual report to Greener and Ornella Barra, EVP of Walgreens Boots Alliance and president and CEO of global wholesale and international retail.
"I've always viewed this as a partnership between myself and Yves," Greener adds. "We are business partners, but we have also developed a good friendship."
"Chuck and Yves have formed a fantastic partnership," notes Barra. "With their solid and complementary experience in PR, we count on them to inspire all stakeholders with our vision to be the first choice for pharmacy, well-being, and beauty – caring for people and communities around the world."
Greener, who leads a 37-member US communications team, reports to Barra.
"When a deal of this magnitude happens, you are very conscious that the news might get out ahead of time," Greener says. "We were fortunate we did not confront that."
In 2012, CNBC was given the exclusive story and then-executive chairman at Alliance Boots Stefano Pessina and then-Walgreens president and CEO Greg Wasson were interviewed together.
"As the story went out, we announced it internally and had teams with both organizations meeting with staff worldwide on the day," Greener adds.
Wasson and Pessina – who was to report to the former – met with investors in New York the day the news broke and flew back for a meeting with top management in Chicago, where Walgreens is headquartered.
During the CNBC interview, Wasson said the rationale behind the acquisition was to "create the first global pharmacy-led health and well-being enterprise to bring innovative healthcare solutions and services to people across the country. Stefano and his group can help us get into emerging countries around the world."
Parting ways
The executive pairing would last only until December 2014 when, after 35 years with the company, six as its CEO and president, Wasson announced his departure.
Greener, who worked at Fannie Mae prior to joining Walgreens, acknowledged that news about Wasson's departure created ripples internally that needed to be addressed.
"Greg had an extraordinary strategic vision. Both he and Stefano saw something that really hit the industry in many respects," he explains. "People here hold Greg in high regard. With his announcement, many people said, 'We understand and deeply appreciate what he accomplished.'"
After a brief stint as interim CEO, Pessina was officially elected to the post full time six months later. Besides Pessina, six former Alliance Boots execs, including Alex Gourlay, who was named president of Walgreen Co., are on the 11-member senior management team. In light of the changes, the Chicago Tribune ran the headline "Walgreens gets a European makeover, or is it a takeover?"
To which Greener says: "[The executive team] does remain a combination. Stefano has been very well received and if you look at the operation, you have a good number of people with a great deal of history and involvement in this company for many years."
A number of analysts have awarded the merger, Pessina's appointment, and Walgreens' $1.5 billion cost-cutting initiatives – that will see it close about 200 stores – by upgrading the organization's increasing stock to a buy. Q3 earnings for the new Walgreens Boots Alliance beat estimates, although sales of $28.8 billion missed the projected figure of $30.3 billion.
Greener says communications ranks especially high in importance for Pessina, particularly in the context of the 350,000 people who work for the company.
"Comms is a means to assist all of our employees and how they can contribute even more to the company and how we can do better in delivering value to customers, the market, and partners," he adds. Pessina is also "focused on comms in terms of delivering where we're going, the values, and what it is we're seeking to create," Greener notes.
Internally, conversations around the merger focused on new opportunities for staff.
"We spent a lot of time talking with employees on both sides of the Atlantic," he explains. "There was a lot of excitement around the idea of becoming a global company and, from a career standpoint, being able to job share."
Liz Roch, divisional VP of executive comms and events, and her team put together a two-and-a-half-day meeting in Chicago with 1,200 Walgreens managers. The event included presentations from all Walgreens Boots Alliance business units and showcased how, for example, the Alliance Healthcare division could benefit the Walgreens retail unit or how products such as Boots No. 7 could be expanded further into the US.
Global comms platform
Greener and Romestan are working on creating a PR platform that will operate on a 24/7 basis across Asia, Europe, and the US.
"If anything occurs, we can move quickly with combined teams," says Greener.
The SVP credits the communications team, especially senior leaders Roch and 23-year veteran and divisional VP of corporate comms Michael Polzin "for understanding the need to earn your seat at the table."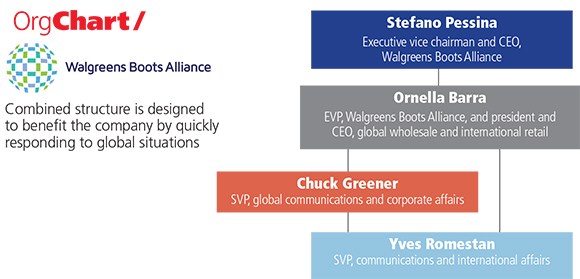 "Michael still brings a fresh set of ideas," Greener adds. "He combines the company's history with a willingness to push back and ask why we can't try something different."
And while working through all the nuances of the acquisition is an enormous task, there are still 6.2 million Walgreens customers walking into about 8,300 stores, shopping and filling 856 million prescriptions a year.
A successful recent effort around customer engagement and community affairs, in partnership with NBC and Comic Relief, was Red Nose Day, which raised more than $5 million to help children in poverty.
"The whole company got behind it. That program was the result of our marketing team and the media relations unit working collaboratively. We will be doing it again in 2016," Greener explains.
Walgreens is involved with a number of major health organizations including the American Cancer Society, American Heart Association, and the American Diabetes Association, and very involved with Chicago civic organizations, such as the Midtown Educational Foundation. Looking ahead, the retailer is preparing the next round of its get-a-shot/give-a-shot vaccine/immunization program in partnership with the UN Foundation.
"It has grown each year significantly," he adds. "It went from 3 million the first year to 5 million the second year."
---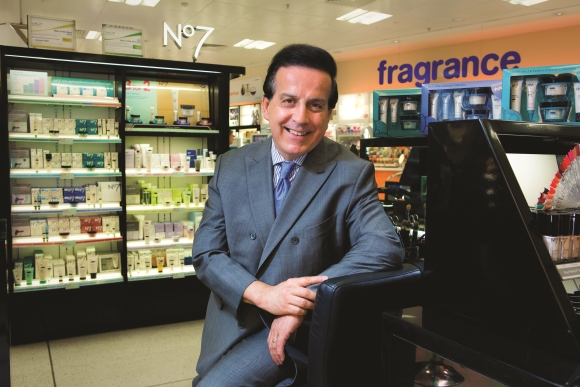 Shared Global Vision
The aim of establishing a unified strategic comms unit, alongside Greener, drivers Romestan.
Walgreens and Alliance Boots have a lot in common – leaders in their markets, but also two companies that needed to shake things up in order to find new growth opportunities.
"Walgreens had reached a plateau and knew it had to redesign its business and growth model," says Yves Romestan, SVP of comms and international affairs for Walgreens Boots Alliance.
Alliance Boots, which had a presence in Europe, China, and the Middle East, lacked
a strong position in the US, putting its goal of becoming a global player out of reach.
Stronger together
Commonalities were evident – both had a heritage in pharmacy and healthcare on the retail and distribution sides, but their ties ran deeper, says Romestan.
"You could see the companies would get on well together because they shared a lot more than people and stores, including how they see the industry, taking care of shareholders such as patients and consumers, and crucially, how they see the future," he adds.
Moving like a sundial, Romestan's morning starts with conversations with colleagues in Asia and often ends speaking to Chuck Greener, SVP of global communications and corporate affairs. From the outset of the merger,"we had to do our best so the gel is built, the chemistry exists," Romestan says.
From the beginning, he and Greener, with whom he shares a love of politics, history, and diplomacy, focused on presenting the deal as a merger of equals so that colleagues "on either side could look at the future with confidence without saying 'I have been taken over' or 'I am a small part of this global company,'" he explains.
"On the contrary, we have tried to make it a moment of excitement, joy, and confidence in the future. The question of who is taking the lead is now completely behind us," Romestan continues.
Now the mission for Greener and him is to forge a comms model across the new entity that will be sustainable and create a shared culture with one team and a unified strategic plan – an effort he says is progressing well. One element of the new model calls for a shared services team encompassing experts in disciplines including PR, brand communications, digital, events, and publications that will work across divisions and countries, particularly Europe. Another priority post merger is to do a better job ensuring that messaging is consistent around all brands in every country.
Day-to-day challenges
Like Greener, Romestan and his team must balance the merger side of the job with day-to-day duties. When there is a strategic business challenge or a difficult project, the comms team "is excellent at helping the business put itself in battle order. Internally, people feel their contributions can make a significant difference," says Romestan.
That alignment has been key to the success of a number of efforts including the rebranding of 1,100 Boots stores in 2008-2009, achieved in "a smooth and fluid way in a very short amount of time" and in integrating a number of acquisitions in China.
"We need to make sure the company becomes global in the coming months and years to unlock extraordinary benefits for stakeholders around the world," he adds.
Beyond its merger in the US, there will be future developments in China, Southeast Asia, and Latin America, particularly in Mexico and Chile, which will require M&A and brand-building efforts.