The firm created a poster (above) advertising its pens – but somehow the line "think like a man" failed to raise alarm bells in the marketing department.
Social media users flocked to Twitter to condemn the advert, and many gave the ad a makeover thanks to the power of Photoshop.
We made a better advert for Bic! (cc @LucyMazuma) Please free free to share. pic.twitter.com/wiYqLCwFJ1

— Lowri Williams (@flowri) August 11, 2015
I feel like #Bic could've just really gone for it with #womensday pic.twitter.com/ddGdhVNS76

— Manfeels Park (@ManfeelsPark) August 11, 2015
BIC Insist That Women Using Their Pens Only Draw Hearts Or Flowers http://t.co/CmkoVrD8tB pic.twitter.com/teTSCKA9tE

— ZANEWS (@zanews) August 11, 2015
That sexist Bic ad is applicable to the career of Christopher Biggins and literally nobody else. pic.twitter.com/nuSkvgkZap

— Ms Slide (@sliderulesyou) August 11, 2015
Love my new Bic pen for Men pic.twitter.com/7wpRuyMxVF

— Tauriq Moosa (@tauriqmoosa) August 11, 2015
#epicfail for Bic pens with their #happywomensday post. Beyond comprehension. Oh - and the viral answer. pic.twitter.com/cZ0wBwEtNg

— molocapetown (@molocapetown) August 11, 2015
Bic compounded the error when it attempted to explain that the advert was "empowering to women" and that the quote used was from a "Woman in Business blog".
Everybody relax. @Bic_SA was being sexist in an empowering way, and it's not sexism if you get it from a blog. pic.twitter.com/mcbPuEpI0F

— Tom Eaton (@TomEatonSA) August 11, 2015
The first apology was deleted and another has replaced it on the Facebook page.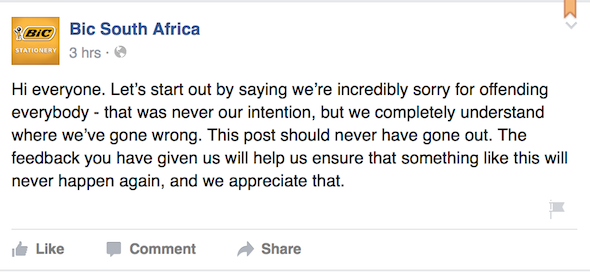 Many are asking how this mistake was allowed to happen, citing Bic's 2012 blunder when it released "pink pens for her". These were designed to fit "comfortably in a woman's hand" and are still on sale, accompanied by some comic Amazon product reviews.