Data from Brandwatch revealed that over the past 24 hours, the GBBO was discussed the most on social media, achieving 238,000 mentions against 93,000 for the tube strike. Interestingly, the two events were discussed together more than 2,000 times over social media.
It represents a PR victory for the BBC programme, whose Twitter account has 228,000 followers. The new series of the Great British Bake Off on BBC One attracted 9.3 million viewers last night.
Wow. 9.3 MILLION viewers on @BBCOne, all thanks to YOU! Even Bez wasn't expecting that. http://t.co/dwyf2u7Ml5 #GBBO pic.twitter.com/88uM4JhtIj

— British Bake Off (@BritishBakeOff) August 6, 2015
Jasmine Jaume, product marketing lead at Brandwatch, said: "As always, the tube strike seems to be causing utter misery to thousands of London commuters. Our research found that the highest number of tube strike mentions took place at 9am this morning, however, yesterday evening also saw a big spike of more than 6,000 tweets, as people were beginning to think of their commute home to watch the Bake Off.
"London commuters openly aired their complaints over social media with many resorting to swearing within their posts. In addition more than 2,000 people referenced the bake off in their tweets, with some expressing how exasperated they were about the travel chaos impacting their TV viewing. Clearly it was 'soggy bottoms' all round TfL [Transport for London]."
Meanwhile, Brandwatch has also compiled a list of the most common swear words used in tweets about the tube strike: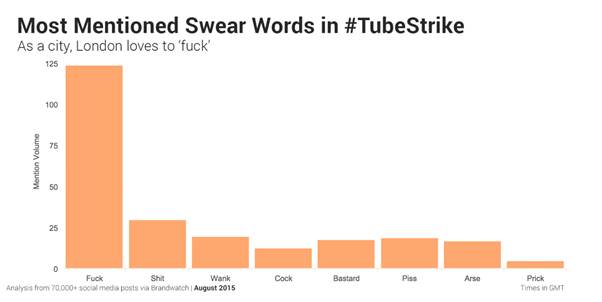 PRWeek has reported that a number of brands, including Fitness First and Evans Cycles, have been offering enticing deals over the past 24 hours linked to the strike.
Both the tube strike and the GBBO may end up falling behind another big event in the capital today: the Ashes Test between England and Australia. The hashtag #Ashes2015 had been used 91,700 times by 3pm on Thursday afternoon.