By Arunav Sinha's own admission, it has been a turbulent few years for Yahoo.
When Marissa Mayer joined from Google three years ago, she became the company's fifth CEO in as many years and inherited an organization widely regarded to be trailing its competitors, having lost its way in terms of branding and products.
Since then, according to Sinha—the firm's senior director, product and technology communications—the company has been on a "transformation journey".
However, the jury is still very much out on the effectiveness of the strategy.
Last month Yahoo posted a $22 million loss for Q2 2015, compared to a $270 million profit last year, largely due to the amount it is paying partners for traffic increasing to $200 million, up from $44 million a year earlier.
The company also failed to hit earnings estimates, reporting 16 cents per share while analysts expected 18 cents.
As the man who missed out on the job top due to Mayer's arrival, former interim CEO Ross Levinsohn told CNBC in April, "One person cannot change Yahoo. It is a really really tough business to run and grow."
Change, however, has not been in short supply. Since Mayer's arrival the company has generated a raft of new launches and refreshes to exisiting products, with Sinha and his team responsible for communicating them to users, investors and advertisers.
"We have launched or refreshed almost every major product at Yahoo, from mail to homepage to mobile products such as Yahoo Weather, he tells PRWeek Asia. We have also launched a number of new products such as News Digest and Aviate, which have kept us extremely busy."
Regardless of the type of product launch, Sinha says there are three constant strands to the PR approach: "Firstly we set the context for launch by communicating why it has been launched and how it sits with the wider Yahoo strategy. Secondly, it is vital we make a consumer connection and ensure outlets that are read by millennials cover our launches. Thirdly, while messaging is relatively uniform across the globe, we always leave a lot of flexibility for our regional counterparts to choose the right tactics and media outlets."
Speaking to Sinha, who has been at Yahoo for five years, originally covering the PR brief in India and then across Southeast Asia, there are two 'Ms' that crop up time and time again—mobile and millennials.
The company has been aggressively targeting mobile growth after struggling to take on the might of Google on desktops.
Mobile users have increased from 150 million to 600 million in three years, with the company reporting a 54.6 percent year-to-year increase for its mobile revenue to $252 million in Q2.
The company's so-called MaVeNS group, which includes its mobile, video, native and social network advertising units, also saw solid annual growth of 60.24 percent for the second quarter.
"We are now probably one of the top three companies when it comes to mobile audience," says Sinha. "This did not happen by accident, we relaunched our entire range of mobile products and communicated this. We really re-imagined the company for mobile. The advertising part of the business is also going mobile. We have made a huge amount of progress, but it is still ongoing."
A key part of the PR strategy around mobile has been focused on millennials.
It is vital, says Sinha, that Yahoo can effectively communicate in a space where people make very quick decisions.
"I remember before Marrissa Mayer (pictured below) arrived when we used to operate predominantly with press releases, but we knew that was not the way millennials understood things and communicated," he says.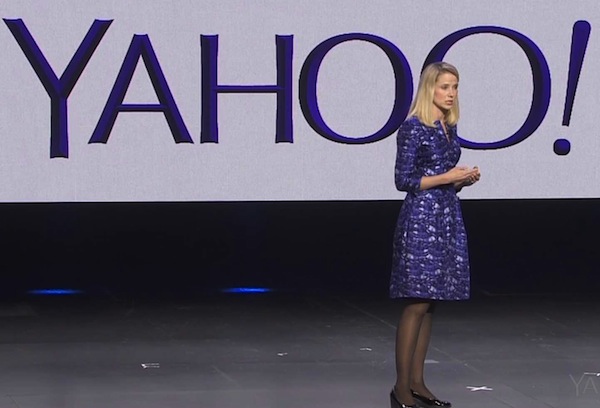 "We moved our entire media site to Tumblr and the language we use when communicating our product launches has changed dramatically. We use far less, complicated, heavy jargon, and we use far more consumer-friendly language. There is also a lot of emphasis on what the product means for the user, and less so what the company thinks about it.
"We believe these changes are helping us communicate with our audience in a much more meaningful way."
This has also led Yahoo to change its media selection strategy to include more outlets that are popular with millennials.
This doesn't mean, says Sinha, that coverage in the New York Times or the Wall Street Journal is no longer desired, but that "Mashable is equally important, Refinery29 is equally important and Elite Daily is equally as important."
"We now make sure we have a very balanced outlook when it comes to media selection and, of course, different countries will take their own local approaches which are consistent to the overall strategy," he adds.
"The second part of the story is how we are using owned media. We are very active users of our own blog sites where we have a very strong following, especially the tumblr site. This has really managed to capture the voice of the company. "
With Yahoo undergoing so many changes—and trialing and testing so many new products—Sinha says he and his team have constantly adopted a disciplined approach to PR.
While it would be easy to stoke speculation around new products, especially with a glut of tech magazines and websites striving to be the first to break the news, Sinha maintains the firm will never communicate purely to cause a buzz.
"We don't want to become part of the speculation when we have nothing concrete to say," he says. "We communicate when we can add value to users, help advertisers or add clarification for investors. If not, we do not communicate. We are very disciplined around that. We want to make sure we are not just creating buzz or visibility, we need it to have some value and inform either a user, investor or advertiser."
In addition to pointing to the growth in mobile and millennial users as evidence of PR success, Sinha also points out that effective communications and positioning is helping to attract some of the most talented people in the tech sphere.
"There is a lot of respect for the PR team because of the amount of turbulence our brand has gone through," he says. "There is also a lot of trust and admiration from the senior leadership team about the value of PR. Right from the CEO down we believe in PR with a purpose where our goal is around our share of heart and mind, not share of voice.
"This has led to a significant increase in the number of applications we get for each vacancy at Yahoo. This space is founded on innovation and that comes from people. We had to become a place where top-notch talent wanted to come, and they are finding Yahoo a place where they can innovate."
While many commentators are yet to be convinced that Mayers has found the perfect formula for restoring Yahoo's fortunes—its stock has dropped around 20 percent since the turn of the year—Sinha insists the turnaround programme will continue at pace.
He believes the number of product launches will continue to increase, with PR "playing" an enormous role in giving them "a fair chance" in a very cluttered market place. And despite being an established brand with plenty of baggage, he maintains there is a strong startup culture at the company.
"The amount of turnaround that has been achieved for a company with more than 1 billion users is not easy—that's why we call ourselves the world's largest startup," he says. "We have had such a massive culture change in the company and we get to witness that because communications, both internal and external, becomes a catalyst, which captures the change in momentum."
Stay on top of all the latest Asia-Pacific PR news, views and insights: Follow PRWeek Asia on Twitter and sign up for our weekly email news bulletins