PR continued to make its mark at the Cannes Lions International Festival of Creativity, although there were still more ad agencies honored in the PR Lions than comms pros would ideally wish for. Entries to the PR category in 2015 were up from 1,850 last year to 1,969 – 50% were from PR firms, an uptick of 10% from the year prior.
Lynne Anne Davis, FleishmanHillard's president of Asia-Pacific and this year's chair of judges, billed it a "breakthrough year" for PR, and the industry also showed well in non-PR categories, suggesting its influence is spreading. More noticeable was that winning campaigns across the board trended toward starting and maintaining conversations about social good.
Female empowerment was also a dominant theme, with many coining Cannes 2015 the year of girl power campaigning as brands focused on fostering women's self-esteem. Here are four case studies that represent these successful creative trends.
---
PR Grand Prix, PR Gold, and six other Gold Lions
Client: Procter & Gamble
Agencies: MSLGroup New York/Leo Burnett Toronto
Campaign: Always #LikeAGirl: Turning an Insult into a Confidence Movement
Procter & Gamble's Always #LikeAGirl campaign took home the PR Grand Prix for its initiative to expose and transcend the boundaries created by a global gender stereotype.
The campaign's centerpiece is a video that captures how women of all ages interpret the phrase, including young girls proudly demonstrating what they do "like a girl." The video shows how the phrase can have a major effect on young girls' self-confidence when used as an insult.
With more than 4.5 billion media impressions and 85 million views on YouTube, #LikeAGirl has a message that reached more than half the globe's population. The goal of Always, the P&G owned feminine-care brand, was to change how broader society understands girls at puberty, meaningfully enter the social media conversation, and boost the brand. After watching the film, 76% of girls aged 16 to 24 say they will no longer view the phrase as an insult.
---
Glass Grand Prix and Glass Gold
Client: Procter & Gamble India
Agency: BBDO India (Mumbai)
Campaign: Whisper Sanitary Napkins: Touch the Pickle
Procter & Gamble was awarded the Glass Grand Prix for its taboo-busting campaign Touch the Pickle, which gave women in India a voice to challenge taboos about periods and started national conversations and debates.
The campaign for P&G's Whisper, an Indian sanitary napkin brand, started with a film that exposed the myths surrounding menstruation in India, including one famous tale that says if a woman touches a pickle jar while on her period, it will cause the pickle to rot.
The 30-second film starts with a young woman touching a pickle jar and defies the traditional idea that a woman on her period is impure and that anything she touches will become dirty. Whisper also launched comic books about the subject.
In response to the initiative, more than 2.9 million women pledged to Touch the Pickle, Whisper's share of voice grew from 21% to 91%, the voice of women in the region grew, and Indians are finally speaking about a subject that was once hidden.
---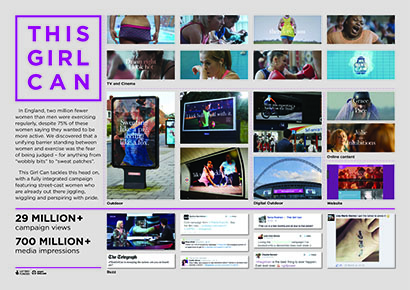 Glass Gold and Film Craft Gold
Client: Sport England
Agency: FCB Inferno London
Campaign: This Girl Can
Sport England earned the Glass Gold Lion and a Film Craft Gold award for its This Girl Can campaign, which aimed to inspire women to exercise and redress the gender gap between male and female participation in sports.
A 90-second film confronted the female fear of being judged when working out by showing women of all sizes enjoying exercise. The campaign included outdoor posters featuring photos of women that had not been digitally manipulated and a short video series told the real stories and barriers overcome by each woman.
The aim of This Girl Can was to celebrate women doing their thing, no matter how they do it or how they look while doing it, sweat and all. The campaign featured slogans such as, "I jiggle, therefore I am" and "Sweating like a pig, feeling like a fox," encouraging women to look past judgment and become girls who can. With more than 29 million campaign views and 700 million-plus media impressions, This Girl Can inspired women to literally get back into the game.
---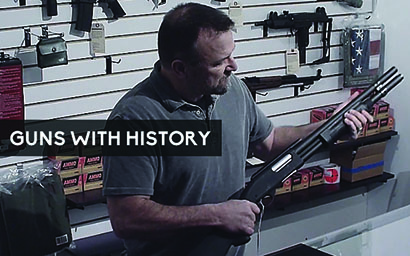 PR Gold and four other Gold Lions
Client: States United to Prevent Gun Violence
Agencies: Grey New York and Grey Activation & PR New York
Campaign: The Gun Shop
The national nonprofit organization States United to Prevent Gun Violence launched its campaign The Gun Shop to make first-time gun buyers think twice and won five Gold Lions: PR, Media, Promo & Activation, Branded Content and Entertainment, and Outdoor. The campaign set up a fake gun store in New York City in an attempt to dispel the common misconception that owning guns makes homes safer and to dissuade first-time gun buyers.
The goal was to create a public-service announcement that would be a powerful piece of persuasion. Unsuspecting customers were told of a gun's history and association with a mass shooting, homicide, or suicide. Their reactions were recorded for a video, which gained 12 million online views in the first week.
The effort changed four out of five shoppers' minds, persuading them to no longer want to purchase a firearm. The campaign also proved successful in the conversations it provoked among celebrities and politicians across 179 countries.