Geoff Martin, head of comms at the RMT, said unions tended to get a "more balanced" representation on broadcast media. "We have concentrated on targeting broadcast journalists and we are all over the news today getting our message across [that] this is not about pay.
"We challenge inaccuracies in print but it's difficult when London's paper - the Evening Standard - is pro-Boris and hostile towards us. It's a media battle."
ASLEF has taken a similar approach to inform the media of why the strike is going ahead. Keith Richmond, press officer at ASLEF, told PRWeek: "We decided to give one-to-one briefings with journalists rather than sending out a general press statement that often gets thrown in the bin. I think it has paid dividends."
Unite has focused on social media to keep people informed, encouraging the public to share pictures of picket lines and images of solidarity on Facebook and Twitter. Martin added: "We've been having great feedback on Twitter today."


Is there power in a union? Absolutely. #TubeStrike #Solidarity pic.twitter.com/05nSds2hNq

— Aaron John Bastani (@AaronBastani) July 8, 2015



TfL is handling PR around the strike in-house, sending regular press releases to media to reinforce its message that strike action is "completely unnecessary". "Unions should put the very fair pay offer to their members," it said.
TfL is also keeping the public informed of travel updates on Twitter through @TfLTravelAlerts, @TfLTrafficNews and @TfLBusAlerts.

Meanwhile, Uber has received some negative press about the cab service cashing in on the Tube strike. In a story in the Daily Mail it says Uber has increased the price of its fares by almost 300 per cent, introducing a £14 minimum fare and a further £3.50 per mile. Alternative taxi service app Hailo has seen a 500 per cent rise in prebooked taxis and a 174 per cent increase in customer registrations in comparison to a regular week.
Other brands have jumped on the back of the strike, including Strada, which is offering stranded passengers free coffee with the hashtag #TrainStrikeTreats. Antiperspirant brand Sure has designed a campaign reassuring people that just because the Tube has stopped running, they don't have to: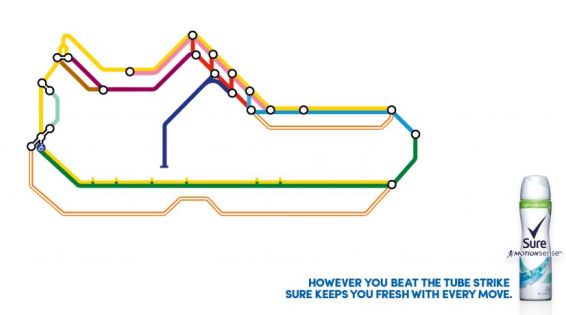 Pret a Manger has also brand-jacked the strike:


Don't lose yourself to commuter chaos. Stay cool as a cucumber, London #TubeStrikes pic.twitter.com/iSLgm8e3JY

— Prrrrr-et (@Pret) July 9, 2015

The strike will last until the end of today but disruption could remain until Friday morning.
PRWeek contacted Uber for a response, but the company was unable to comment at the time of publication.