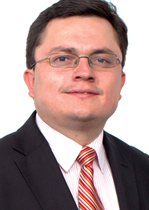 How is the economy in Bogotá?
Bogotá is the largest economy within Colombia, generating more than 30% of its GDP. It is the hub of several industries and large companies that serve not only the country, but also the Andean region [Colombia, Venezuela, Peru, and Ecuador].
The main industries of the city are financial services, logistics, entertainment, and education. The country's economy has been growing between 4% and 7% per year for the last 10 years, making Colombia one of the fastest-growing economies in the hemisphere.
Is PR a well-understood discipline in the city?
The PR market has been growing fast during the last 10 years, not only because of the growth of the economy, but also due to the arrival of many leading multinational brands. The progressive maturity of the PR field here is a result of better graduate programs, the arrival of international PR firms to Colombia, and the split between advertising and PR as a trend within the largest advertising agencies.
How has communications in Bogotá changed in the past five years?
The last five years have been very dynamic. International PR firms have acquired local agencies, major corporations have engaged robust comms agencies, and new local PR companies have emerged to compete against international and large national firms.
Boutique agencies focused on particular services or areas were created to serve the specific needs of clients, such as digital services or public affairs. The largest PR firms have identified public affairs as the key area to develop due to the need of leading corporations to influence decision-makers.
What comms skills are most in demand in the market? What skills should a PR pro definitely have to work there?
Digital communications skills are in demand since Colombia is a leading Internet country and the population's annual income is improving. In addition to this, the market is seeking firms and professionals with knowledge and expertise in regulatory, legal, and political environments to help companies develop and execute corporate strategy. Knowledge of reputation is a progressive trend that is starting to demand professional skills, since corporations want to improve their positions in global reputation rankings.
Is it difficult to find communications talent?
Several universities are educating pros on comms, but with a special focus on journalism. There are a few schools with acknowledged PR or corporate comms training; hence PR firms are the ones building professional expertise on the field.
How do locals consume media in Bogotá?
Media consumption continues to be mainly through traditional media outlets, but digital is progressively gaining importance for large corporations. Radio and television still lead media consumption.
What are the biggest challenges and benefits to working in Bogotá? Bogotá is becoming a large city, with about 9 million people. However the city is not prepared for it. The most important challenge is mobility since there is no subway and there is a lack of infrastructure, which means commuting chaos is a growing trend.
But the city also offers great work opportunities and entertainment, unique food, high-quality private education, and safety in general.
What advice would you give PR practitioners?
New comms pros should enjoy the growth of PR in the city, which means a lot of new opportunities. They should find the industry in which to develop their careers, seek openings, and work passionately in one of the most important emerging cities in South America. If the professional is foreign, look for a local partner capable of introducing him or her to the local networks and dynamics.
What do you love about the city?
I love the quality of life in areas such as education, work, entertainment, gastronomy, and relationships.
CheckIn
1. El Tiempo
Av. Calle 26 No. 68B-70, Bogotá, Colombia
Tel: (01) 8000 110-211
www.eltiempo.com
2. International Chamber of Commerce Colombia
Avenida El Dorado,
Calle 26-68 D-35
Bogotá DC, Colombia
Tel: (+57) 1 383-0602
www.ccb.org.co
3. Colombian Center for PR and Organizational Communication
www.cecorp.com.co