Over the next two weeks up to 500,000 people are expected to descend on the grounds of the All England Club and tens of millions will be watching around the world.
Promotion has been car heavy this year. Jaguar has signed up as the official car partner of The Championships and will provide 170 vehicles throughout the course of the tournament. It's also kicked off day one of the event by promoting a #FeelWimbledon campaign.
This year we're measuring the emotion of The Championships. Discover more here. #FeelWimbledon https://t.co/QIZ9KFiDPq

— Jaguar UK (@JaguarUK) June 28, 2015
Numerous other household names from Aston Martin through to Vogue have attempted to capitalise on the social media buzz. Some have secured the services of top tennis players to promote products and the majority of endoresements are being carried out by female pros.
World number one Serena Williams was unveiled as the chief sporting officer for Aston Martin.
I am loving My first day on the job @astonmartin as Chief Sporting Officer…and director of fun! pic.twitter.com/ofWyVSBSTx

— Serena Williams (@serenawilliams) June 25, 2015
Not to be outdone, Maria Sharapova teamed up with Porsche and showed her social media nous by shoe-horning three plugs into a single tweet.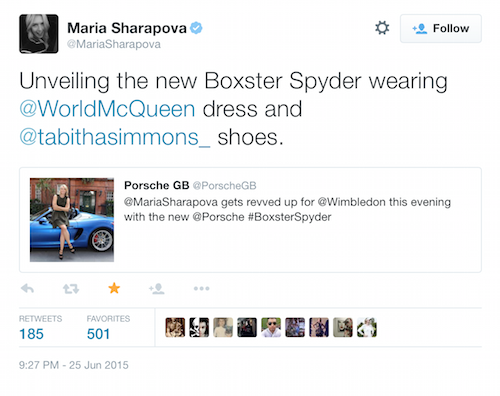 Caroline Wozniacki launched a competition to promote Lavazza coffee.
Make me smile and we can have a coffee together. Find out more here: http://t.co/nyjTCrH6Tu @Lavazza #moretotaste pic.twitter.com/6AqW2Gw6DP

— Caroline Wozniacki (@CaroWozniacki) June 25, 2015
And on the health promotion side Ana Ivanovic is the face of sunscream.
Announcing a perfect match, @AnaIvanovic & #WetForce Sun Protection! Photo credit courtesy of @adidas #Wimbledon2015 pic.twitter.com/6Fjq1UA7sH

— Shiseido UK (@Shiseido_UK) June 29, 2015
On the men's side, Roger Federer appears to have been the busiest, fulfilling media duties with his sponsor Nike.
Sign up for an on-court session with a legend. @rogerfederer opens the NIKECOURT CLUB 25.06: http://t.co/WyNUeLgijY pic.twitter.com/YY2mCBpbHf

— Nike UK (@NikeUK) June 23, 2015
The Swiss supremo also took a tour around Wimbledon with the Periscope app; ironically, considering tournament officials have told spectators not to use it during play due to concerns about breaching broadcasting rights.
Missed @rogerfederer's @periscopeco tour of #Wimbledon? Re-live it: https://t.co/ZefMyDyer6 pic.twitter.com/mC4xyZuZ6R

— Wimbledon (@Wimbledon) June 26, 2015
Meanwhile, brands that have decided to go it alone include Heineken, Robinsons, Selfridges, Vogue and, of course, Paddy Power.
It's official! @andy_murray is Scottish. Only British when he wins: http://t.co/OimnFuqPPA pic.twitter.com/CIVQzqdhIl

— Paddy Power (@paddypower) June 25, 2015