On Tuesday, two carriages on the park's £18m ride 'The Smiler' collided, leaving 16 passengers injured. In what witnesses described as a "car crash", passengers were stranded 25 feet in the air for more than four hours. Four people were left in a critical condition and had to be airlifted to hospital.
At 17:37 on the same day as the incident, the following tweet was sent out from the official Broad Yorkshire Law Twitter account.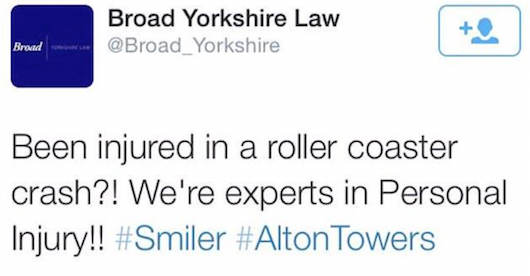 After a critical backlash on social media, Lois Bayliss, director of Broad Yorkshire Law, issued a statement on Facebook apologising for the incident.
Broad Yorkshire Law statement in full
"I have considered the public comments and of course, I do not blame people for being horrified by the tweet made via this firm yesterday. I can assure you that Broad Yorkshire Law would never try to profit in such a way from such a terrible accident.
A junior member of staff was responsible for the Twitter feed and the young man's intention was not to tout for business. His previous tweets illustrate his desire to be humorous, but innocuous, and in this case he has made a severe error of judgement. He tells me that he was making a joke about people being stranded on a roller coaster and did not realise there had been a collision and that people were actually hurt at the time that he tweeted. He is devastated that he has caused offence to the victims and families of the crash and the public as a whole. He is also devastated that people have actually been injured. He has of course been reprimanded for the tweet.
I run a very small firm and I offer a very personal service to all of our clients. I am too devastated that the tweet caused offence to others. As the director of Broad Yorkshire Law, I extend my sincere apologies for any offence caused to anyone and our thoughts go out to the victims of the accident and their families."
Alton Towers has been praised for its PR response to the incident so far. The CEO of Merlin Entertainment Nick Varney has fronted communications. He has issued a public apology to the victims and has launched an investigation.
He did hit out at media "misreporting" claiming that teething problems with the ride were not related to the crash.
Alton Towers will remain closed until an investigation reveals the cause of the accident.