The top comms role at Ryanair has been labelled "the worst job in PR", and given the low-cost airline's recent history, one can see why.
From threats to charge customers to use toilets to exorbitant fines for not ­printing boarding passes and abysmal complaints ­procedures, few companies in recent decades have matched Ryanair for stoking the public's ire, and generating reams of publicity in the process.
But as long as the central ­message resonated – that Ryanair, led by the colourful, brash and highly ­quotable CEO Michael O'Leary, is the cheapest airline around – it seemed to matter little. However, in 2013, things changed. With ­customers leaving for costlier ­airlines, not least arch rival easyJet, the firm realised that, as O'Leary put it, to "unnecessarily piss people off" is not good business practice.
The response was a 'being nice' initiative, Always Getting Better. Customer service was overhauled with changes including more ­leniency on bag sizes, reduced penalties for failing to print boarding passes and the ­introduction of allocated seating.
Last month came evidence the programme has helped revive Ryanair's fortunes, as it reported a 12 per cent rise in full-year revenue to €5.7bn (£4.1bn) as post-tax profits rose 66 per cent to €867m (£623m). Ryanair insists the growth is not down to stealthily rising fares; jet-setters have returned, with customer numbers growing 11 per cent over the past 12 months.
The man with PR's "worst job" over that time has been Robin Kiely, head of comms since early 2013 after joining the press office the previous year. "Back then our PR strategy was to make as much noise as possible by ­saying and doing controversial things, generating ­column inches and driving ­bookings towards the ­website," he says. "Then it was quite a radical ­approach towards PR. That has ­definitely changed."
Always Getting Better was far from being a Ryanair PR stunt; the scheme was not the brainchild of the press office, which was focused on execution. Rather, it ­reflects wide-ranging change at the heart of the business.
For Kiely, "fundamental" changes were needed in the comms function, starting with basics like including a press email address and picture archive on the ­website. Kiely describes Ryanair's previous attitude to ­journalists as "abrasive", but says he has now established a "strong rapport" with many of them. The stunts of old have largely been ­replaced with one-to-one interviews with ­journalists, reflecting a more thoughtful, serious ­approach.
The new approach has been supported by investment, with the PR team growing from two to six since 2012. Kiely says the in-house team spearheads most of the campaigns, with Edelman holding the PR account for the UK, Ireland and Spain.
"Every ­aspect of the business comes under Always Getting Better. Comm­unications does as well," he ­explains. "We looked at our business and said, 'right, we're going to have to improve things here', and we have. It's not just spin because there are genuine improvements we have made and these results are testament to that."
What role does O'Leary play in this brave new world? His media presence has been scaled back, with chief marketing officer Kenny Jacobs, chief ­financial officer Neil Sorahan and chief commercial officer David O'Brien leading on most announcements. But the aim has not been to ­marginalise the CEO. Journalists still want to speak to O'Leary, who ­remains on hand for some bigger launches.
"It's not like he's been locked away in a cupboard and taken out of the spotlight. We're so big now, we're no longer the challenger brand we were, so Michael doesn't need to don the costumes and come up with the zany one-liners to get coverage, because we've won the price war," says Kiely.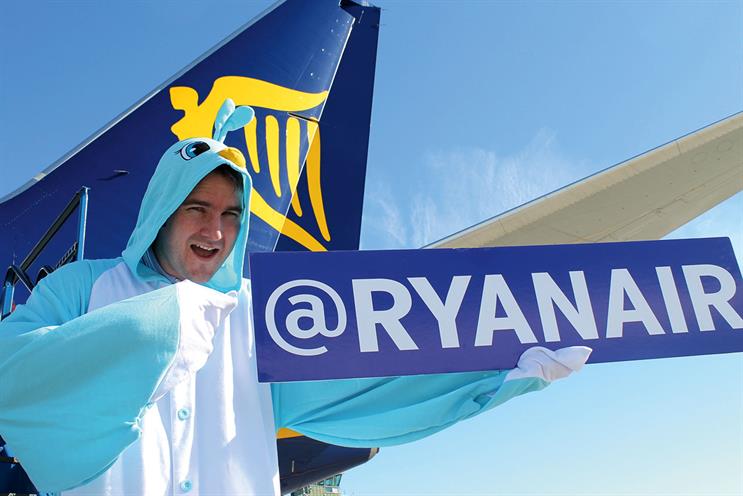 An affable approach
Ryanair was Kiely's first PR employer, having moved to comms to "try something different" after five-and-a-half years as a regional journalist in Dublin. The 33-year-old has a cheery, affable manner, cracking the odd joke as he reminisces about his eventful tenure. But he appears earnest and sincere about his part in transforming the airline. A perfect fit for the new, nicer Ryanair, one might say.
Social media are where Ryanair's U-turn has perhaps been the most ­dramatic. In 2013, Kiely told PRWeek that Facebook and Twitter "would not be helpful" to the airline's comms strategy, bemoaning the prospect of "hiring two more people just to sit on Facebook all day".
But within about six months, the firm relented and joined Twitter. ­Ryanair now has around 160,000 followers, and the account is manned by the customer ­services team from early morning until late evening. It is a serious ­operation, and a successful one. A 2014 survey by Skift found ­Ryanair had the fastest average response time (66 minutes) of a major airline to complaints on Twitter.
For Kiely, the investment has both customer services and PR benefits. Minor complaints are now "nipped in the bud" before escalating into "the latest ­Ryanair horror story". "That has dramatically changed the nature of the queries that would have come across my desk."
What is clear is that under ­Always Getting Better, customer service and PR are not two distinct parts of the ­business, but inseparable and intertwined facets of the wider comms ­remit. To ­illustrate the point, Kiely's ­immediate boss, Jacobs, oversees comms, customer service and digital development as well as marketing.
Social media will be a "key driver" for Ryanair over the next two years, says Kiely. Facebook is next, with plans to open an account later this year. A new blog section and allowing user-generated content on the website and social channels are also on the cards. A social media manager was among the recent recruits in the press team, and more social media staff will be appointed.
Conscious that the airline's original brand values risk being lost amid the change, Kiely says social platforms have helped maintain the more popular elements of the "old Ryanair". "There's still a part of Ryanair that people like; the sense that we're cheeky, we're charming. That's something we'll move on to social, because it's the place you can get away with having a bit of fun."
This is where Kiely views Ryanair in the years to come: combining the best of the airline's traditional brand with a slicker, more customer-focused and media-friendly operation that gets results. "It's about finding that balance and never being boring like everybody else. Let's face it, we're not like anybody else and it's important we don't lose that."
So, more than two years into the role, is Kiely's job actually the worst in PR? The answer is unequivocal: "It's quite clearly the best job in PR and some days it doesn't seem like work at all."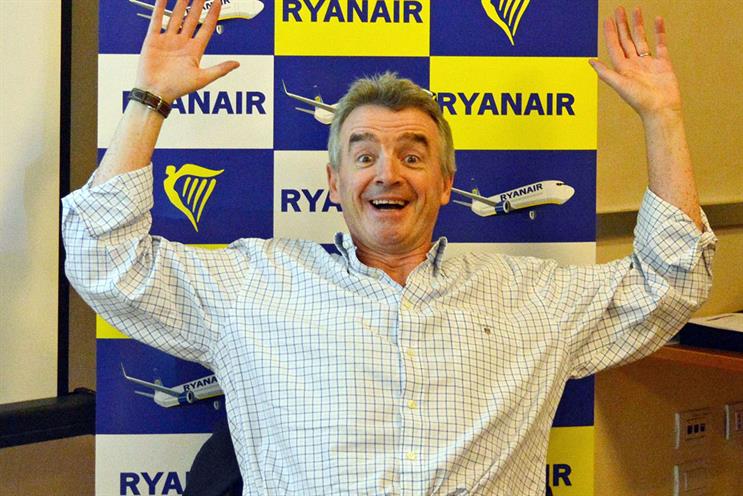 "All flights are fuelled with Leprechaun wee and my bullshit"
Five Ryanair controversies:
Toilet talk, part one In 2010 chief executive Michael O'Leary told journalists the airline was considering charging £1 to 'spend a penny' on flights.
Toilet talk, part two Having dropped the toilet charging idea, Ryanair asked about removing two or three lavatories to accommodate more seats.
What customer service? Until recent changes, O'Leary's frequent utterances on customer service were often as entertaining as they were insulting. Here's just one, in response to a passenger who wanted his money back: "You're not getting a refund so fuck off. We don't want to hear your sob stories. What part of 'no refund' don't you understand?"
Sexism In early 2012 the Advertising Standards Authority banned a "sexist" and "demeaning" Ryanair ad depicting a scantily clad model with the tagline 'Red Hot Fares & Crew'.
Belt up Again in 2012, O'Leary said seatbelts on flights "don't matter", as he proposed adding standing room at the back.