When David Letterman exits the Late Show next Wednesday, he will leave behind a late-night TV scene that looks very different than when he first sat behind the microphone in the Ed Sullivan Theater in 1993.
The post-Letterman, post-Jon Stewart late-night TV era will be digitally driven, and an appearance on one program can live or die by the rules governing social media.
"Late-night programming is all-day programming now," explains United Entertainment Group CEO Jarrod Moses.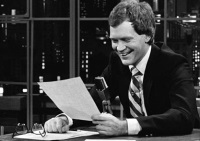 As with the rest of TV, the way viewers consume late-night content is changing dramatically. In years past, ABC, CBS, and NBC dominated TV, and nightly local-news programs fed viewers to the late-night shows. Yet fewer people are now falling asleep to monologues and lighthearted interviews, with millions more consumers preferring to catch up on the highlights on social media in the hours or days that follow.
"The way I consume [ABC host Jimmy] Kimmel and [NBC's Tonight host Jimmy] Fallon now is just by relying on their Twitter or Instagram accounts to watch bits or certain guests without having to watch the whole show," says Dean Bender, principal of Bender/Helper Impact.
Indeed social media is also changing the tenor of the shows themselves. Whereas Letterman was known for his intelligent, sometimes biting interviews, in the current landscape, "It's all about something going viral," explains Cindi Berger, chairman and co-CEO of PMK-BNC.
Fallon, Kimmel, and Letterman replacement Stephen Colbert have vast social media followings, and clips from their shows can take on lives of their own on YouTube or Facebook long after they're broadcast. The more prominent role of social media drove Kimmel to take his show on the road for a week in March to tape in front of digitally savvy fans at South by Southwest Interactive, for instance.
Kimmel and others "are trying to be part of the conversation and something very topical, as well as relevant to a younger audience," says Rick French, chairman and CEO of French | West | Vaughan.
"It's not unlike what's happened in the music industry, where you're selling singles instead of full CDs," he continues. "[Late-night shows] are prepackaging their highlights and putting them out there in real time."
Such changes have affected PR pros who are pitching clients to producers or preparing them for late-night appearances. For one, they must ensure their segments can live beyond their few minutes on air.
"The pressure is on us and our clients to be willing to play ball and come up with good ideas that will transcend traditional broadcast and leap onto the smaller screens," says Joe Quenqua, EVP and director of the entertainment practice at DKC.
Pitching late-night shows has always been competitive, say entertainment PR executives, but nowadays a potential guest's value is often determined by their social media followings.
"If you ask the booking departments of these late-night shows, they'd prefer to book people with huge social platforms rather than A-list celebrities who don't have them," Moses explains. "They're booking bloggers and YouTube sensations, because they know their followers will come and watch the show."
Substantial social media presences of the late-night programs themselves can create opportunities for personalities and brands appearing on the shows, because it means "more eyeballs can see it," says Quenqua. Yet those segments can also wither more quickly if they don't capture the public's attention outside of the 11:35pm time slot.
Real People, Fake Arms: @SnoopDogg edition https://t.co/dOtYHdVQvU #FallonTonight

— jimmy fallon (@jimmyfallon) May 15, 2015
French questions whether late-night TV appearances have the same cachet they used to for guests due to viewers' changing consumption habits.
"I don't think so. Fracturing [audiences] has reduced the influence," he adds. "But it depends on the context. For example, it's still a great platform for musical acts to break a new single in a high-profile way. It still works, but it doesn't work to the extent that it used to before you had as many viewing options out there."
Entertainment PR experts advise clients going on a late-night show to not rely solely on that appearance to promote a release or product, since many viewers might not catch it until later, if at all.
"If you rely on just that one show [for publicity], you're doing yourself a disservice," Bender says. "I would work in conjunction with the show to maximize the appearance of my client by tapping into all the social media channels, as well as working with the show to determine if there are ways that we can collaborate and build a stronger audience."
The changing, social-media-driven late-night landscape has also created a different type of opportunity: brands and personalities that could not break onto a late-night show can still take advantage of the moment, notes French.
"If you find a funny, creative vignette posted on social media, you as a brand might be able to find ways to tie into it. You may not have been part of the original show or skit, but can you creatively join the conversation?" he says. "That's an opportunity for both PR pros and also the networks. When they see brands engaging with their content, it creates opportunities to find ways to turn the unofficial partnership into something more meaningful."