Performance varied significantly across the top dozen firms in the last 12 months, but two messages came across loud and clear during conversations with agency leaders: They are all fundamentally retooling for an integrated future – and they all entered 2015 with the wind in their sails following a positive Q4.
Andy Polansky's Weber Shandwick performed better than most in 2014, and the Interpublic Group firm posted 12% organic global growth in the 12 months ended December 31.
"Marketers see how PR firms bring a lot to the table with respect to navigating digital platforms, developing strategies across those platforms, and our historical strength in storytelling," says CEO Polansky. "Clients are much more agnostic about how they spend their money and think about marketing and communications."
Weber is competing more with ad agencies and digital firms, particularly via its Mediaco content creation, tech, and distribution platform, but also leverages its roots in reputation management.
"It's a healthy environment for PR as companies are much more focused on how reputational issues inform marketing strategies, which creates a lot of opportunity for PR firms generally," he notes.
At Omnicom's FleishmanHillard, content has been aggregated under the FH ContentWorks brand, elevating its Freshwire subsidiary's founder and CEO Shawn Amos to chief content innovation officer of the Americas for the group. Freshwire became the backbone of ContentWorks, and Fleishman added specialists to that such as TrueIQ, formerly Black Box, a platform for listening, analytics, and real-time content creation.
"Mediaco is basically one country – I give Weber credit for packaging it well," says Fleishman's CEO Dave Senay. "With ContentWorks, it's dynamic who comes in and out of that. We've always been in the content business, but organizing against all the myriad options and channels and forms of content is required."
Weber's fellow IPG PR firm Golin also benefited from a go-to-market approach that puts content, data, analytics, real time, and creativity at the heart of its proprietary g4 offer, resulting in 8.5% global revenue growth in 2014 and an eye-catching start to 2015 in terms of client wins and senior hires from competitors.
"We had a really good year financially," asserts CEO Fred Cook.
"We hired a lot of amazing people, more than ever at that level; won a lot of cool clients; and we're doing exciting work we never envisioned when we started g4."
All agencies are looking at their structure for this new reality, which brings inevitable growing pains with it, and Cook admits the g4 approach, which rationalized job titles and split staff into four discipline-specific groups, took time to take hold.
"We're a very humane culture, and when we introduced this, we did it gently," he says. "Everyone was involved and engaged, but everyone had other jobs to do. Because of that lack of accountability, it didn't progress as fast as I wanted it to."
Cook hired Caroline Dettman from Edelman as chief creative and community officer to change the structure and "reboot" the offer – recent wins from Edelman of AOR tasks for Humana and Crayola suggest her efforts are bearing fruit.
Anchor client McDonald's, with which Golin has been working for 60 years, had a troubled year, but Cook says this allowed the firm to "try new things" and showcase the value of its social media offer.
The fast-food giant's Our Food, Your Questions initiative launched in October last year was a prime example, carried out in conjunction with several agencies, but executed by Golin."There are 22 people online in Chicago on our Bridge [social engagement network] 18 hours a day talking to people on social media about McDonald's," explains Cook.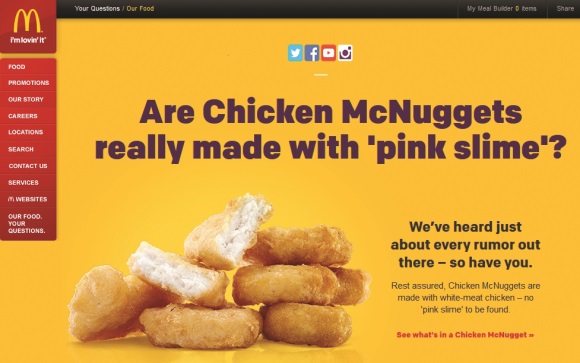 He calls it "the biggest social media engagement any PR agency has done," and characterizes it as "breakthrough work."
"We worked for two years with their marketing department, advertising agencies, and legal department," adds Cook.
Ketchum CEO Rob Flaherty characterizes the trend in terms of what one client calls, "Will she care? Will she share?"
"It's not brand-centric or like an ad, but about pop culture and people's interests," he says. "It's more in the world of the consumer than the brand. Many clients are interested across the spectrum."
Showcasing new services
At Burson-Marsteller, CEO and worldwide chair Don Baer admits the WPP firm needs to be better known for content and data integration and in April it launched StudioB to aggregate its services in these areas and push the conversation with CMOs. He has targeted the acquisition of two major new clients to drive awareness.
"We also want new senior-level talent to accompany the momentum," Baer adds, "and continue to drive capacity along these lines."
However, he is intent on integrating Burson's traditional strengths in senior strategic advice and high-level counsel with its new digital, social, data analytics, and content creation capabilities.
"The new senior strategist has also got to be creative and data-driven, understand how to use research to drive content, as well as having relationships that enable them to advise clients, bring special opportunities, and push back against negative things," says Baer.
Stuart Smith, new global CEO at fellow WPP firm Ogilvy Public Relations, agrees with Baer, and is wrapping up his agency's offer under the "earned influence" tagline to reflect this.
"If we become 100% social and content we just become another social and content shop," he explains. "We're trying to build an organization that is about earned media, but also about helping develop influence across paid, earned, and owned. Hence, 'earned influence' – influence speaks to the heritage of the industry."
Sister WPP agency Cohn & Wolfe's CEO Donna Imperato says clients from more traditional industries, including CPG and pharma, are buying into her firm's integrated capabilities.
"All of a sudden they are asking to see our digital and content people," she adds. "Eventually, I'm not sure we'll be talking about integrated communications because it will just be what we do."
The firm bucked the trend at WPP's PR and public affairs unit, which posted a like-for-like revenue increase of just 2.5% in 2014, compared to C&W's 16% year-over-year gains in the US and 11.5% globally – much of it attributed to an uptick in integrated work.
Market leader Edelman also continued to grow impressively in 2014 and smashed through the $800 million global revenue barrier for the first time. President and CEO Richard Edelman lays out the pitch that has sustained the independent firm's growth: "We're a communications marketing agency. We're trying to broaden the definition and say there's an equality of comms and marketing in smart marketers' heads and the kind of thinking we do is different to that of media buyers and digital and ad agencies."
He cites the agency's work launching the Nikkei Asian Review business publication for the Japanese stock index as a prime example of integration in action. The agency developed a master narrative from a research program conducted by Edelman Berland, including interviews with more than 300 business leaders across Asia. This informed all messaging about the Nikkei Asian Review globally, from which Edelman created and rolled out advertising and PR campaigns, including online, TV, and print.
"The global PR program covered nine markets," says Edelman and the ad campaign was rolled out Asia-wide in late 2014. Edelman believes this integrated mentality represents a unique chance for the PR industry to "recast the category and get broader recognition for an array of issues," which he identifies as the overlap of corporate reputation and brand, stakeholder instead of just consumer, and the triangle of CCO, CMO, and CEO.
Although the agency's model differs from Weber's, the objective is the same, says Edelman: "We've done Edelman Digital, they've got Mediaco," he adds. "For us, it is more an initiative led by the geographies. Theirs is more top down; ours is more bottom up, but we are putting more investment in that area, you can count on it."
At smaller firms such as Prosek Partners, the evolution to being an integrated operation is just as urgent and just as advanced.
"We got in early on what we call renaissance marketing, which is the convergence of paid, earned, and owned," says managing partner Jen Prosek. "That helped us and we haven't had to play catch-up.
We've always had a creative services department – it is part of our DNA. As PR changed, we were able to blow that out quickly."
Traditional offerings still matter
Embattled Hill+Knowlton Strategies supercharged its content offer through the smart acquisition in 2013 of Group SJR, subsequently elevating the content shop's founder Alex Jutkowitz to global head of strategy across the whole of H+K.
"In Alex's view, SJR is not a content company – it is how all PR firms will look in the future," says H+K's new CEO and president for the Americas, Mike Coates. "He's right, although we're always going to do a large amount of traditional work on the crisis, reputation, and senior counsel side, including board support and public affairs."
MSLGroup's North America president Paul Newman also sees the PR offer as content-plus, not a one-discipline solution.
"Our content capabilities are appealing to our bigger global clients as they turn themselves into content producers. But I dispute the fact that PR is turning into content," he says. "It's a key part of what we do, but by no means everything. For example, often we want to keep our clients out of the news, and you can't call that content."
He reminds us that media relations is still vital: "Overlook its importance at your peril. We have many strong teams that focus on communicating our clients' stories to traditional and new media."
Whichever way PR firms are restructuring and presenting their services in the marketplace, the growth achieved across the board in Q4 2014 and the momentum that continued into Q1 of this year suggests there is a lot to look forward to.
Weber's Polansky is bullish about 2015. "There's a stronger level of business and consumer confidence in the US," he says. "We'll continue to see a disproportionate percentage of marketing spend from multinationals. That creates a healthy environment for our services."
And the leader of the biggest PR agency in the world agrees.
"I'm incredibly optimistic," notes Edelman. "It is now: Our creative newsroom, Weber's Mediaco, whatever you want to call it. The business will be fundamentally different in five years. We will see who wins and loses, but the companies that take chances and invest now are going to be the ones who benefit."
– Additional contribution by Rose Gordon Sala
---
Integration in action
Ketchum
Inner Steel for Gillette


Ketchum was the lead agency on this campaign and produced a video on two continents with soccer superstar Lionel Messi and tennis legend Roger Federer to launch a line of customized special edition country-specific razors to coincide with the 2014 FIFA World Cup in Brazil.
The razors were produced in the different colors of the participating teams and the campaign presented Messi and Federer demonstrating their Inner Steel – with the national team designed razors – in different ways. The spots tapped into the fervor around the World Cup and went viral online.
Consumers were encouraged to post videos of them facing their own challenges on social media. In the past, that would have been done by the ad agency, but these films were created by Ketchum Sports and Entertainment through its Behind the Scenes branded film and video content unit, which accesses the best producers, cinematographers, and videographers to make compelling content for its clients.
FleishmanHillard
Field of Jeans for Levi Strauss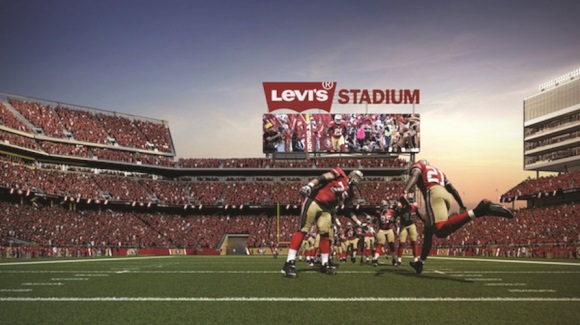 Fleishman was tasked by Levi Strauss with high-lighting the jeans brand's sponsorship of the new San Francisco 49ers stadium. The arena had become known informally as the Field of Jeans, a nickname that took hold and people latched onto. The firm's brief was to leverage Levi's sponsorship to demonstrate the brand's connection to the stadium and the community.
Brand insights identified were duration, sustainability, and durability, so Fleishman decided to actually show sustainability by encouraging fans to donate 20,000 pairs of jeans to Goodwill that would normally have been thrown away and laid them out on the field in the shape of the universal recycling symbol as a visual representation of the impact it can have.
A video of the clothing drive from last November went viral on social media, and the donation of jeans created jobs for Goodwill in the San Francisco area.
---
Agency content offers
• Burson-Marsteller introduced Creative Council to bring in outside talent and is integrating digital, social, data analytics, and content creation across the firm.
• Edelman Goes to market with Edelman Digital, a bottom-up approach led by client needs and geographies rather than a top-down separately branded offer.
• FleishmanHillard FH ContentWorks is global umbrella structure that connects clients with content shops, newsrooms, partners, and tools such as TrueIQ.
• Golin Restructured its g4 model into councils with rotating leads and added manpower across four sectors: explorers, catalysts, creatives, and connectors.
• Hill+Knowlton Strategies Integrated Group SJR across the firm and named founder Alex Jutkowitz as chief global strategist of H+K. Folded H+K Digital back into overall agency.
• Ketchum Putting StoryWorks in all offices, fueled by Ketchum Digital, encompassing social listening, media monitoring, real-time content, responding to news, pop culture, and memes.
• MSLGroup Chief editorial officer and former ABC producer Stephanie Smith running boot camps on content. The working group drives internal cooperation.
• Ogilvy PR Going to market with "earned influence" tagline, integrated with Ogilvy's long corridor of sister firms, including Social@Ogilvy and OgilvyOne.
• Weber Shandwick Mediaco integrated content creation and distribution unit has been powerful go-to market proposition as a separate brand within Weber – now employs over 700 people.