In spite of the dip in PR spend, James Goddard, chief executive at JJ Marketing, said there is no need for agencies to panic: "Despite PR budgets being revised lower in Q1 2015, this could just be an anomaly as this is the first such occurrence in five quarters. We only have to look at the breakdown of 2015 budget plans to see that things are looking good for PR, with a net balance of 15.4 per cent of companies reporting an increase in spend."
Meanwhile, spend in several key sectors including SEO, direct marketing and sales promotion are all forecast to rise. The report also suggests spending on events and main media advertising will be significant revenue generators as firms continue to invest in prominent TV, cinema and press campaigns.
This is highlighted by the latest Warburtons campaign. With a reported marketing budget of £18m, the bread maker splashed out on prime-time TV advertising starring Sylvester Stallone, as well as print, outdoor and social media activity.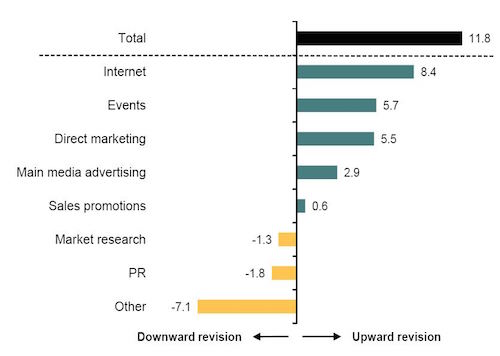 Nearly one-third (27 per cent) of 300 UK-based companies surveyed reported an upward revision to their marketing budgets during Q1 2015, while 15 per cent indicated a fall.
The overall upward revision of +11.8 per cent this quarter was up from +6.1 per cent in the Q4 report.
Paul Smith, senior economist at Markit and author of the IPA Bellwether Report, noted that marketing executives are not worried about any post-election economic uncertainty: "Indeed, latest data shows companies planning to bolster their marketing budgets for the forthcoming accounting period to the greatest degree in eight years."
"Already coming off the best annual performance in a decade, growth looks highly likely to be extended into a third year in 2015/16. Accordingly, we are predicting a strong real-term increase in UK adspend over 2015 as a whole," he said.