BOSTON: Fantasy sports website DraftKings has brought on former NASCAR marcomms exec Sabrina Macias to serve as its first full-time communications director.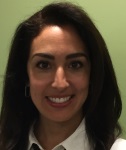 Macias, who started at the company on Monday, reports to CEO Jason Robins. She succeeds VP of communications Femi Wasserman, who has worked at DraftKings part-time since 2012. Wasserman will continue to work at DraftKings on special projects "for the foreseeable future," she said.
"DraftKings has had explosive growth," Wasserman said. "We expected a jet and we got a rocket ship, so now is the time to really devote more dedicated resources in communications. [Macias] is coming on full-time to really own the space and build out our capabilities there."
Macias' appointment comes a week after The Wall Street Journal reported that Walt Disney is investing $250 million in DraftKings, valuing the business at about $900 million.
The Boston startup allows fans to play fantasy sports with real money at stake on a per-game basis rather than committing to manage teams for an entire season.
One of Macias' goals is to "establish DraftKings as the only option for sports fans looking to engage in the exciting world of daily fantasy sports," she told PRWeek.
DraftKings works with Fama PR, but Macias said she will evaluate all of the company's assets to come up with the best communications formula. She also wants to ensure DraftKings has the right comms structure to continue carrying its culture internally and externally, she added.
Wasserman said Macias' vision and clarity were evident during the interviewing process.
"It's a rare combination to have great business sense and strong strategies, but also powerful execution skills," she said.
Macias left NASCAR at the end of last year after serving as director of brand and consumer marketing communications since 2012. While there she led external and internal communications for NASCAR's marketing, multicultural development, diversity affairs, and the NASCAR Foundation, she said.
NASCAR replaced Macias with Pete Stuart, who was previously senior manager overseeing various integrated marketing communications programs for the organization, said Jon Schwartz, MD of integrated marketing communications.
Prior to NASCAR, Macias served as VP of multicultural marketing at Edelman and held roles at DeVries Global and Prestige Recordings.