Movie stars, red carpets, and all the glitz and glamour of Hollywood – that's what comes to mind when most people think of Los Angeles. And while entertainment tends to dominate the Southern California city, PR pros and marketers have figured out ways to either collaborate with or completely steer clear of the ever-present industry.
"Other than the entertainment industry, there aren't really any distinct, [dominant] sectors here, so that forces people in PR and communications in Los Angeles to be generalists," explains Alex Clark, director of corporate communications at El Segundo-based Mattel.
With a wide smattering of industries outside of entertainment, Clark says PR practitioners on the agency and in-house side need to have a full gamut of skills, such as consumer PR, financial comms, and crisis management, to be successful. For those who want to specialize in one area, the market can be quite challenging, but can provide the opportunity to "constantly expand your horizons," he adds.
About 9,450 PR pros work across sectors earning $788 million. Average 2013 wages in PR were $86,421, 57% more than the average paid across all industries in LA County, according to the LA chapter of the PRSA.
While Hollywood Boulevard throws obstacles at PR pros trying to get earned media on non-entertainment stories, the varied number of business sectors adds an extra hurdle, says Andrew Reynolds, MD of Grayling.
Reynolds, who has lived in LA for 12 years, explains that it can be difficult to anticipate which audiences to engage with and on what day to garner the best results. The diverse region is accompanied by a mix of boutique, midsize, and large PR agencies, but tends to skew a little more toward smaller lifestyle, fashion, and entertainment shops, Reynolds adds.
For Grayling – and other large firms and brands – technology has been taking off, especially with companies such as Snapchat and YouTube in the area, says Reynolds. But what makes the tech scene more interesting in LA is how often it gets tied to entertainment.
Clark says he's noticed the "growing subset of tech meets entertainment" in Venice Beach and Santa Monica, where Yahoo and Google have a presence. Netflix and Amazon's entertainment studios are also located in the LA area.
However, tech businesses aren't the only ones getting cozy with the entertainment players, says Marty Ordman, former VP of marketing and corporate comms for Dole Food, who currently serves as a consultant for the company. Dole has launched a California Cook-Off competition in the city for the last six years in partnership with celebrity chef Ben Ford of Ford's Filling Station, and Ordman says it's always a challenge to get consumers and media to attend the event.
"For this market, you almost always need to use a celebrity sponsor to get coverage," he says. "It's like the price of entry to get exposure in the market."
Another way to break through the media clutter is with partnerships and community-related efforts. For example, Dole helped fund Kogi food truck chef Roy Choi's 3 Worlds Café, developed in partnership with South LA high school students. The café provides healthy food for students and helps them learn entrepreneurial skills. More than 30 kids have worked there since its opening and the café serves about 500 people a week. The partnership expanded to a branded food truck.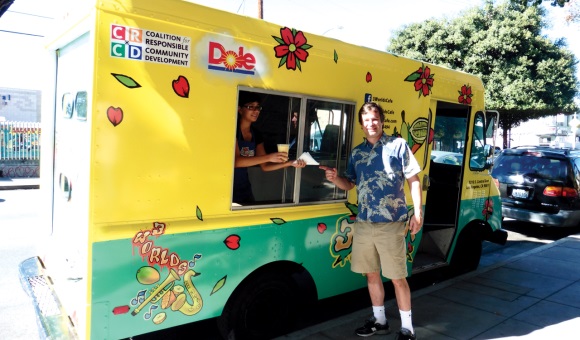 Last year, Dole's fruit bowl products and the Captain Planet Foundation teamed up to launch a Learning Garden Challenge. In the contest, schools serving kindergarten through 8th grade were recognized for creating gardens that teach children about the importance of taking care of the environment and incorporating fruits and vegetables into a healthy lifestyle. Dole has funded 40 gardens with another 40 on the way in 2015 in Texas, New York, and Georgia.
"Los Angeles is the largest Hispanic market when it comes to consumers and media, so for PR activations, especially for consumer brands, LA is the key market," explains Roxana Lissa, owner of RL Public Relations.
She says brands are able to launch test programs easily and assess results. Los Angeles also has many Hispanic bloggers and social media influencers to help brands engage target consumers. Lissa has noticed a trend toward "total market approach." A lot of companies are looking to reach more bicultural or acculturated segments, such as bicultural Millennial moms. She understands the move, but adds there is "still a huge opportunity for authenticity with the core Hispanic consumers also."
Brands and agencies are working to engage Hispanic consumers, but both fall short when bringing on talent.
"A lot of people continue to hire junior staffers who have no training in dealing with Hispanic market strategies or understanding the audiences and the language," Lissa explains.
LA's luxury lifestyle
Allyson Rener, president of Murphy O'Brien, says it is a major misconception that PR pros are "having daily lunches with casting agents or studio heads."
One of the growth areas for communications that Rener has noticed in LA right now is the luxury market.
"Luxury is back and business is booming," she says, with resurgences across luxury travel, consumer and lifestyle brands, and real estate. The area is also seeing an emerging trend of fast-casual healthy restaurants, such as Malibu Fish Grill, Tender Greens, and Wood Ranch BBQ & Grill, adds Rener.
With so many different PR sectors growing, she says it's more competitive than ever to retain top talent.
Kim Hunter, president and CEO of Lagrant Communications, agrees, but his concern is over the quality of the talent pool – which he refers to as "dismal" – rather than retention. Good publicists are easy to find in the area, he adds, but communications strategists are lacking.
Hunter has noticed the "laidback" beach vibe often permeates the industry, where interns come into the office donning flip-flops rather than business attire.
"Los Angeles is the only market in my career where people will say, 'Kim, you're so intense,'" he says. "When I'm back East, no one would utter those words."
On the PR front, Hunter says he's seen an increase in healthcare communications across the city. This past August, Lagrant worked with LA's Community Health Councils on a month-long initiative called "Know Your Digits. Be In Control." The effort was accompanied by a Hypertension Awareness launch event at Ascot Public Library.
Launch events tend to be well-received in the market. In January, Grayling worked with Qantas to unveil its first-class lounge at Los Angeles International Airport, says Reynolds. He adds that the event garnered coverage and a slideshow from the Los Angeles Times.
---
Fact File
Top economic growth sectors
The creative industry generates more than 640,000 jobs and more than $200 billion in sales revenue.
Biggest companies in the area
The Walt Disney Co., DirecTV, technology distributor Ingram Micro, and Amgen
Biggest agencies in the area
Edelman, Zeno Group, Finn Partners, MWW, and W2O Group
Why people love it
The weather, outdoor activities, the beach, and cultural diversity