Numbers tell a lot about a company. That is especially true in the case of FM Global, a commercial insurance company based in Rhode Island.
The organization, which marks 180 years in business this year, started at the dawn of the industrial revolution when a mill owner, tired of paying high insurance prices and committed to running a safe mill, gathered a group of like-minded companies that took matters into their own hands to form an insurance company.
And while the brand's name may not ring a bell to those outside of the risk assessment or commercial property industries, FM Global works with one in every three Fortune 1000 companies, from toymaker and entertainment company Hasbro to $13.9 billion conglomerate Textron, which operates in industries including defense, finance, and aircraft.
The firm, which employs 5,300 people, has about 2,000 clients, some, MeadWestvaco and global packaging manufacturer Bemis, for example, have been with FM Global for more than 100 years.
Resume
1997-present
Named PR consultant in 1997 for FM Global in Norwood, Massachusetts. Later became senior PR consultant for the company, which relocated to Rhode Island (2000-2003). Named manager of PR (2003-2004) before becoming assistant VP, manager of PR (2003-2004) and assistant VP, manager PR and advertising (2014-present)
1994-1997
The College Crusade of Rhode Island, Providence, PR and communications officer
1991-1994
Sturdy Memorial Hospital, Attleboro, Massachusetts, PR and market communications assistant
The man at the helm of the team telling the company's story is Steve Zenofsky, assistant VP and manager of PR and advertising. He is an 18-year veteran of the organization, a significant tenure at most places, but not at FM Global. Members of the executive leadership team often have three decades or more under their belts.
Zenofsky was able to flex his CEO-transition skills at the beginning of 2015 when Thomas Lawson took over as the company's president and chief executive on January 1. That might have to be enough for Zenofsky for the foreseeable future.
Lawson, a 36-year FM Global veteran took over from Shivan Subramaniam, who has been at the brand for 40 years and president since 1995. Subramaniam was the only president FM Global, formerly known as Factory Mutual Insurance Co., has had since it was formed in 1999 through a group of mergers. He retired at the end of 2014, but remains chairman of FM Global's board of directors.
The organization is a mutual company, meaning its client policyholders are also owners and its larger clients form the business' board of directors, which reads like a who's who of the world's biggest brands including Caterpillar, Major League Baseball, GlaxoSmithKline, and Hershey. A recent project with the latter involved helping the candy maker establish a 700,000 square foot plant in Malaysia.
"This business model gives FM Global the advantage of having only one audience to answer to, and that is the policyholder/owner," says Zenofsky.
Risk management
FM Global may be an insurance company, but its first priority is to make sure nothing happens to instigate a claim in the first place. The brand employs more than 1,800 engineers who "visit clients to help figure out what could give them a bad day – it could be a fire, natural catastrophe, or an equipment breakdown – and help them understand the risks," he notes.
Communicating the importance of that engineering expertise and FM Global's efforts in scientific research is a key talking point Zenofsky must communicate and what the business feels is its critical differentiator among competitors.
"When people look at the insurance marketplace, they often paint the industry with broad brushstrokes as just a commodity-driven business," adds Zenofsky. "If a company just wants an insurance policy, we are probably not the best fit because they are not placing the value on loss-prevention engineering that is integral to our offering."
One of the secrets to the FM Global engineers' loss-prevention insight lies at a 1,600-acre research campus in West Glocester, Rhode Island, near company headquarters – the world's largest center for property loss research and testing, notes Zenofsky.
"Every day we are burning things down and blowing things up. If you have any frustrations or love a good camp fire, these are some of the biggest fires that happen in the world. We can replicate a hurricane or earthquake inside a building," he adds.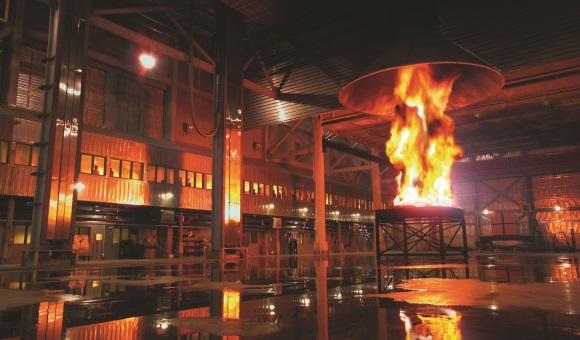 FM Global works with many high-hazard businesses in the chemical, heavy manufacturing, molten metal, and mining fields. The goal is for the disasters to happen at the research facility under controlled conditions rather than to clients in the real world. "Only way to learn it is to burn it," says Zenofsky.
There are 100 scientists at the facility and there is huge demand to visit the site from businesses, government, and students from around the world.
Safeguarding reputations
The company has its sights set on clients keenly aware of the brand reputation damage that can be done should a multinational have to explain to shareholders how a fire at their factory happened, the financial impact, potential disruption to the supply chain, and why the company wasn't prepared.
And clearly there are financial incentives attached to FM Global's all-major-loss-can-be-prevented mindset. In 2014 and 2015, the insurer gave about $465 million in premium reductions to 1,900 clients when they renewed their policies. Going back to 2001, when the credit program was introduced, the cumulative return is $2.5 billion.
"Clients share in ownership, so when the company does well as owners they may see better terms and conditions such as reductions in premiums," he says. "Part of the expectation when looking for a good fit is whether the business has a hunger to better protect its facilities, so that if a hurricane hits it's a distraction, not a disaster."
Zenofsky heads both PR and advertising at FM Global and when asked what role the two disciplines play at the company he distances himself from trendy buzzwords such as real-time marketing and disruption.
He simply says, "the function of PR and advertising is to create an environment that makes it a lot easier for client service teams and business development units to do business."
"That's our purpose," he adds. "From there the people who develop that business with the client take it to the next stage."
Zenofsky says communications professionals have to look at the broader context and the role they can bring to the table within a company.
"Are you going to be seen as a business person who happens to do PR or advertising? That is ultimately where we want to be at," he explains.
PR will always remain a vital portion of the mix because there will always be trust stakeholders, adds Zenofsky.
Not being a household name and being a niche player is a mixed blessing, he says.
"Because we are a mutual company and you can't invest in us, The Wall Street Journal won't write about us," he notes. "It's great that we can take a long-term focus rather than have to report on a quarterly basis, but we are not out there being talked about."
Another challenge can be insurance competitors, such as AIG, which have more touchpoints with consumers through multiple offerings including life or auto insurance versus FM Global's singular commercial portfolio. The company reported profit in 2014 fell 6.2% to $956.4 million and gross premiums slipped 1.9% to $5.5 billion.
Zenofsky reports to Mick Byrne, assistant VP and manager of brand strategies, who, in turn, reports to SVP, marketing Roberta Butler. Zenofsky's team consists of one person handling PR and one person on the advertising side. There are 95 people across all of marketing. Another division, communications services, handles internal and client comms, and design services.


"PR is an integral component of an overall, integrated marketing mix here," says Butler. "Steve helps lead communications efforts to build and maintain brand awareness, familiarity, and favorability, to differentiate us in the marketplace, to build trust, and enhance reputation. That plays itself out through leading efforts that credibly demonstrate the unique expertise we provide as an engineering-driven property insurer."
Day to day, Zenofsky provides strategic leadership in North America and works collaboratively with colleagues and agency partners around the world. FM Global offers products and services in more than 110 countries and works with a number of firms including Rhode Island-based Perry Group, with Brodeur in North America, Ogilvy Public Relations in France and Germany, Sermelo in the UK, and Ogilvy One for advertising across all markets.
"We place heavy reliance on what we call our extended team – our agency partners," he adds. "We have many long-term relationships there."
A real boy scout
On day two at FM Global, the CEO told Zenofsky that "you are only as good as the last thing you achieved." That resonated with Zenofsky, a believer in the Japanese idea of Kaizen or continuous improvement.
"If you are always curious you are positioned well to do great things for your company," he says.
He is very involved with the PRSA and PRSSA, the latter as a professional adviser to students in Rhode Island. The students, he adds, are "so much hungrier than when I was in college."
Zenofsky is also the leader of his son's Boy Scout pack, wrangling about 40 6- to 11-year-olds on trips and hikes. In his down time, he likes to unwind by playing one of 15 acoustic guitars he has collected. The oldest: An 88-year-old Martin.
It was the company's PR brain trust that came up with the idea for and helped develop the FM Global Resilience Index, which ranks the supply chain resilience of 130 countries around the world and is a "first-of-its-kind" tool that provides insight into an issue "that keeps our clients up at night," says Zenofsky.
The index measured countries based on factors that affect business continuity, including exposure to natural disasters, potential for political unrest, and uniformity in safety codes. In terms of how countries fared, research showed Bosnia and Herzegovina as the most improved country due to improvements in its political risk and the quality of local suppliers. Bangladesh showed the most decline because of the poor quality of natural hazard risk management and fire risk management.
Launched in June 2014, the index has garnered 13,000 users in less than 8 months and helped FM Global land a global appliance client that now uses the index to evaluate all current and future suppliers. Closer to home, the insurer recently conducted a survey that found about one in three full-time US workers assigned their employers a grade of C, D, or F when it comes to preparedness for a major winter storm.
Laser-focused outreach
Because FM Global is a niche player in a specialized industry, outreach to its target audience is laser focused. Vertical publications and industry events are the best platforms to showcase expertise.
In March, FM Global executives went to Japan to speak to government leaders and NGOs at the United Nations World Con-ference on Disaster Risk Reduction, held once every 10 years. Ultimately, reputation carries the day for FM Global.
"We are a high-touch organization with so many global client interactions every day," explains Zenofsky. "Fortunately, we have the reputation and independent research shows customer satisfaction ranks extremely highly."