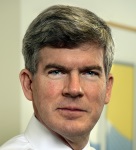 How are marketing and communications set up under you?
Structurally, it's a group that sits together, and it includes the PR and social teams, the digital comms team, which handles the websites and microsites, and the marketing team, which does advertising and publications for internal and external audiences.
We also have a design and production group because we have so many publications. Most recently, the physician referral service moved into our group. That team fields all of the inbound enquiries from people who are looking for help or making appointments at the hospital.
Why was the physician referral service moved under your department?
So much of what we do is about storytelling. That journey is complete when somebody directly engages for the first time with the hospital by making a call and having that first experience where we help the person find their way.
We recognize that healthcare can be really confusing so we try to make it as easy as possible for people to find what is going to matter most for them. Having that referral service under the marketing group just makes sense to complete the circle.
Tell me about the Back in the Game microsite that launched in February.
It came about when we recognized the power of the Hospital for Special Surgery experience for people who come here. We're a small hospital with only about 200 beds, but we serve about 30,000 patients a year who come from about 105 countries.
We get a disproportionate number of patients who have especially challenging requirements and they come here because they need or want the best. The outcomes tend to be quite dramatic, and the effect it has on patients is very powerful – to the point where they feel they are part of a club. They are excited about it, proud, and like to share their experiences.
Those stories are powerful and valuable to people when they are on their paths at an early stage and trying to find the care that's best for them. It's more important to people who are looking for care to hear from the relatable experience of others, than it is to see a television commercial.
Sometimes good marketing is really about getting out of the way of the real story, so we created a forum that recognizes that.
Does the hospital filter stories on its site?
For quality and accuracy, we do, but then they are posted very quickly. We aim to get them all up within two hours. This site is by – and for – patients, so authenticity is key and part of the bond of trust that the hospital has with patients, but also that people in any bonafide community have with each other.
Not all the stories are light, but they're all positive, inspiring stories that are credible, specific, and personal, and none of them overtly promotional of the hospital.
The hospital works with many professional sports leagues. Is that beneficial in terms of marketing?
We are the official hospital for the New York Giants, New York Knicks, New York Red Bulls, and the US Olympic Committee. Unfortunately, some people think the hospital is just for elite professional athletes, but that's just a small portion of the patients we serve.
What are some other marketing challenges the hospital faces?
We're a nonprofit and are focused on investing a huge amount in science, research, and delivering medical care, so we're not spending tons of money to tell the hospital's story. The strategy we have taken is to focus on being the best and the team has the advantage of being highly specialized. We are sharply focused on what we call musculoskeletalcare, which is mainly orthopedics and rheumatology.
For consumers, it's hard to make a decision about choice of care. The service we offer is almost 100% elective care, so people have time to make a very thoughtful decision about where they want to go for that care.
There may be an orthopedic shop down the street, so if they're looking for convenience or looking to spend fewer dollars on a procedure, they can go there. But if you're looking for the best value in terms of what it is you're trying to get back to in your life – that's the story we're trying to tell.
My career started in PR, so that's my foundation and I believe in the power of PR in terms of the way stories are told and the way you think of organic storytelling.
Is the hospital active on social media?
Social media is very important to us because it's key to our patients. All of our communications meet our consumers where they are. We're not only in all of the different platforms, but we are also growing very rapidly. On Twitter, we have more than 38,000 followers, on Facebook more than 42,000, and on YouTube our viewership in 2014 grew by more than 400%.