Winner
Praytell Strategy
Praytell Strategy's revenue grew 217% to $2.94 million in 2014 as the agency added a number of US and international clients. Also, in under 12 months, the firm upped its headcount to 21 from 9 in 2013.
One judge praised the agency for its unique "philosophy."
"Praytell may be the frontrunner of the future of PR firms. Its philosophy and approach stood head and shoulders above the others," the adjudicator added.
Located in Brooklyn's tech hub, DUMBO, this boutique agency prides itself on doing it all – from making movies and producing video games to hosting press tours and placing op-eds for clients as diverse as Logitech, MAC Cosmetics, Gold Eagle Co., and Hyatt Gold Passport.
Working with Rihanna, Netflix and the United Nations, the agency created and publicized a feature-length documentary to address youth stigma surrounding HIV.
At the 2014 Consumer Electronics Show, Praytell helped Logitech become one of the most-talked-about brands, despite working with a minute budget. Traffic to the brand's website increased 43%, thanks to the #LogitechLive activation.
The quality of work was praised by a senior representative at Logitech, who said: "Praytell has proven to be an invaluable partner. We love the team's creativity, insights, dependability, and personality."
The agency's leadership goes the extra mile for its staff as well. Praytell foots the bill for full medical and dental for all associates and offers an agency-wide profit-sharing program. As the company grew, it instituted The Stomach Project. Each employee was instructed to have breakfast, lunch, or dinner with everyone in the office in one month using a $200 stipend from the agency.
Doing good is also important to the team. The agency provides pro-bono support to The Food Bank for New York City, Ecpat-USA, and The Global Foodbanking Network.
"Praytell is a great creative shop with impressive growth and an innovative culture," noted a second judge.
---
Honorable Mention
Kyne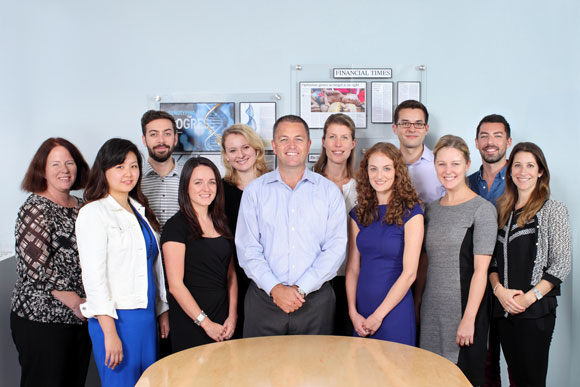 Kyne, an agency focused solely on healthcare, added to its roster and led clients, including Biogen Idec and United Against Malaria, through major milestones. Internally, the agency launched a host of philanthropic initiatives ranging from Kyne Gives, where staffers give back through volunteering, and Kyne EDU, which provides a yearly $1,000 stipend and flex-time for associates to attend conferences and classes.
Employees also get to work from home on Fridays. "Kyne demonstrated that extra something that showed a deep understanding of a very complex space," one judge noted.