Winner
The George Washington University
College of Professional Studies
All judges described The George Washington University's program as creative and innovative.
"A great course with a hugely innovative, world-class curriculum," said one judge.
Student testimonials lauded the program's practical curriculum and its nationwide prestige, as well as the "phenomenal guidance" and attention they get from professors.
In addition to offering an 11-course master's degree in strategic PR taught by working professionals, the university added two new six-course graduate certificates last year – one in strategic public relations and one in global PR.
A broad range of courses are offered, including ethical standards in public relations and public affairs, nonprofit and association communications strategies, social media 2.0, and multicultural marketing and engagement.
Students enrolled in the global PR certificate program benefit from residency courses in cities in Asia, Europe, the Middle East, and Latin America.
Given the school's Washington, DC, location, the program focuses on providing students with an understanding of how politics and policy impact business and communications strategy. Guest speakers in the past 12 months included officials from the White House, senior media members, political experts, and agency leaders.
Judges were also impressed by recent enrollment gains, particularly international enrollment. Comparing the fall semester 2013 to the same period in 2014, campus enrollment jumped more than 50% and the number of international students increased by 40%.
Since the program launched in 2008, a total of 328 students have graduated with master's degrees. A university representative noted that more than 75% of graduate-level students are already working in the industry, and a robust career services office helps students find internships or jobs upon graduation.

"An exceptional program with graduates poised to make a difference," noted a second judge.
---
Honorable Mention
Georgetown University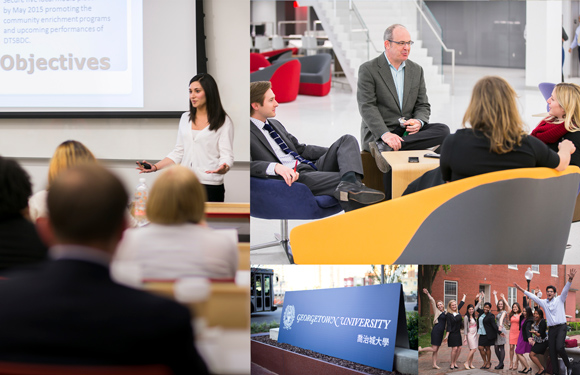 Judges applauded Georgetown's curriculum, global focus, diversity, forward-looking approach, and track record of graduating outstanding senior talent. Executive-level practitioners from premiere agencies, brands, and organizations teach more than 35 courses per semester and all students provide a semester of strategic consulting to an individual client.
Program applications are up 80% over 2011. Ninety-three percent of recent graduates work in PR or related disciplines. Last year's highlights included partnerships with Volkswagen of America, World Bank, and Ogilvy Public Relations.